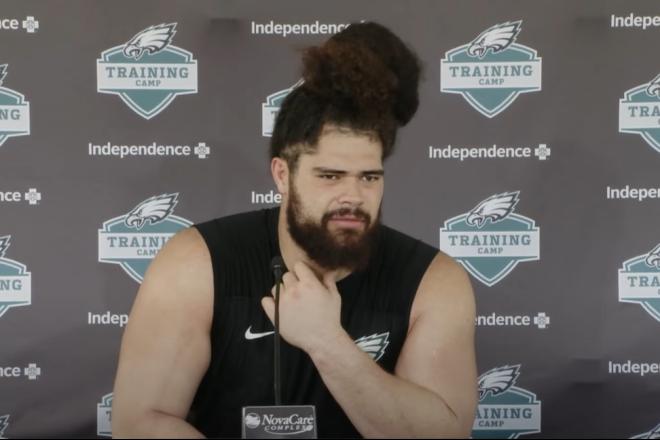 R.C. Fischer
FFM
04 March 2023
Other Positions: QB | RB | WR | TE | OT | OG/C | DT | Edge | ILB | CB | Safety
We're looking at free agency ahead of the official FA start period (March 13th, kinda officially…but things are happening all week+ prior), going position by position to discuss some of the big names, tour top ranked guys, as well as the sleepers and frauds of the group…and we'll make some throwaway/dart throw predictions on landing spots.
Today's position group: Interior OLs. OGs and Cs
The consensus top three iOLs available…
1) OG Isaac Seumalo, PHI
2) OG Ben Powers, BAL
3) OG Dalton Risner, DEN
It's a weak group for iOLs this year…no real 'pop'/'wow' player fell into the free agent ranks…all the more important to draft these guys more than hope for free agency…you can find 5-10 RBs of interest in free agency, but you find barely any iOLs. 
FFM's top three iOLs available…
1) OG Isaac Seumalo, PHI
I'm going to agree with the consensus on the top 3 names, although I see 1-2 names that I like just as well as the top 3, but the NFL doesn't…I'll get to them in a moment.
Seumalo was great at moments in 2022…but he's battled injury too often in prior years. He's the best plug-and-play option among the veteran FAs.
PREDICTION: Dart throw that he follows the new H-C to Arizona…just because 'familiarity'.
2) OG Ben Powers, BAL
Came out of nowhere to have big blocker metrics…especially in pass protection. That'll get him paid.
PREDICTION: I wonder if Cincy will be interested in the division rival pass protector. Buffalo could be a player here too.  
3) OG Dalton Risner, DEN
I was a big fan of his coming out of college. He's been so-so/OK starter in the NFL. Perhaps, new coaches will change the landscape for him.  
PREDICTION: Perhaps Dallas makes a move here if the price is decent.   
The fraud iOLs of free agency 2023: Rodger Saffold, BUF
Saffold used to be great, but the soon-to-be 35-year-old is running out of steam. Poor grades in 2022. He'll get another shot on his name, but it's not looking good.
The best value iOLs in free agency 2023: OG Will Hernandez, ARI
I was a big fan of his coming out of college. He was a beast at his Senior Bowl week. He's been a disappointment in the pros but improving the last few years.  
OC Garrett Bradberry was up for this spot too, but he will probably go for more money than Hernandez.
PREDICTION: Going back to Arizona makes sense, if they don't land Seumalo. If not Arizona, I'd say he'd live to play in Houston.
The deep sleeper iOLs free agency 2023: OC Ethan Pocic
Battled injuries a lot in his career but he had a great year with Cleveland in 2022, on a one-year, cheap deal.
PREDICTION: The Browns bring him back. It makes too much sense…but the Browns may not want/be able to put more money at their O-Line, where they are already heavily invested.