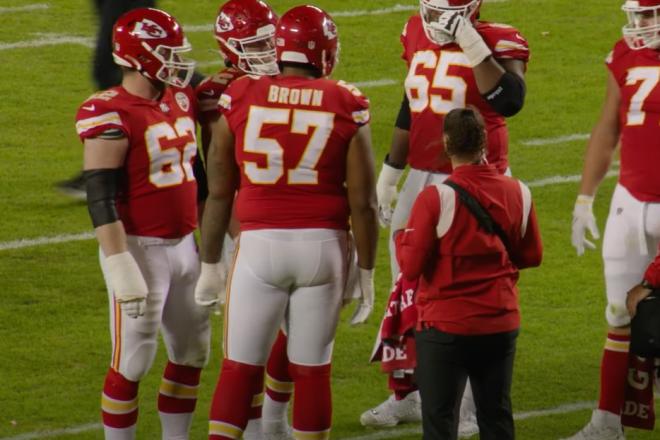 R.C. Fischer
FFM
05 March 2023
Other Positions: QB | RB | WR | TE | OT | OG/C | DT | Edge | ILB | CB | Safety
We're looking at free agency ahead of the official FA start period (March 13th, kinda officially…but things are happening all week+ prior), going position by position to discuss some of the big names, tour top ranked guys, as well as the sleepers and frauds of the group…and we'll make some throwaway/dart throw predictions on landing spots.
Today's position group: Offensive Tackles (OT)
The consensus top three OTs available…
1) Orlando Brown, KC
2) Mike McGlinchey, SF
3) Jawaan Taylor, JAX
Some decent OTs are available but no 'wow' options. The NFL (especially the media) continues to undervalue offensive tackles in the NFL Draft…when they are the 2nd-most important thing on the field (after QB) and rarely are any options available in free agency, for obvious reasons!
Will Anderson and Jalen Carter being ranked ahead of the top OLs in the mainstream…it makes no sense. Then those who would have/push Bijan Robinson over the top offensive lineman in this draft are completely lost to the business of an NFL football team -- and somewhere between 25-30+ owners and GMs seem to be just that at any given moment.
FFM's top three OTs available…
1) Mike McGlinchey, SF
I'm a sucker/fan of McGlinchey so I see him as a better option than big Orlando Brown, but it's close…depends on what you want out of an offensive tackle. McGlinchey is very good as a run blocker, and I think he's an underrated pass blocker as well.
PREDICTION: The 49ers have no CAP space and not many options to create space. He's likely on the move. Going to the Jets (t be with Saleh) is an easy call…the Jets are currently strapped for CAP space but unlike the 49ers, the Jets will clear 30-40+ million soon by dumping all their smartly designed contracts that allows them to maneuver.
2) Orlando Brown, KC
Brown has been a lot better in the NFL than I ever thought he would be. What was once one of the slowest OLs at his Combine, or in many others -- has produced a solid+ offensive tackle. Great pass protection grades in 2022.
PREDICTION: KC has to hold on to one of the top pass protectors from 2022…protecting Mahomes is EVERYTHING!
3) Kaleb McGary, ATL
Best run blocking tackle available this year.
PREDICTION: The Falcons are the preeminent run-desire team in the NFL, and they have a ton of CAP space -- so McGary is going nowhere. Atlanta will hold on to him one way or the other.
The fraud OT of free agency 2023: Jawaan Taylor, JAX
His pass protection numbers jumped in 2022…but I believe that was from Doug Pederson's offense pushing Trevor Lawrence to throw quick hitters/get the ball out of his hands quickly. Less chance for an OL to get beat when the throws are out so fast.
I bet Jacksonville lets him go, especially if they try to sign Evan Engram to a real deal, not just a franchise tag.
The best value OT in free agency 2023: Jermaine Eluemunor, LV
Had an excellent 2022…he's finally coming into his own after several years of mediocre/hopeful/inconsistent play. He may not break the bank because of his prior inconsistencies.
PREDICTION: Struggling to find the right/obvious prediction fit…if his price really is a value, the Bengals may grab him to add depth to their unit.  
The deep sleeper OT free agency 2023: Andre Dillard, PHI
I was a fan of his coming out in his draft year, but it's been nothing but disappointment since. I'm still stuck on how good he looked in college and at the Senior Bowl. If the NFL has turned on him, he may be a cheaper reclamation project -- or someone who just needs a change of scenery.
PREDICTION: I could see Tennessee or New England wanting to see if they could 'fix' or 'unlock' him.