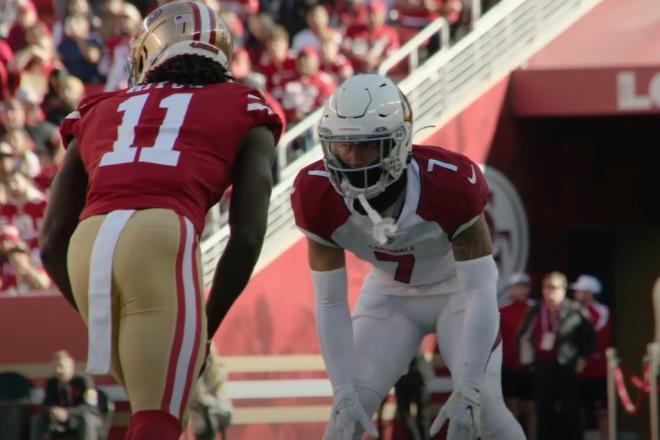 R.C. Fischer
FFM
03 March 2023
Other Positions: QB | RB | WR | TE | OT | OG/C | DT | Edge | ILB | CB | Safety
We're looking at free agency ahead of the official FA start period (March 13th, kinda officially…but things are happening all week+ prior), going position by position to discuss some of the big names, tour top ranked guys, as well as the sleepers and frauds of the group…and we'll make some throwaway/dart throw predictions on landing spots.
Today's position group: Cornerback
The consensus top three CBs available…
1) James Bradberry, PHI
2) Jamel Dean, TB
3) Jonathan Jones, NE
Everyone agrees on #1-2 in any order…the #3 is up for debate along with Cam Sutton and some like Marcus Peters.
The FFM top three CBs available…
1) James Bradberry, PHI -- he's been a shutdown guy in four of his last 5 seasons. If an NFL team wants an instant impact starter for the 2023 season…here's the guy. He's about to be 30 years-old, but that's OK in this era…but he is inching closer to a tail off.
PREDICTION: The Eagles can't afford him, or if they do they need to make a ton of other cuts. They'll likely, regretfully, let him go and draft a CB at #10 in the draft.
Bradberry will want to sign for big bucks…and maybe wants to go with a team where he can win a title, with his career window closing. The Bengals could look to make this move, but I'll throw a dart and say he somehow winds up taking the money and going to Arizona.
2) Jamel Dean, TB -- He'll be the darling of the rebuilding team's with big CAP space landing spots…because he's a young, emerging corner. After Bradberry and Dean, there's a drop off to more suspect, flawed CBs (in the NFL's eyes).
PREDICTION: A desperate Falcons team pulls the trigger.
3) Byron Murphy, ARI -- I've seen Murphy shine as a shutdown corner, and I've seen him have moments of struggle…but usually the struggle is because he's playing banged up. He's also a fantastic slot corner, if you work him there. I think he could be a payroll steal, potentially…unless 3-4 'smart' teams get in on chasing him.
PREDICTION: I think Seattle here…they watched Murphy handle D.K. Metcalf inner-division. If the Rams free up money, and the price doesn't get crazy, they might go for this because they watched Murphy give Cooper Kupp some fits.
The fraud CB of free agency 2023: Marcus Peters, BAL
Peters was last an impact CB in 2019. Since then, his cover metrics have fallen off and he's missed a few games each season on top of missing all of 2021 with an injury. He's going to seek big bucks but will likely have to settle for a one-year deal with a desperate team…that team could be the Giants, reuniting with DC Wink Martindale. The Ravens want him back, though.
Patrick Peterson is the runner up here. He'll be another one-year, decent pay mercenary…but will be a letdown.
The best value player in free agency 2023: Byron Murphy, ARI
I'm not seeing a lot of love for Murphy from the analysts or PFF…the two things that drive the NFL personnel departments/team owners. I see more media love for Rock Ya-Sin and Cam Sutton on free agent lists/analysis. Murphy could be a serious value grab at CB.
The deep sleeper player in free agency 2023: Amani Oruwariye, DET
I don't know what happened to him in 2022…maybe he tried to play through nagging injuries. In 2021, he picked off 6 passes and had solid coverage metrics/ratings. He started flashing signs of hope in 2020…leading to the much-improved 2021 performance, then a downfall in 2022.
He's 6'2"/205 and ran a 4.47 40-time with a 6.82 three-cone at the 2019 NFL Combine. He has coveted length for playing corner…but also he could be moved to safety, as he's a pretty physical presence.
PREDICTION: Dallas Cowboys take a shot on him.
Fabian Moreau was an option here after a revival 2022 season. I bet he signs with NYG again to stay with Wink Martindale.