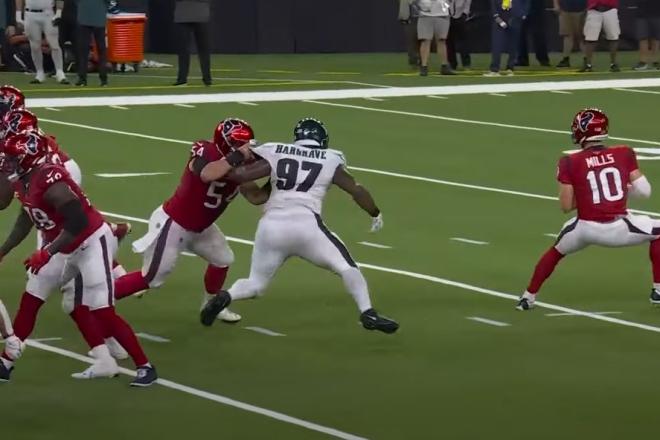 R.C. Fischer
FFM
10 March 2023
Other Positions: QB | RB | WR | TE | OT | OG/C | DT | Edge | ILB | CB | Safety
We're looking at free agency ahead of the official FA start period (March 13th, kinda officially…but things are happening all week+ prior), going position by position to discuss some of the big names, tour top ranked guys, as well as the sleepers and frauds of the group…and we'll make some throwaway/dart throw predictions on landing spots.
Today's position group: The Defensive Tackles (DT)
The consensus top three DTs available…
1) Javon Hargrave, PHI
2) Dalvin Tomlinson, MIN
3) Dre'Mont Jones, DEN
*I had Arizona FA DL Zach Allen listed with the EDGE guys, but he could be considered here too.
There are some DTs in free agency for teams in need this year. A top guy available and a handful of useful/warm body DTs for those just filling holes cheap.
FFM's top three DTs available…
1) Javon Hargrave, PHI
The ace of the class and Philly strapped for cash and is very likely going to have to let him go. A career high 11 sacks last season and he's a great run stopper. He's going to get a BIG contract…like 3 years/60M+ with a bunch guaranteed.
PREDICTION: The Bears have the money to spend, and the need. This is almost the lock prediction of free agency.
2) Greg Gaines, LAR
A big drop off from Hargrave, but Gaines is a solid big guy plugging up the middle and flashes some quickness it doesn't seem like he should possess. He's just very solid and younger (25.5) to throw money at.
PREDICTION: Going to take a stab that he winds up with Kevin O'Connell in Minnesota…where they would have known each other back in O'Connell's Rams' days.
3) Dre'Mont Jones, DEN
Jones is a guy who flashes some high-end talent and then some inconsistencies. He's a 3-4 DE or smaller 4-3 DT type…different style/option than what Hargrave or Gaines gives.
PREDICTION: If his demand/price falls a bit, he may wind up with the Bengals.
The fraud DT of free agency 2023: David Onyemata, NO
Suspended six games in 2021 for PED use…and he logged a down year after that -- raising concerns that his mild breakout in 2020 season was 'juiced'. Had a solid 2022 season but questions linger.
He's not terrible, but he seems to command more money than he's worth. Just finished out a 3-year/$26M deal that he really wasn't worth the spend on. Not a bust, just overvalued and will be 31 years old this season.
PREDICTION: He may follow Sean Payton to Denver…signing a lesser deal.
The best value DT in free agency 2023: Larry Ogunjobi, PIT
A big-time down 2022 season after signing very cheaply with Pittsburgh (after a Bears big deal fell through due to a foot injury concern) and being used as a 3-4 DE for the Steelers, when he's a much better 4-3 DT. He'll likely sign quicker in free agency this year…and with the right defensive scheme and could be an impact pass rushing DT.
PREDICTION: He needs to rehab his career. He'll sign a bargain 1-year deal with a contender for 2023…possibly going back to Cincinnati, where he shined in 2021.  
The deep sleeper DT free agency 2023: Morgan Fox, LAC
Signed a nice free agent deal with Carolina in 2021, after being an undervalued gem with the Rams for years and having a breakout 2020. He was misused with Carolina, by failed HC Matt Rhule, and then cut after one season. LAC grabbed him cheaply and he had his best season in 2022.
He's a very solid, very underrated DT…one who will probably not cost much on a deal…might be a 1-year deal for 2023.
PREDICTION: Fox thrives in the 'Rams ecosystem'…he had his breakout in 2020 with the Rams and D-C Brandon Staley -- now the HC of LAC, where Fox landed in 2022 and had another nice season. He has to stay in the Rams ecosystem…with LAR, LAC, or MIN. Brandon Staley has been too good for Fox, and Fox producing for Staley, for Fox to leave. LAC will re-sign him and get a bargain.