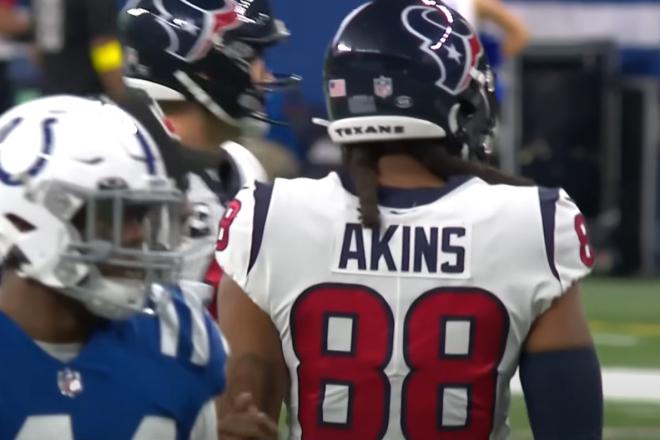 R.C. Fischer
FFM
12 March 2023
Other Positions: QB | RB | WR | TE | OT | OG/C | DT | Edge | ILB | CB | Safety
We're looking at free agency ahead of the official FA start period (March 13th, kinda officially…but things are happening all week+ prior), going position by position to discuss some of the big names, tour top ranked guys, as well as the sleepers and frauds of the group…and we'll make some throwaway/dart throw predictions on landing spots.
Today's position group: Tight Ends (TE)
The consensus top three TEs available…
1) Dalton Schultz, DAL
2) Mike Gesicki, MIA
3) Hayden Hurst, CIN
A weak class of free agent TEs. I mean, there's useful/solid guys to fill holes but once Evan Engram was taken out (franchise tag) -- the difference-making TE weapon/option was gone. I don't see a real difference maker in this group…especially compared to the flood of interesting talent hitting the league from the college ranks now -- but there are plenty of veteran hands to support incoming rookies available in free agency 2023.
FFM's top three TEs available…
1) Dalton Schultz, DAL
Best by default…quietly solid but not a game-changer. Not likely to bust, but likely to get overpaid and be a mild disappointment/boring to fans -- but will be a solid piece for a contender who needs TE help NOW/they don't have time to rely on a rookie this season.
PREDICTION: Dallas has no issues with Schultz…it's just they have similar, younger, cheaper TEs in Jake Ferguson and Peyton Hendershot. The Cowboys would love to bring him back, but the cost is likely going to be prohibitive.
This could be a fit with the Chargers -- a team built for right now and they can dump Gerald Everett to save some CAP space and upgrade to Schultz for Justin Herbert. Kellen Moore would be pushing for this.
2) Hayden Hurst, CIN
If Schultz is the best longer term TE solution for a team in 2023 free agency, then Hurst may be the best short-term, one-year solution. Solid TE but is going to be 30+ years old with a history of nagging injuries.
PREDICTION: If the price is right, you have to think the Bengals bring him back for continuity for the AFC title push again.  Cincy doesn't have time, right now, for a rookie TE and there's no other great option in free agency. The smartest thing to do is stick with continuity with a team this mature/prepped for a title run.
3) Jordan Akins, HOU
A surprise #3, but again…this FA class is weak.
My pitch for Akins is: every time I watch him play for Houston, he shows explosive ability in the passing game. He's a really nice/solid pass game weapon at TE, but every time he heats up there's a QB issue or Houston has the worst coaches/functioning offensive plan in the league. There were games the past couple of years where Akins was the difference maker.
Akins would come cheap and could be a wrinkle/weapon for a contender trying to boost its offensive options.
PREDICTION: I don't know if any team is seeing what I see. He signed with NYG in free agency last year, but then they cut him in the preseason because he was hurt, and they were going with Daniel Bellinger/a youth movement. I haven't heard that there is any other type of issue why Akins got dumped in NYG…besides that Daboll has a hair trigger for personnel. Akins always pops/seems OK in Houston the past two seasons…always on the verge of a mini-breakout and then it stalls due to injury/terrible offensive output all over for Houston.
Career highs in catches, yards, and TDs with that dysfunctional Texans offense in 2022.
I have no idea what team is even gonna consider this. Likely, he doesn't get signed right away and is a later preseason add. If I had to guess/dart throw a landing spot…staying with Houston on a league minimum makes the most sense.
The fraud TE of free agency 2023: Mike Gesicki, MIA
Not that Gesicki is a bad TE, but he's wildly overrated and he's going to get a lot of money in free agency on top of that. His claim to fame is 'tall'. He's a slow, tall WR more than a legit three-down TE.
PREDICTION: I'd matchmake him to a northeastern-based team that sees all other better free agents turn them down. Going to throw a dart at Green Bay making the fiscal mistake here.
The best value TE in free agency 2023: Foster Moreau, LV
Buried behind Darren Waller his entire career but he's a capable three-down TE in the same vein as a Dalton Schultz but will come much cheaper than Schultz.
PREDICTION: Buffalo or Tennessee or Minnesota...to be more of a #2 TE in two-TE sets, a co-starting TE.
The deep sleeper TE free agency 2023: Josh Oliver, BAL
Former 3rd-round pick of the Ravens…injured and then buried a bit behind Mark Andrews then ceded snaps to Isaiah Likely in 2022. Still, he started 9 games as a 2nd TE in two TE sets for the Ravens, and when Andrews was out hurt for a few games. He's not a hidden star but is a hidden useful NFL TE.
PREDICTION: Pure guess that he goes to NYG as their 2nd TE with NYG. Former Ravens, now NYG D-C Wink Martindale would have some insights on him.