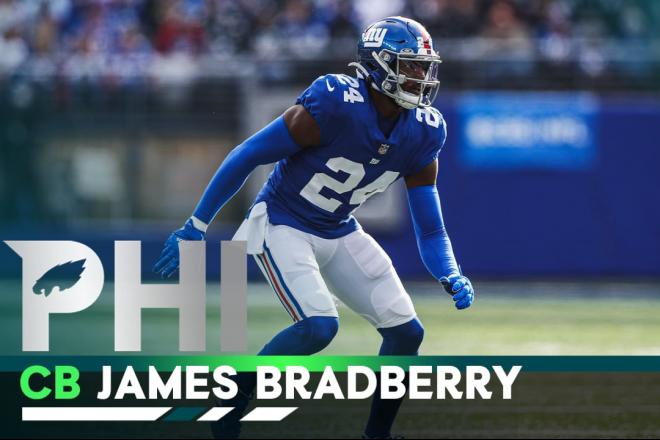 R.C. Fischer
FFM
27 May 2022
2022 Offseason Assessment Tournament: 2nd-Round (PHI v. NYG)
Same intro everyday: Our annual series taking a look at each NFL team's offseason (free agency, draft, trades) moves and assessing their impact for the upcoming season – simply speaking, 'did all of the offseason moves, en masse, project to make the team better or worse for just the upcoming campaign (not worried about the long-term effect)'?
We'll list the key adds and losses for each team competing and then comment on them and anoint a winner that will move on to the next round, until we get down to the final two (the 'Super Bowl') and we name a winner for the top offseason (to date). Our way to review and judge what each of these teams have done halfway through the offseason.
2nd-Round Matchup…
PHILADELPHIA EAGLES
Key Adds:
LB Haason Reddick (FA), DT Jordan Davis (pick #13), OL Cam Jurgens (pick #51), LB Nakobe Dean (pick #83), WR A.J. Brown (trade), CB James Bradberry (FA)
Key Losses:
CB Steven Nelson (FA), #18, #101 picks in 2022 (trade for A.J. Brown)
vs.
NEW YORK GIANTS
Key Adds:
Kayvon Thibodeaux (#5 pick), OL Evan Neal (#7 pick), WR Wan'Dale Robinson (pick #43), TE Daniel Bellinger (#112), TE Ricky Seals-Jones (FA), QB Tyrod Taylor (FA)
Key Losses:
CB Logan Ryan (cut), TE Kyle Rudolph (cut), TE Evan Engram (FA), LB Lorenzo Carter (FA), DT Austin Johnson (FA), SAF Jabrill Peppers (FA), OG Will Hernandez (FA), CB James Bradberry (FA)
In the 1st-round of this exercise, we didn't have the Eagles with James Bradberry added in…because it hadn't happened yet. But that's a key pickup now for sure. Philly has now added a front line WR (AJB) and recently great CB (Bradberry) to go along with Jordan Davis and Cam Jurgens as potential 2022 impact rookies…all while not losing much at all this offseason (really, just a decent Steven Nelson is all).
The Giants brought in some talent but also lost talent/bodies. Maybe NYG is a tick better for 2022, or just stagnant (and better off for the future)…but the NYG offseason isn't close to Philly's – especially once you add the +Bradberry to PHI and the --Bradberry to NYG. This is an easy judgment for Philly.
WINNER = Philadelphia, who moves onto the NFC Final Four.
2nd-Round results:
PHI defeats NYG