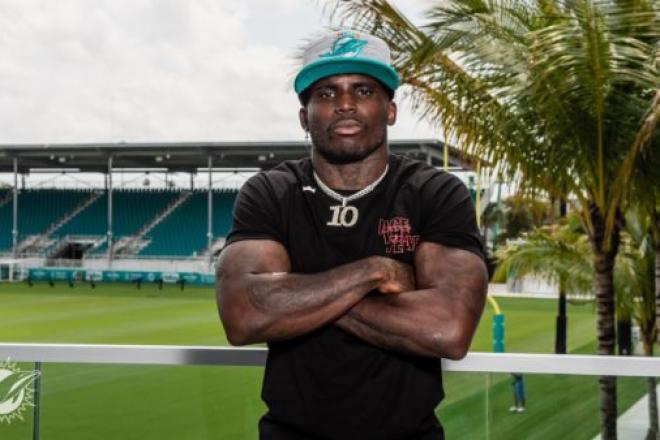 R.C. Fischer
FFM
19 May 2022
2022 Offseason Assessment Tournament: 1st-Round (NE v. MIA)
Same intro everyday: Our annual series taking a look at each NFL team's offseason (free agency, draft, trades) moves and assessing their impact for the upcoming season – simply speaking, 'did all of the offseason moves, en masse, project to make the team better or worse for just the upcoming campaign (not worried about the long-term effect)'?
We'll list the key adds and losses for each team competing and then comment on them and anoint a winner that will move on to the next round, until we get down to the final two (the 'Super Bowl') and we name a winner for the top offseason (to date). Our way to review and judge what each of these teams have done halfway through the offseason.
1st-Round Matchup…
NEW ENGLAND PATRIOTS
Key Adds:
WR DeVante Parker (trade), SAF Julius Peppers (FA)
OG Cole Strange (pick #29), WR Tyquan Thornton (pick #50), CB Marcus Jones (pick #85), CB Jack Jones (pick #121), QB Bailey Zappe (pick #137)
Key Losses:
CB J.C. Jackson (FA), OC Ted Karras (FA), OG Shaq Mason (trade), RB Brandon Bolden (FA), LB Kyle Van Noy (FA)
vs.
MIAMI DOLPHINS
Key Adds:
WR Tyreek Hill (trade), OT Terron Armstead (FA), WR Cedrick Wilson (FA), OG Connor Williams (FA), RB Chase Edmonds (FA), CB Keion Crossen (FA), FB Alec Ingold (FA), QB Teddy Bridgewater
LB Channing Tindall (pick #102), OLB Cameron Goode (pick #224)
Key Losses:
WR DeVante Parker (trade), WR Mack Hollins (FA)
Last year, the Patriots went wild in free agency…this year, I only noted Julius Peppers as a free agent add of any note…and that's not a major add on the surface, but I like the potential of how they could use him. They traded for DeVante Parker, but he's nothing special. They did their best offseason work in the draft with OG Cole Strange and CB Marcus Jones as rookies who could/will impact 2022. However, losing J.C. Jackson in free agency is way more impactful…for 2022 purposes, you'd rather have JCJ than Peppers-Parker-Strange-M.Jones. Losing Shaq Mason and Ted Karras is a hit as well.
The Patriots did not improve their overall lot in life for 2022 with their offseason moves.
Miami traded Parker to New England, which almost feels like addition by subtraction…and hurts NE, in a weird way. Miami doesn't need or miss Parker…losing Mack Hollins off special teams may have been a worse loss…and that's all they lost, two fringe starter WRs. But what they brought in, they had an epic haul…
Tyreek Hill is an instant game-changer…one of the biggest game changers in the history of football. Terron Armstead was arguably the best free agent out there. Of all the players changing hands, non-QB, this offseason, I'd argue Armstead and Tyreek were the two best players to get – and Miami landed them both. They also added some other useful pieces.
It's not even close here. The Patriots took a hit…and Miami got WAY better and are one of the favorites to win this whole tournament.
WINNER = Miami, and they will take on the Jets for the AFC East title next round.
1ST-ROUND RESULTS:
NYG defeats DAL
PHI defeats WSH
LAR defeats SEA
SF defeats ARI
DET defeats GB
MIN defeats CHI
ATL defeats NO
TB defeats CAR
-----------------
NYJ defeats BUF
MIA defeats NE