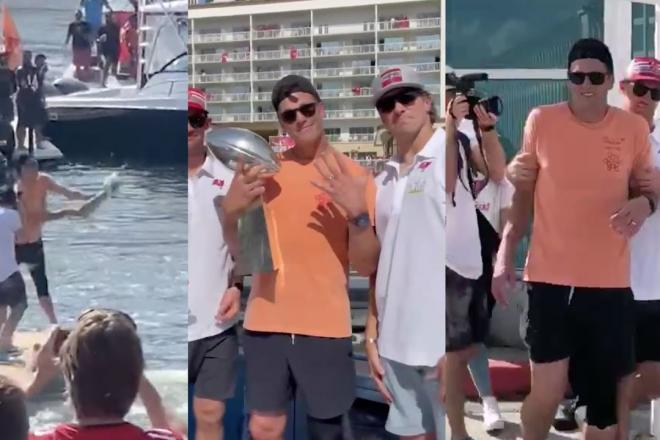 R.C. Fischer
FFM
16 May 2022
2022 Offseason Assessment Tournament: 1st-Round (TB v. CAR)
Same intro everyday: Our annual series taking a look at each NFL team's offseason (free agency, draft, trades) moves and assessing their impact for the upcoming season – simply speaking, 'did all of the offseason moves, en masse, project to make the team better or worse for just the upcoming campaign (not worried about the long-term effect)'?
We'll list the key adds and losses for each team competing and then comment on them and anoint a winner that will move on to the next round, until we get down to the final two (the 'Super Bowl') and we name a winner for the top offseason (to date). Our way to review and judge what each of these teams have done halfway through the offseason.
1st-Round Matchup…
TAMPA BAY BUCCANEERS
Key Adds:
OG Shaq Mason (trade), WR Russell Gage (FA), DL Logan Hall (pick #33), OL Luke Goedeke (pick #57), RB Rachaad White (pick #91), TE Cade Otton (pick #106), PT Jake Camarda (pick #133), CB Zyon McCollum (pick #157)
Key Losses:  
OG Alex Cappa (FA), SAF Jordan Whitehead (TB), TE O.J. Howard (FA), RB Ron Jones (FA)
vs.
CAROLINA PANTHERS
Key Adds:
OL Ikem Ekwonu (Pick #6), QB Matt Corral (pick #94), LB Brandon Smith (pick #120), LB Amare Barno (pick #189), LB Cory Littleton (FA), RB D'Onta Foreman (FA)OG Austin Corbett (FA), SAF Xavier Woods (FA)
Key Losses:
DL Morgan Fox (FA), CB Stefon Gilmore, LB Haason Reddick
This what you're supposed to do…if you're Tampa Bay. The window is closing with Tom Brady, so you 'go for it' in the offseason. They swapped good guards in-and-out, so no loss or gain there. Jordan Whitehead is not a big loss…nor is RoJo or OJH. But Russell Gage was a savvy 2022 addition, especially with Chris Godwin in some question for the season start. They drafted a collection of useful prospects; most can contribute in 2022 in some way. One of the smarter off-season's of 2022.
Carolina is, oddly, in the same position as Tampa Bay…they (the under-the-gun coaching staff) are desperate to WIN NOW, only unlike the Buccaneers…the Panthers are under the gun because people are about to get fired…and their team/coaching, so far under Matt Rhule, totally blows.
So, did Carolina make any headway on 2022 win-now with their offseason moves? I think so. Getting Ekwonu is a huge get…but after that, not much excitement. They lost a good DL in Fox…and formerly great CB (Gilmore)…and a useful pass rusher (Reddick). I'd say, overall, it was probably a minor gain or break even-ish…considering Gilmore did nothing for them last season.
Carolina may have gotten marginally better for 2022, at best…at worst they took another step back, didn't really upgrade at QB (I mean, Matt Corral is not saving jobs in 2022…or, probably, any other year). While Tampa went out and did what title contenders need to do – smartly gain talent and shed smartly.
WINNER = Tampa Bay
1ST-ROUND RESULTS:
NYG defeats DAL
PHI defeats WSH
LAR defeats SEA
SF defeats ARI
DET defeats GB
MIN defeats CHI
TB defeats CAR