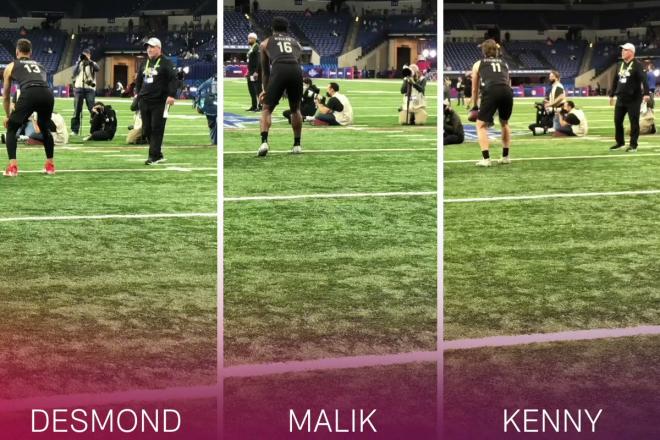 Ross Jacobs
FFM
16 April 2022
2022 NFL Mock Draft 5.0 (By Ross Jacobs)
Jacksonville Jaguars

:

EDGE Travon Walker

(Georgia)
I've been talking about Walker to the Jaguars for a while and now the secret is out. There was no way Trent Baalke was going to settle for the short arms and lack of explosive traits from Hutchinson. He's from the Bill Parcells school of drafting high upside guys with elite athleticism. Travon Walker fits that description to a T. If Walker is not the #1 pick I'll be shocked.
Detroit Lions:

EDGE Aidan Hutchinson

(Michigan)
Detroit would probably love to have Walker, but they'll be fine settling for the high floor of Hutchinson. He's a hometown kid with a high motor and he exudes that tough-guy mentality Dan Campbell wants to project.
Houston Texans:

CB Ahmad Gardner

(Cincinnati)
Houston could literally draft any position and nobody would blink an eye. Their roster is barren. I'm switching this pick to Gardner from Ekwonu because while the Texans could use help on the line, their corners are atrocious outside of Desmond King. The Lovie Smith defense absolutely requires tall, athletic corners, and Gardner is one of the best CB prospects we've seen in a few years.
New York Jets:

EDGE Jermaine Johnson

(Florida State)
I think this pick is for sure going to be an edge rusher. I'm just not sure which one between Johnson and Thibodeaux. I'm going with Johnson for now as I think Joe Douglas and Robert Saleh will prefer his energy and motor to Thibodeaux's arrogance and lackadaisical play.
New York Giants:

OT Evan Neal

(Alabama)
The Giants are taking a tackle. That much we know. The question is, which one? I think they'll choose Neal over Ekwonu for a few reasons. Daboll worked for Saban a few years ago and can get the scoop on Neal through that connection, and the Giants want to be a pass-first offense and Neal is a better pass blocker than Ekwonu.
Carolina Panthers:

QB Kenny Pickett

(Pittsburgh)
There's a possibility the Panthers sit at 6 and take Ekwonu. He's a high character guy, absolutely loves football, and is a road-grading run blocker...all traits beloved by the Panthers management. They could also try to trade down and pick up some extra mid-round picks as they currently don't have a 2nd or 3rd round selection. However, I don't think any team is going to want to move up as high as 6. I also don't think Carolina can go into the season with Darnold as their lone QB. It's suicide. To me the Panthers are backed into a corner and only really have one choice...take Kenny Pickett and hope to God he can bail you out.
New Orleans Saints (trade from New York Giants):

WR Garrett Wilson

(Ohio State)
The Giants got their offensive lineman and now they want to trade their second pick for more assets in 2023. The Saints are not afraid to ship away more draft capital to get their guy. Their guy in this case is Wilson. It's no secret New Orleans is looking for a playmaking receiver to work opposite of Michael Thomas, and I believe they would love to pair up the former Ohio State stars. They jump in front of division rival Atlanta to make sure they get their man.
Atlanta Falcons:

EDGE Kayvon Thibodeaux

(Oregon)
Many people are mocking QB's to Atlanta, and while I understand why, I don't believe Atlanta is going to reach for one yet. They know they aren't ready to compete this season and are going to work on building up the roster first and look to 2023 for a new signal caller. They'll sit tight at 8 and take the best available player, whatever that means to them. In this case they have a choice between Thibodeaux and Ekwonu, but they've already sunk multiple resources into the offensive line and edge rusher is a bigger hole regardless.
Seattle Seahawks:

OT Ikem Ekwonu

(NC State)
I believe right now Seattle is hoping that one of Jermaine Johnson or Thibodeaux gets to them at 9, but I don't think that's likely to happen. Stingley could be a backup option if nothing else is available, but thanks to the Panthers taking a QB and the Saints trading up for a WR, Ekwonu falls right into Seattle's hands. I doubt they'll be expecting such luck, but they'll happily take him as tackle is a huge need and he fits the powerful run-blocking type that they love.
Green Bay Packers (trade from New York Jets):

WR Drake London

(USC)
The Packers don't usually take 1st round receivers, but they have never been this desperate for one either. Two things make me think a trade up for London could be a possibility. First, the Packers have been quite aggressive under Gutekunst, trading up in the first round 3 times out of 4. The reason I have London specifically is because the Packers have tended to draft bigger receivers recently. Adams, Jordy, Lazard, MVS, Equanimeous, Amari Rodgers...all 210+ lbs. Of the two big 1st round receivers I think they would go for London over Burks due to his more advanced route running. If they don't trade up for London then Christian Watson is the name to watch towards the bottom of the round.
Washington Commanders:

LB Devin Lloyd

(Utah)
I could see Washington going for a WR like most people mock, but I'm going a different direction and giving them a LB for the second year in a row. Lloyd is a tackling machine and possesses all the leadership qualities and discipline that Ron Rivera loves. NFL people love Lloyd and describe him as an alpha. He's going much higher than most in the media are projecting. He'll pair with Jamin Davis and Cole Holcomb to give Washington a promising group of LB's, something Rivera always looks for.
Pittsburgh Steelers (trade from Minnesota Vikings):

QB Malik Willis

(Liberty)
The worst kept secret in the draft is that the Steelers covet Malik Willis. The media has randomly decided he's the best QB and keep trying to jam him to every other team, but the reality is the NFL just isn't that interested in a massive project like Willis. There are only 1 or 2 teams that might take him and the Steelers have to be considered the massive favorites. There's been talk of them moving up into the top 5 for him, but 1) they know they don't have to go that far and 2) they aren't going to expend that much in resources to go get him. Moving up to 12 is a reasonable jump to secure their guy though.
Houston Texans:

OT Trevor Penning

(Northern Iowa)
As with their first pick, the Texans could take literally anything and it wouldn't surprise me. Karlaftis would make a ton of sense for example. But since I now have them passing on a run-blocking tackle at 3, I'm going to give it to them at 13. The Texans still want to run the ball in Pep Hamilton's new offense, and I think Penning could remind Nick Caserio of Nate Solder from his Patriot days.
Baltimore Ravens:

CB Derek Stingley

(LSU)
The Ravens are always tough to project because they aren't tied to taking their top needs and will instead draft whoever they think is the best remaining player. Trying to figure out who that is can be tough. They also like to trade down and that scenario is very possible here. But I'm going to leave them here and give them a guy some people think is a top 10 player. Cornerback is the weakest spot on Baltimore's roster and I think they might be very happy and surprised to see Stingley get to them this late. Injuries and inconsistent play are driving him down.
Philadelphia Eagles:

WR Jameson Williams

(Alabama)
The Eagles have multiple needs and multiple first round picks to fill those needs. I expect they will trade up and/or down at least once or twice. Here though I'll just have them sit and pick. We know they need another WR and Roseman isn't afraid to draft guys with injury issues if he thinks he's getting good value. I've heard Williams could somehow go top 10 even coming off an ACL tear, but that's a little rich for me. 15 seems like a good spot for him.
New York Giants (trade from New Orleans Saints):

S Kyle Hamilton

(Notre Dame)
The Giants traded down from 7 and catch a falling player deemed by many to be a top 5 pick in the draft. I've heard many reasons for a possible fall including the lack of positional value as a safety, his overrated play, or his combine 40-time. No matter what the reason is I think the Giants would be happy to snatch up a pretty solid player in the middle of the first. Right now all they have at safety is Julian Love and Xavier McKinney.
Los Angeles Chargers:

DT Jordan Davis

(Georgia)
The Chargers are said to be openly coveting Davis but think they need to trade into the top 12 to get him. That may be the case, but I have a hard time seeing who might take him that high. In this scenario he falls right into their laps at 17.
Philadelphia Eagles:

EDGE George Karlaftis

(Purdue)
Again I highly doubt the Eagles just sit tight at their spots and pick, but it works out ok for them in this mock. They already got their shiny new receiver and now they get another hard working edge rusher to provide depth. Karlaftis would take over for Brandon Graham in a year or two.
Kansas City Chiefs (trade from New Orleans Saints):

WR Chris Olave

(Ohio State)
The Saints already spent some more resources moving up for Wilson. Now they trade back to recoup some of that draft capital. The Chiefs will be looking for a new star receiver after the Tyreek trade and might be feeling anxious after three of the top guys come off the board in the top 15 picks. Can they afford to wait around for their guy? I think they could get aggressive like they often do and trade up into the top 20 to secure Olave.
Minnesota Vikings:

CB Trent McDuffie

(Washington)
Vikings fans will likely be howling if the team trades back with Stingley still on the board, but I think it's the right move. They can move back to 20, grab an extra pick or two, and still come away with the guy they really want, Trent McDuffie. New Vikings GM Kwesi Adofo-Mensah comes from a Cleveland team heavily influenced by Paul DePodesta of Moneyball fame. They like drafting highly athletic players in the first round and McDuffie fits the bill. He actually has a better physical profile than Stingley and comes with none of the injury and inconsistency issues.
New England Patriots:

OG Zion Johnson

(Boston College)
The Patriots could go for any position except RB and QB. They are hard to pin down usually and this year seems particularly tough. There's a good chance they trade down, but if they don't I think Johnson makes some sense to replace Shaq Mason. The Patriots often find very good guards in the middle rounds, but I doubt they would pass up a good football player in the first just because of his position. Johnson is smart, athletic, and a very solid interior player. He's going a lot higher than the media thinks.
New York Jets:

WR Treylon Burks

(Arkansas)
The Packers traded up for their WR and the Jets get their ideal scenario out of the deal. They move back for more draft capital and pick up the WR they have rated as best in class. I've been saying for a long time now that the Jets prefer Burks while everyone else mocks Garrett Wilson to them at 10. We shall see.
Arizona Cardinals:

EDGE David Ojabo

(Michigan)
Ojabo tore his ACL at his pro day this past week and it's absolutely going to cause him to fall, possibly out of the first round. But I could also see someone like Steve Keim jumping on him as a value pick in the mid-20's. Ojabo should be able to rehab and be ready to play by October or November.
Dallas Cowboys:

OT Charles Cross

(Mississippi State)
The Cowboys are looking at three possible positions in the first round, offensive line, receiver, and defensive tackle. All the best receivers are off the board and there's no DT worth this pick, but I do have Charles Cross available and the Cowboys pounce on him. I have no idea why the media keeps trying to jam Cross into the top 10-15 picks. He's a pass blocking only tackle for Mike Leach's Air Raid offense and he's just an ok athlete. I don't see many teams jumping to draft him over more exciting options.
New Orleans Saints (trade from Buffalo Bills):

QB Desmond Ridder

(Cincinnati)
The Saints have already traded up once and back once and now they are trading back up again to jump in front of the Titans for their preferred QB. Ridder seems to be getting a lot of love from NFL teams due to being a 4-year starter and having good character/smarts, a decent arm, and surprising athleticism.
Seattle Seahawks (trade from Tennessee Titans):

C Tyler Linderbaum

(Iowa)
The Saints jumped the Titans and stole their QB, but the Titans are happy to simply move out of the first round and grab some extra picks, something they've done many times since Jon Robinson took over. The Seahawks jump back into the first to lock up the best center in the draft because he's an excellent fit for their new Rams-style zone run game. Not many teams want a center as short and compact as Linderbaum, thus the drop to 26, but he's perfect for Seattle.
Tampa Bay Buccaneers:

DT Logan Hall

(Houston)
Tampa doesn't have a lot of weaknesses so they can afford to take whatever they want. I'm giving them Logan Hall, a tweener DE/DT. Hall can play a variety of positions on the defensive line and gives Todd Bowles another chess piece to harass QBs with.
Green Bay Packers:

S Dax Hill

(Michigan)
The Packers love spending first round picks on athletic secondary players. They value good safeties higher than most in the league and Hill comes with the added bonus of being able to play slot corner. His athleticism and positional versatility make him an excellent fit in Green Bay.
Buffalo Bills:

RB Breece Hall

(Iowa State)
The Bills can afford to take whatever position they want, but I can see them looking around and thinking they are close to a Superbowl and just needing a little extra threat on offense to get them over the hump. This pick reminds me of when the Chiefs took CEH in the late first. Now Breece is far, far better than CEH, but my point is the thinking behind it. "We're going to take a dynamic playmaking luxury to help us turbocharge the offense."
Kansas City Chiefs:

CB Andrew Booth

(Florida)
KC just lost Charvarious Ward in free agency so they desperately need another corner to add in the mix. Booth is the highest rated guy left. He might have gone higher if not for the hernia surgery he recently underwent.
Cincinnati Bengals:

S Lewis Cine

(Georgia)
The Bengals "fixed" their offensive line in free agency so I don't see them adding further to it in the draft. Instead I'm going to give them the hard-hitting safety Lewis Cine as a future replacement for Jessie Bates since they can't seem to get a contract done with him.
Detroit Lions:

WR Christian Watson

(North Dakota State)
Despite all the additions they've already made to their WR room, the Lions are reportedly still looking to add speed on the outside to help Jared Goff. The media wants a QB because they hate Goff for whatever reason, but the Lions want to build around him. It doesn't get any faster on the outside than Christian Watson. He's a clone of DJ Chark and would make a good insurance policy if things don't work out with Chark himself.