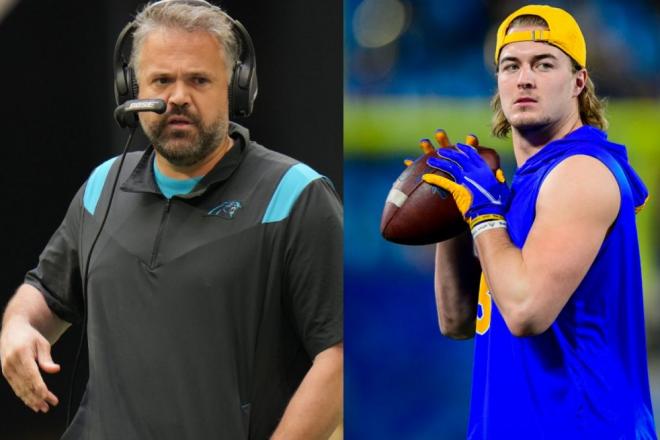 R.C. Fischer
FFM
23 March 2022
2022 NFL Mock Draft 4.0 (by Ross Jacobs)
Carolina Panthers (trade from Jaguars)

:

QB Kenny Pickett

(Pittsburgh)
After all the dust has settled on QB moves the Panthers still don't have a new starter as expected. Nobody wants to play for this team and coach. It's going to dawn on them very shortly that they have no other option than to turn to the draft, and there's only one guy that can start immediately...Kenny Pickett. Things are coming to a head just as we predicted all along. Perhaps Carolina didn't feel the need to move up before, but after the Falcons just traded Ryan they have to know the pressure is on. The Seahawks are lurking just a few spots later as well. David Tepper knows he has to get aggressive if he wants his guy. That's why I expect a trade to happen any day now.
Detroit Lions:

EDGE Aidan Hutchinson

(Michigan)
If the Panthers move up to #1 that leaves the Lions to take their choice of either Hutchinson or Travon Walker. It could be either, but I'm going to leave Hutchinson here for now. He's the "safer" choice, is a hometown kid, and exudes that tough-guy mentality Dan Campbell wants to project.
Houston Texans:

OT Ikem Ekwonu

(NC State)
Houston could literally draft any position and nobody would blink an eye. Their roster is barren. I'm switching this pick back to Ekwonu because I think he fits everything the Texans will be looking for, a road-grading blocker for the run game, versatility to play anywhere on the line, and outstanding character. Travon Walker wouldn't surprise me either.
New York Jets:

S Kyle Hamilton

(Notre Dame)
This is where things start to get murkier. The Jets need a lot of help, but they'll have several reasonable options at this juncture. Joe Douglas tends to be a "best player available" kind of guy, but I'm not really sure what that might be for him here. Hamilton supposedly grades out quite high for many services despite RC's utter disdain for him.
New York Giants:

OT Evan Neal

(Alabama)
The Giants almost have to take the top offensive tackle available. Their line has been a complete disaster and there is no way Nate Solder is coming back. Brian Daboll can get inside information on him through his connection to his former boss Saban. Neal slots in nicely as the starting RT.
Jacksonville Jaguars (trade from Panthers):

EDGE Travon Walker

(Georgia)
You've seen me mention Travon Walker a few times now, and that's because I believe he's moved into the top tier of players being considered. If Jacksonville doesn't trade down from #1 I think he has a very real shot to be the top overall selection. He simply has a higher ceiling than Aidan Hutchinson, and I don't think Trent Baalke will settle for trying to hit a double or triple. He wants the home run. If he can trade down and still get his guy...that's a grand slam. Only trouble is I don't know if Walker makes it to 6...
New York Giants:

CB Ahmad Gardner

(Cincinnati)
I expect James Bradberry will either be traded or cut very soon. That would open up a starting corner spot that could be filled by the feisty Gardner. He reminds me of a bigger Tre'Davious White, a guy Daboll is familiar with from his time in Buffalo.
Atlanta Falcons:

QB Malik Willis

(Liberty)
Last year I believe that the Falcons would have taken Trey Lance if SF had passed on him. This past week we saw them come inches from trading for Deshaun Watson and now they have officially sent Matt Ryan packing to Indianapolis. If it wasn't obvious they were thinking QB before, it certainly is now. Willis is drawing some comparisons to Trey Lance for obvious reasons and he's originally from Atlanta. This seems like a perfect match.
Seattle Seahawks:

EDGE Kayvon Thibodeaux

(Oregon)
Seattle has a ton of holes to fill so just about anything would make sense here, but Thibodeaux looks like an ideal candidate to play the LEO position for Pete Carroll. It doesn't hurt that Thibodeaux played college ball right down the road.
New York Jets:

WR Treylon Burks

(Arkansas)
The second of the Jets picks could be anything, but WR is right at the top of their boards. Since my last mock where I had Burks here, I've since heard that Joe Douglas has been gushing about Burks to anyone that will listen, and I don't believe his so-called "poor" combine will dissuade the Jets from selecting him this high. Burks is a ball-player, plain and simple.
Washington Commanders:

LB Devin Lloyd

(Utah)
I could see Washington going for a WR like most people mock, but I'm going a different direction and giving them a LB for the second year in a row. Lloyd is a tackling machine and possesses all the leadership qualities and discipline that Ron Rivera loves. He'll pair with Jamin Davis and Cole Holcomb to give Washington a promising group of LB's, something Rivera always looks for.
Minnesota Vikings:

CB Derek Stingley

(LSU)
Minnesota has been bringing in veteran corners the past several years under Mike Zimmer and still have an awful secondary. I think everyone expects this to be a CB and I'm not going to fight the obvious. Gardner or McDuffie would make sense here as well, and an edge rusher isn't out of the question.
Houston Texans:

EDGE Jermaine Johnson

(Florida St)
Houston owns this selection after trading away Watson to the Browns. If they pass on Travon Walker at #3 (or he's not available), I think they'll look to fill that need here. Johnson is a perfect fit for the Texans. He's got the size, athleticism, and production that Lovie Smith craves, and he's a devout Christian, tireless worker, and vocal leader, traits that Houston's front office will love.
Baltimore Ravens:

OT Trevor Penning

(Northern Iowa)
I still think this could be Jordan Davis, but I also won't be surprised if the Ravens go for Penning, a big, nasty mauler for their run game. The injuries to Ronnie Stanley have them worried so they'll be looking for more depth. Penning wouldn't have to start immediately and could take some time to continue developing.
Philadelphia Eagles:

WR Drake London

(USC)
The Eagles have multiple needs and multiple first round picks to fill those needs. I expect they will trade up and/or down at least once or twice. Here though I'll just have them sit and pick. Howie Roseman tends to go for one of two qualities in the first round, either insane athleticism or insane production. Here he goes for production. London was on an absolute tear before his injury this past year. He'll give Jalen Hurts a big possession target to throw to, something he sorely lacked this past year.
Philadelphia Eagles:

DT Jordan Davis

(Georgia)
I said Roseman likes crazy production or crazy athleticism. Well, this is the athleticism pick. Davis is in a world all his own as far as that goes, and Roseman will be happy to scoop him up and start rotating him into a deep and talented defensive line. Good luck running on the Eagles with Davis and Hargrave manning the middle.
Los Angeles Chargers:

OT Charles Cross

(Mississippi State)
The Chargers are sad to see Jordan Davis go one pick in front of them, but they'll happily take one of the better tackles to give Justin Herbert bookend blockers for the next ten years. I could also see them going for a speedy WR like Garrett Wilson here. He would compliment Allen and Williams well and give Herbert a vertical target to help spread the field.
New Orleans Saints:

Garrett Wilson

(Ohio State)
New Orleans still hasn't signed their stud left tackle Terron Armstead, but they have the cap space now so I won't be shocked if they are able to bring him back. If so, they can instead focus on their other big need on offense, WR. Wilson is typically rated in the top 3 at the position by most sources so he makes sense here for New Orleans.
Philadelphia Eagles:

S Daxton Hill

(Michigan)
This would be a surprise pick to many and I'm sure Roseman would catch crap for it, but it feels like an Eagles move. Hill is very athletic and very versatile, able to switch between corner and safety effectively. The Eagles need depth in their secondary and Hill helps them cover multiple positions.
Pittsburgh Steelers:

WR Jameson Williams

(Alabama)
The Steelers recently signed a few offensive linemen so that position is no longer a dire need for them. Instead they can afford to take whatever they like at 20. Williams would give them a speed threat to complement Claypool and Diontae.
New England Patriots:

CB Andrew Booth

(Clemson)
The Patriots could go for any position except RB and QB. There's a good chance they trade down, but if they don't I think Booth makes a ton of sense. They just let JC Jackson walk and will definitely be drafting a few corners. Booth is a possible Jalen Ramsey clone, but a recent injury and a bad defensive scheme at Clemson are hiding his true abilities. Belichick is unlikely to miss the signs of a shutdown corner.
Green Bay Packers:

EDGE George Karlaftis

(Purdue)
The Packers received this pick from the Raiders as part of the Davante Adams trade. WR is going to be a popular pick here for many mock drafters, but the Packers prefer to spend their 1st round picks on premier positions like offensive tackle and edge rusher. They won't be able to pass up the underrated Karlaftis, their new Clay Matthews.
Arizona Cardinals:

EDGE David Ojabo

(Michigan)
Ojabo tore his ACL at his pro day this past week and it's absolutely going to cause him to fall, possibly out of the first round. But I could also see someone like Steve Keim jumping on him as a value pick in the mid-20's. Ojabo should be able to rehab and be ready to play by October or November.
Dallas Cowboys:

OG Zion Johnson

(Boston College)
I previously thought the Cowboys would be leaning defense here, but so far most of their meetings have been with offensive lineman and much like the Steelers, the Cowboys are always quite open about what positions they are interested in. Johnson could easily go higher than this, but here I have him available and the Cowboys are happy to take him to replace awful Connor Williams. He could even fill in at tackle in a pinch.
Buffalo Bills:

CB Trent McDuffie

(Washington)
The Bills can afford to take whatever position they want, but corner is probably at the top of their wish list and here they get a media favorite fall right into their laps. I think McDuffie is overrated personally, but he's solid if nothing else and solid is right up Buffalo's alley.
Tennessee Titans:

WR Wan'Dale Robinson

(Kentucky)
Like most of the other good teams in this range, the Titans can afford to take whatever they want. Many mock drafters will pass on a WR here after their recent acquisition of Robert Woods, but Tennessee still could use a speed element at receiver and Robinson provides that. I've heard they are interested in Robinson specifically.
Tampa Bay Buccaneers:

DT Travis Jones

(UConn)
Tampa doesn't have a lot of weaknesses so they can afford to take whatever they want. I'm giving them Travis Jones, a huge, very athletic defensive tackle from UConn. Jones had a phenomenal combine that unfortunately got overshadowed by the freak known as Jordan Davis. He's going to be a shock late 1st round pick for many but could ultimately end up a very productive pro in the mold of a Chris Jones or DaQuan Jones.
Green Bay Packers:

WR Christian Watson

(North Dakota State)
Typically the Packers do not spend 1st round picks on WR's, but I think they might break that rule this year only. Watson is raw but can immediately fill the Valdes-Scantling role as a deep threat. It's easy to not get yelled at by Rodgers if your only job is to run fast in a straight line.
Kansas City Chiefs:

CB Kaiir Elam

(Florida)
KC just lost Charvarius Ward in free agency so they desperately need another corner to add in the mix. Elam is the highest rated guy left and fits nicely with what the Chiefs like to do on defense.
Miami Dolphins:

C Tyler Linderbaum

(Iowa)
Linderbaum supposedly grades out as a very good center, but he is quite small and has very short arms so he's not going to fit on many teams. He's a zone blocking center only. The Eagles make some sense but just drafted Landon Dickerson last year and have Jason Kelce returning. The only other spot I see is with Mike McDaniel and the Dolphins. McDaniel is bringing over the Kyle Shanahan offense which values mobility in their offensive linemen. Linderbaum is ideal for this scheme.
Cincinnati Bengals:

OT Nicholas Petit-Frere

(Ohio St)
The Bengals may have gotten lucky to make the Superbowl, but they blew the lead due to their awful offensive line. I bashed them all year for it and that weakness finally caught up to them. Ja'Marr Chase is fine, but he can't catch the ball if Joe Burrow is lying on the ground. The Bengals have signed multiple offensive linemen in free agency but could still use a new RT. Petit-Frere is an adequate selection this late in the first round.
Detroit Lions:

S Lewis Cine

(Georgia)
The fans will be begging for a WR here, but I think it can wait. The Lions will be happy to continue the run on Georgia defenders by picking up their ferocious enforcer in the secondary. Cine is a bit undersized but hits like a ton of bricks, perfect for the tough guy mentality Dan Campbell is trying to cultivate.