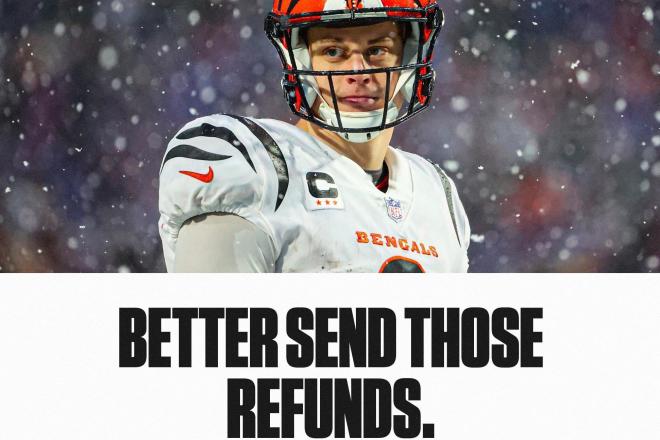 R.C. Fischer
FFM
25 January 2023
2022-23 Divisional: Bengals 27, Bills 10 (Dynasty/Fantasy Analysis Game Report)
Everything I've ever said about how moronic NFL analysts are, and the power THEY hold sway over the football-lovin', easily duped fawning masses (of which, I used to be one) is on full display concerning this game and more specifically on a game coming up this week. I'll explain what I mean at the end of this intro. First, let's just summarize this particular game…
What do the Bengals have to do to prove they are the best team in football? They went to Buffalo, in the snow, down two (actually 3) starting O-Linemen, as underdogs…and they totally wrecked the Bills. I mean, right from the jump the game was basically over. You could see it in the body language of the Bengals, and the Bills, about 5-10 minutes into the game. And we had to watch the final 50-55 minutes watching the game, listening to Tony Romo tell us how sneaky and how much of a sleeper the Bengals are. Thanks, Tony! No one in football analysis is worse than Tony Romo…I don't know what happened to him, but he is the most dreadful voice I hear week-to-week…so much so, that I need/want to hear what the TV people are saying when I rewatch/study these games to know what my opposition is thinking, to get into their minds to bet against their erroneous ways -- but the one game each week that I will occasionally mute is the one with Romo -- because nothing can be learned, and only aggravation will occur.
There's not much more to say about this game other than the Bills are lucky they didn't lose to a 3rd-string QB last week, and then they got embarrassed by Cincy for a second time in a month here (but the prior one was called early, sparing a full beating).  
The Bills have peaked. Brian Daboll DID mean more to the Bills than I originally thought…I guess. McDermott replaced Daboll with a total dud O-C (Ken Dorsey) and the Bills are still good/dangerous but aren't better than the Bengals…and Miami and NYJ are preparing to make their moves next season in the division. The Bills had a chance to keep building on and improving from their 2019 breakout, but like most NFL teams…sustained success is a near impossible feat because the staff and personnel people get randomly lucky on things once and are not sustainably good at their jobs…just randomly lucky that there is a franchise QB there to help keep them employed and randomly have a season where injuries aren't a big factor against them.
The Bengals win big/dominate and will go face the Chiefs. Now, here's where you HAVE TO fully drink this in…fully savor just how awful football analysis is, how the media is so wrong about almost everything, and how they sway the public…
The Bengals won this game, and pretty soon after the final seconds ran out, Vegas put up point spreads for next week's CIN-KC showdown. Their initial line = -3.0 KC.
Now consider this for a moment…
The Bengals have faced the Chiefs three times in the last 12 months and the Bengals have won all three times…and, yet, Kansas City was the immediate favorite by 3.0. But also consider, the Chiefs had just played the day prior, and we all saw Patrick Mahomes sustain an ankle sprain he could barely move on. So, when Vegas makes this initial point spread, they know/we all know Cincy is (3-0) against KC in a year…PLUS, they know Mahomes is in some kind of injury question. Mahomes could be severely hindered by the injury…and possibly he could be 'out'. With all those dark clouds hanging over KC, Vegas set the line at -3.0 for the Chiefs.
Vegas set the lines following the media/the expert mood or analysis PLUS trying to see where they can set a line to balance bets on both sides…they decided on -3.0 for KC because of the heavy pro-KC sentiment from the media, and thus down to the gullible fans. Kansas City has been anointed as the de facto 2022-23 season champs in waiting every week of the season. Tony Romo and Cris Collinsworth routinely have multiple orgasms on national television watching Mahomes play, and talking about Mahomes when they are calling other games not involving KC. This unwitting football version of a psyops is pushed down to the lemming fans and off they go betting Kansas City to beat the lowly Bengals.
The definition of psyops from our own government (the DOD): Intended to convey selected information and indicators to foreign audiences to influence their emotions, motives, objective reasoning, and ultimately the behavior of foreign governments, organizations, groups, and individuals. The purpose of psychological operations is to induce or reinforce foreign attitudes and behavior favorable to the originator's objectives.
I called it an 'unwitting psyops' because Tony Romo is an idiot…as are many others. They aren't the master planners, just the dupes carrying the water. You see it in the regular media, and football is no different. Overpaid talking heads are on national TV promoting everything Chiefs, because they think Mahomes is great and 'cool' (which is the easiest/safest analysis anyone could do), and they get millions a year to constantly tell you Mahomes is great and 'cool'…because the fans think/know Mahomes is great and 'cool'. It's the safest 'take' in football -- Patrick Mahomes is great, and let's explain why over and over and over! Wow, you don't say? *Also, note: Tony Romo was pushing Dallas as a top Super Bowl contender during this game…no bias there either.
All the nonstop KC/Mahomes promotion creates a narrative that the public reacts to…because the masses trust their football pundits. The Chiefs were 6-10-1 against the spread this regular season and so far 0-1-0 ATS in the playoffs -- people are getting suckered once again by ad analysis, emotional responses.
I wrote 'lowly Bengals' a few paragraphs ago because that's the other part of this psyops -- because THEY barely talk about the Bengals. When they do see the Bengals winning against big-time opponents it is a 'shock' to them…because they don't think the Bengals are any good. Tony Romo spent the first 2-3 minutes of this game talking about how Bills D-C Leslie Frazier should be a head coach already because of the great Bills defense -- as Burrow went out and mowed them down as he was speaking the words, and having watched Skylar Thompson score 31 points on them in a near upset the week prior. Romo didn't talk about the Bengals D-C being overdue head coaching opportunities. I bet Romo doesn't know the Bengals D-C's name. I don't know his name…it's some unusual last name that starts with an 'A'.
And that's the point…
It's non-stop talk about how great Kansas City is and NO talk on how much better Cincy is. KC has a bunch of household names because they are on TV getting promoted all the time…but it's tumbleweeds blowing across a deserted old west town's street is the coverage/promotion Cincy gets. Why, because the pro-Mahomes agenda would be ruined if there was a better horse out there (Burrow) than the one they all worship (Mahomes). The Bengals went through the AFC last year, beating KC (twice) to do it, and got to the Super Bowl (and had it robbed by the refs). The moment the Super Bowl ended…the Vegas odds for the upcoming season popped up and the odds-on favorite for the next Super Bowl champs was…? Kansas City.
The Bengals were 13-5-0 against the spread in the 2022 regular season…double better than KC in 2022.
The Bengals greatness is happening right in front of everyone in football's eyes, and yet the media and the masses flock to KC as the favorite right away this weekend, even with a one-legged QB. This week is filled with 'watch out for the sneaky Bengals' talk from NFL analysts…they still don't get it. First thing this morning, I saw a Yahoo article on the Bengals as great villains -- it was an open book into the hive mind of the football intelligentsia. The Bengals winning all these games the last two years, getting over KC all the time, and now ruined our KC-BUF fun in the AFC Finals…it's villainous. How dare they do these things to ruin the brainwash party?
When Cincy wins this week, they will likely be underdogs to whomever wins the NFC…especially if it is Philly. And as soon as (if) Cincy wins the upcoming Super Bowl, the Vegas 2023 season odds will come out 5 minutes after the game with Kansas City as the top favorite for the next Super Bowl winner…and all the weeks before and after the Super Bowl, analysts will bemoan -- if only Mahomes was 100%, they woulda been champs.
The best team in football two years running, Cincinnati…right in front of everyone's faces -- and the media still thinks they're just a plucky underdog/sleeper story today. The best thing happening in the sport they are paid to cover (the Bengals)…it's going right over their heads, as they talk about 'how great KC is' some more. How can you trust them in any other football analysis when the most obvious things elude them?
The smarter fans/bettors see through this…and thus the Bengals started at +3.0 underdogs, which quickly went to +2.5…then +2.0…then +1.5…then +1.0…on its way to -2.5 Bengals…for the highwater mark for Cincy, on the day I wrote this draft. KC fans were triggered back to betting this now -1.5 Cincy. Probably on its way back to KC as a favorite by week's end.
It's really unbelievable that Cincinnati would be an instant underdog here -- but it makes perfect sense when you consider how twisted the fans' minds are by the media coverage of the sport. And the media will keep making this type of mistake over and over and over, as they have for all my years…and their analysis influences fans and coaches (on the draft, and game plans, and personnel).
All we can do is identify it…and try to profit from it. Betting and/or Fantasy-wise.
And it's why we should also question everything when they start talking about the NFL Draft prospects, instead we'll hang on to their every word and unwittingly adopt their outlooks/narratives. It's really sad.
I'm going to fight it for as long as I can. Help keep us in the fight!
--------------------------------------------------------------
FFM Subscription information: Subscription info
--------------------------------------------------------------
*Note any fractional numbers in parentheses (4/2) or (2/3), etc., are a 'split' stat on our definition of a 'quality start' (or not) marker on a player -- using 14 PPR points in a game for RB-WR-TE and 21 for a QB…point levels that are good/productive/well above average starts for a Fantasy week. Trying to identify trends, consistency (or not) in players we might not normally realize.
A (3/2), for example, means: 3 times the player hit at/above the mark, and 2 times they did not.
Fantasy Player Notes…
 -- Furthering the pro-KC push and shadow banned Cincinnati narratives…it should be clear by now that Joe Burrow (23-36 for 242 yards, 2 TDs/0 INT) is the best QB in the NFL. Mahomes is the 'sexiest', but Burrow is the best.
If you asked 100 random NFL popular TV analysts who they'd rather have…100 to zero they'd choose Mahomes. Thus, the KC initial -3.0 point spread Sunday night in the upcoming AFC title game.
Mahomes is better for FF…right now, but Burrow is the best for the NFL -- the next Tom Brady.
Before the playoffs began, I took betting positions in Cincy to win the title…Cincy to face SF…Burrow as MVP. All at pretty tasty odds. I got a lot riding on 'my' Bengals. 'My' = until the bets payout.
Not a bad performance from a guy missing three starting offensive linemen…which had the entirety of the NFL analysts picking, and bettors betting on Buffalo and laying the points. Not me, Chris (Bet The Close), and Andrew DFS…hope you caught our show Friday night or on demand after -- we all took/bet Cincy and the points, with Chris and Andrew calling for the outright upset.
Did you know Burrow has been sacked just 1 or 2 times in a game in 9 of his last 10 games? Only the Baltimore playoff game had him above that (4). Shouldn't the Cincy O-Line coach be up for head coaching jobs?
 -- And the Cincy O-Line coach (Frank Pollack) can add this to his resume: Joe Mixon (20-105-1, 2-18-0/3) hardly ever runs for 100+ yards in a game anymore…but he did here, even down 2-3 starting offensive lineman.
But Tony Romo demands Leslie Frazier (Bills D-C) be a head coach…like yesterday. I didn't catch him pushing any Bengals assistant coaches.
See how this nonsense works? I could do this all day…
 -- Our Samaje Perine (7-33-0, 5-31-0/5) prop bets on his rush + rec. yards OVER 30.5 paid off before halftime. Hope you got in on it.
Perine is gonna play a major role every week because he is Burrow's protector, especially when the O-Line is missing starters.
Perine could be a similar prop bet again this week vs. KC.
 -- How good is this Bengals defense! They've been operating at a high/top 10 NFL defense level for two years now…and this year they are succeeding while missing their ace CB Chidobe Awuzie. They just shutdown Josh Allen (25-42 for 265 yards, 0 TD/1 INT, 8-26-1) with Eli Apple as a starting corner!
Allen says he's been bothered much of the 2nd-half of the season by that elbow twist/injury he sustained several weeks ago (Week 9). He did tail off more after that event, so I can believe it. But this was about Cincinnati's defense here…and no great response from O-C Ken Dorsey, which has been par for the course all season.
 -- Now to the full Ken Dorsey bashing show…
James Cook (5-13-0, 0-0-0/0) looked timid toting the ball this game, but I partially blame Buffalo for not pushing him more all season to be ready for such a moment…and for not using him the way God/every draft analyst intended this season -- as a passing game weapon.
Cook was lauded as the top 'backfield receiving weapon' prospect in the 2022 NFL Draft by all the analysts (but really Rachaad White was, another miss by THEM, but I digress). Everybody in TV draft analysis claimed Cook as a top pass game weapon…everybody echoed it…he played for the national champs (Georgia) where he was lauded for his receiver abilities all season…and when they drafted him, the Buffalo GM talked about Cook's receiving skills and what a weapon they would be for them.
All that, and in the most important game of the season…Cook has zero targets. Cook had zero targets the prior week. Cook has had 0-2 targets in a game in 13 of his 18 games played this season. He was never used in the way they supposedly drafted him for. How is Ken Dorsey getting head coaching interviews?
 -- Also not developed for the playoff run…the Bills 2nd most talented receiver on the roster, Khalil Shakir (2-40-0/2). Instead of getting Shakir up to speed as a quasi-starter by now, Buffalo instead signed/wasted snaps with John Brown and Cole Beasley (and traded for Nyheim Hines).
Had Buffalo developed Cook and Shakir better…this offense might have been so much better with a chance to compete more with the Cincinnati's of the world.
Dorsey will be back in 2023…I'm not sure if they'll really give into the young guys next season either…or rather they go out and sign a bunch of fading veterans, as seems to be their cockeyed solution to things recently.
 -- Tee Higgins (3-28-0/4) in his three games since the Damar Hamlin incident…
1-7-0/7
4-37-0/6
3-28-0/4
Per game = 2.7 rec. (5.7 targets), 24.0 yards, 0.0 TDs
Could be a coincidence…might not. I don't know.
 -- Just FYI…Tony Romo…
The Bengals defense has held five of their last 6 opponents to 18 points or fewer…all while missing their top CB. They've allowed 13.5 PPG in two playoff games.
Buffalo's defense has held two of their last 6 opponents to 18 points or fewer…all while getting their ace CB back from injury (Tre'Davious). They've allowed 29.0 PPG in their two playoff games.
His name is Lou Anarumo…defensive coordinator, Cincinnati Bengals. He's better than Leslie Frazier, D-C Buffalo Bills, despite what Romo belched on national TV Sunday.
Snap Counts of Interest:
62 = Gabe Davis
57 = Diggs
30 = Beasley
18 = Shakir
17 = McKenzie
39 = Singletary
21 = Cook
42 = Mixon
33 = Perine