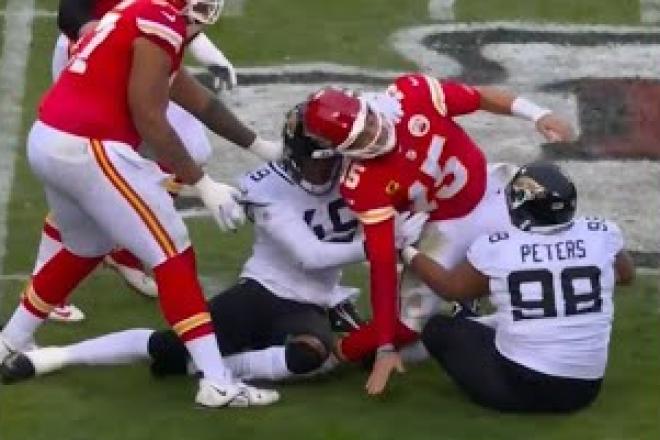 R.C. Fischer
FFM
23 January 2023
2022-23 Divisional Playoff: Chiefs 27, Jaguars 20 (Dynasty/Fantasy Game Report)
With 5+ minutes remaining in the game, 27-17 KC lead, 1st & goal for Jacksonville, Trevor Lawrence hit Jamal Agnew for a completion nearing the goal line, and when Agnew went to try and turn and run into the end zone he was stripped of the ball and the game was effectively ended for the Jacksonville. Had the Jaguars scored there, to cut the lead to 27-24 with Patrick Mahomes limping and drastically reduced in effectiveness, and Jacksonville having the momentum for several minutes' prior -- there was a very real threat, had Agnew not fumbled, that Jacksonville might have won that game. Alas, we'll never know.
Jacksonville only had a chance in this game because Mahomes suffered a high ankle sprain and tried to play through it, prior to that KC was pretty well handling Jacksonville. Healthy Mahomes would've likely put that game away by two+ scores the way KC was playing…and as JAX was looking a little over their skis.
Jacksonville heads to the offseason on a high -- shock division winner and then the shock comeback against LAC in the wild card round. They'll be the 2023 AFC South media/fan favorite prediction to win the division this offseason, but I think I'd bet on Tennessee…from what we know/project today. Tennessee was devastated with injury all season and it got worse as the season went on…and they still almost snuck away with the division. We'll see what the draft and free agency does to this outlook, and if Indianapolis has any hope to be in the discussion…or Houston with a new hot shot QB, for that matter.
KC has a lot of trouble going to the next round. They're already not-better than the Bengals, and they know it, losers of their last three against Cincy/Burrow the past two seasons. But even worse, Patrick Mahomes will likely be limited…or very limited…or possibly out/inactive for the Cincy game. All signs point to the Bengals beating KC for a fourth time in the last 13-14 months.
*Note any fractional numbers in parentheses (4/2) or (2/3), etc., are a 'split' stat on our definition of a 'quality start' (or not) marker on a player -- using 14 PPR points in a game for RB-WR-TE and 21 for a QB…point levels that are good/productive/well above average starts for a Fantasy week. Trying to identify trends, consistency (or not) in players we might not normally realize.
A (3/2), for example, means: 3 times the player hit at/above the mark, and 2 times they did not.
Fantasy Player Notes…
 -- Patrick Mahomes (22-30 for 195 yards, 2 TDs/0 INT) was a warrior in this game, playing through a high ankle sprain, and they won the battle…but may have lost the war.
A high ankle sprain for Mahomes…I've been there a couple times in my younger athletics days. Sustained them in-game and it hurt like a mother, but I was able to tape it up and tie my high-top sneakers tighter (basketball) and you can keep playing on it with adrenaline and keeping it loose. The bad news is that when you get off the foot, and sleep overnight, that sprain sets in and it will look ugly (visibly) in the morning, and it will be impossible to walk on it and that first trial step in the morning hurt 10x worse than when you tried to play a game on it the day prior.
Mahomes is likely to try to play on the bad ankle on Sunday vs. Cincy and be very limited…a quasi-statue in the pocket with a drastically reduced ability to plant and throw or get up and go to run/scramble/avoid. You saw him have issues playing on it Saturday…it will be as bad, but potentially worse this Sunday. Tough time to sustain that injury.
There's a chance he may not even be able to play.
 -- Mahomes playing on a bad ankle, Jacksonville staying in the game…and where does Mahomes go with the ball/who does he trust in his ankle crisis?
Travis Kelce (14-98-2/17).
Enough said.
Why Jacksonville didn't adjust to this, I have no idea.
Actually, I have a different thing to point out about the Mahomes targets this game…
JuJu Smith-Schuster (2-29-0/2)
Marquez Valdes-Scantling (1-6-0/2)
Why did they even bother signing them…or keep pushing them all season?
Kadarius Toney (5-36-0/7)…led all KC WRs by far, but still only 20 snaps played. Mahomes is going to him, but the coaches won't put him on the field enough. If they do, in 2023…how much is Toney worth as Mahomes' top WR look/desire?
MVS can be (and will be) paid off $4M to go away this offseason. JuJu is a free agent. In 2023, it will be ____ veteran WR + Toney + Skyy Moore as the trio around Mahomes…then watchout for a higher scoring, high output FF group from Mahomes to Toney and Skyy, potentially.
 -- KC pushed Isiah Pacheco (12-95-0, 1-6-0/1) early and often, especially when Mahomes went out…then kinda drifted away from him. Watching him run early in this game, I can see how confident Pacheco is getting…he's running more and more patiently and effectively. He will be THE guy for KC in 2023 and beyond.
Jerick McKinnon (11-25-0, 0-0-0/0) is a free agent, and they'll want to keep him but he may bail for more money, and I suspect Clyde Edwards-Helaire will be traded.
--------------------------------------------------------------
FFM Subscription information: Subscription info
--------------------------------------------------------------
 -- Trevor Lawrence (24-39 for 217 yards, 1 TD/1 INT, 3-26-0) didn't play a bad game…he just didn't seize the moment with a game where he put the team on his back -- and he's not that kind of QB anyway.
I will no longer call him a 'bust'…he won't bust, he'll just not be 'generational'…which is a kinda-sorta bust in a sense…from expectations. I've learned from 2022 season that anyone and everyone can play QB well in the NFL…from Cooper Rush to Geno Smith to Justin Fields to Taylor Heinicke to Brock Purdy to Chad Henne (5-7 for 23 yards, 1 TD/0 INT) to Mr. Trevor Lawrence.
As long as the QB has a coach not restricting the passing game too much (or worse), and the QB has a decent O-Line, and a decent weapon or two to throw to -- the average talent QB will be fine in the NFL.
 -- I thought KC would be vulnerable against the TE here, but Evan Engram (5-32-0/6) wasn't a forced plan, and it was a missed opportunity for JAX, to me.
Engram ends the season with the best run of his career…going into another free agency. He only signed a one-year deal in 2022, so he's set to get a big deal in free agency 2023…or Jacksonville franchise tags him, possibly. I wish Engram could go somewhere to be a main feature receiver…not a part of an ensemble. It's 60/40 whether Engram is back on a tag, or a big/new deal.
 -- Last time to note it, in this late 2022 season…Christian Kirk (7-52-1/14) and Zay Jones (5-63-0/7) had a fine season taking turns as the team's #1 target/output WR every few weeks. But we have to reevaluate their Dynasty value going forward when Calvin Ridley just drops into the mix 2023 season…memba that trade deadline deal? And the Jags traded a lot for Ridley…so, he's coming in to play/be a #1 maybe.
Possibly Kirk-Zay-Ridley-Engram for Jacksonville Week 1 of 2023…that helps Trevor Lawrence's Dynasty value.
 -- I hit my prop bet (over on 6.5 tackles) on JAX SAF Rayshawn Jenkins (7 tackles)…but it was harrowing. He got steady tackles for three quarters and looked like a lock but then he went dry and started making me sweat, but he got #7 with a few minutes remaining.
Jenkins has had a bang-up 2nd-half of the season for a vastly improved, in the 2nd-half of the 2022 season, Jacksonville defense.
Jenkins hit the over, which paid off a minor bet prop on Evan Engram not hitting his yards
 -- This was a game where I was interested to see if the KC defense took a step forward…a lot of young talent, a solid D-C with two weeks to plan for a good-not-great JAX offense. And, yes, they held JAX to 20 points but had Agnew not fumbled at the goal line then would have given up 24 points with an Agnew (or other) TD on that drive with still 5+ minutes left to go for JAX to go get a tie or win in regulation. Another kinda letdown performance from this KC defense.
Facing Joe Burrow this week is a whole different ball game…only the weather (cold and possible snow) can spare KC from giving up 25-30+ points this week. They gave up 27 points to Cincy Week 13. In their three CIN losses in the last 14 months, they've given up 34-27-27.
Snap Counts of Interest:
44 = McKinnon
24 = Pacheco
58 = Juju
38 = Justin Watson
34 = MVS
20 = Toney
18 = Skyy
59 = Engram
58 = Zay
51 = Kirk
45 = Marvin J
11 = Agnew
03 = T Jones
35 = Hasty
26 = Etienne