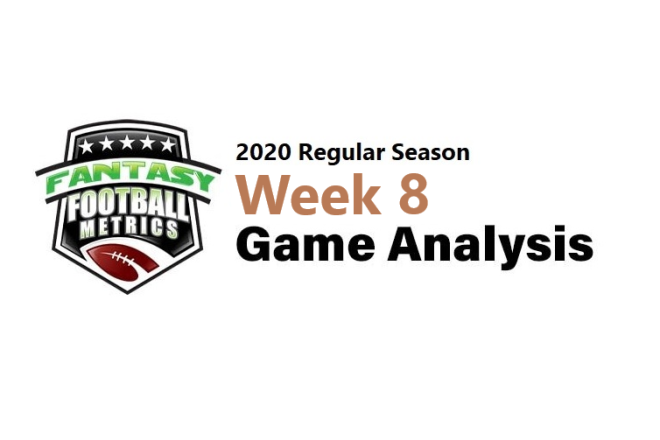 R.C. Fischer
FFM
04 November 2020
2020 Dynasty/Fantasy Week 8 Game Analysis: Seahawks 37, 49ers 27
I take notes during the live watch. I re-watch the game on tape looking for hidden clues to report on. Here are my notes/takes on what I saw and how it related to FF 2020. I write anywhere from 1,000-3,000+ words on each game, and I must move fast to get to all of them through the week…so, please forgive any typos/grammar.
The score was a lot closer than reality. Seattle led 30-7 with 14 minutes left in this game. The 49ers added three garbage-ish scores, but this wasn't ever in doubt…and the 49ers lost Jimmy Garoppolo and George Kittle along the way making it a pretty dour game. Considering the Seahawks ran with a 4th-string, rookie RB…it was a pretty resounding takedown of SF.
Seattle is now (6-1) and took a big step forward for the NFC West title. We see 11-12 wins for Seattle and fighting off Arizona and L.A. for the division.
San Francisco falls to (4-4) and has schedule trouble ahead…and now Kittle and Jimmy G. are out for weeks along with Deebo and Mostert out for another week. GB, at NO, BYE, at LAR, BUF the next 4 weeks…the 49ers could get blown out of 2020 by the time we hit December. For all intents and purposes…it's over for them. Too many injuries. Not their fault. Their only hope is splitting the next four games and get to (6-6) and get Jimmy G. back and trying to win three of their final 4 games to finish the season to sneak into the playoffs. Not likely to happen.
Fantasy Player Notes…
 -- You saw what Dalvin Cook did to the Green Bay defense? You can run hard on the Packers, been true for two years now…and they have even worse linebacker play in 2020. The Packers knew that Cook was going to get the ball and they couldn't stop it…which was like what the 49ers did to the Packers in last year's playoffs – remember, when Raheem Mostert ran for 200+ and 4 TDs against them?
Well, I assume the 49ers are going there (a heavy run game) again Week 9 because…why wouldn't they? If so, JaMycal Hasty (12-29-1, 1-2-0/1) not Jerick McKinnon (3-0-1, 4-40-0/4) could be in for a big workload and output.
Tevin Coleman is already out for Week 9…he's about droppable, he can't stay healthy…and then Raheem Mostert planned to return Week 10.
If Mostert is back Week 10 and the 49ers are fading away…there's no need to rush back Coleman, and if the season falls the next few weeks – Coleman could get cut. The 49ers would turn to younger backs to see what they have for 2021. Coleman is a very weak hold right now, but it seems like 2-3 RBs get hurt for the 49ers every other week…so who knows?
 -- It's 2020, and midway through the season…JaMycal Hasty and DeeJay Dallas (18-41-1, 5-17-1/5) are now important things in fantasy. I'd rather have Hasty for Week 9.
Carlos Hyde is likely out Week 9, again.
Chris Carson is 50/50 for Week 9.
Travis Homer (1-4-0) is likely to be active but he's not 100% but could be closer to healthy for Week 9.
If Carson is healthy, he's the man Week 9.
If Carson is out and Homer is practicing more this week…it would be a Homer split with Dallas.
If Carson is out and Homer barely practices…Dallas has another shot at the lead role Week 9.
My guess is one of Carson or Homer, or both, muddies this up for another Dallas fairytale FF week.
 -- Who does Nick Mullens (18-25 for 238 yards, 2 TDs/0 INT) throw to?
Well, this game went off the rails and he worked Brandon Aiyuk (8-91-1/11) and Kendrick Bourne (8-81-0/10) against prevent defenses in the 2nd-half.
Mullens' prior two starts in 2020…
3.5 rec. (6.0 targets), 48.0 yards, 0.0 TDs = Bourne
3.5 rec. (6.5 targets), 44.0 yards, 0.0 TDs = Aiyuk
Deebo wasn't available in one of the games, and just came back to debut for 2020 in the other to skew some of this.
The interesting thing is – Mullens, apparently, LOVES tight ends…
Mullens first full start, Jordan Reed and Ross Dwelley combined for 6 rec. for 72 yards off 10 targets.
Mullens' next week/start, George Kittle returned and had that 15 catch, 183 yards, and 1 TD game.
Jordan Reed might be back for TNF, but if not…Ross Dwelley could be in line for an interesting week.
 -- Remember when Tyler Lockett (4-33-0/5) had that 15-200-3/20 game two weeks ago? If you ignore that game, in his last three games: 3.3 rec., 38.7 yards, 0.0 TDs per game. Three of his last 4 games have been an FF-dud.
I still maintain the belief…Lockett has to be a decent play every week given the passing game numbers and sometimes D-C's might actually over-cover D.K. Metcalf (12-161-2/15) and give opportunity for Lockett numbers like he's put up in half his games this season.
 -- Dante Pettis (DNP) returned a kick in this game and fumbled it away…and he was cut on Tuesday.
For a moment, Pettis was the 49ers #1 WR in 2018…and then expected to be the #1 in 2019 but it all fell apart, he went into the doghouse and never left. Now, he's a free agent.
Looking at GB-KC-BAL as landing spots…but his career is all but shot it appears. Has the skills, but not the heart – but a change may do him good.
Snap Counts of Interest:
35 = McKinnon
29 = Hasty
54 = DeeJay Dallas
07 = Homer
43 = Dissly
37 = Olsen
26 = Hollister
03 = Parkinson