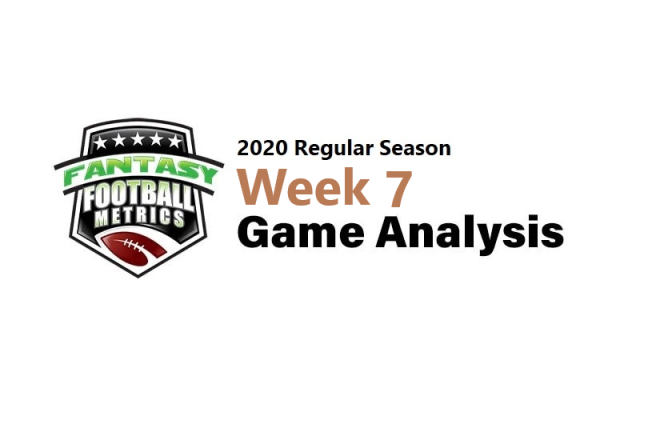 R.C. Fischer
FFM
28 October 2020
2020 Dynasty/Fantasy Week 7: Game Analysis: Saints 27, Panthers 24
I take notes during the live watch. I re-watch the game on tape looking for hidden clues to report on. Here are my notes/takes on what I saw and how it related to FF 2020. I write anywhere from 1,000-3,000+ words on each game, and I have to move fast to get to all of them through the week…so, please forgive any typos/grammar.
The Saints scored first and held the lead until the end of the 3rd-quarter. Carolina tied it going into the 4th-quarter, but the Saints hit a field goal with 7+ minutes left. Carolina was last minute driving for a game tying FG attempt…Teddy got sacked and took them from a 50+ yard FG to a 65-yard attempt…in which Joey Slye split the uprights on it but his kick went 64.8 yards, and just went under the crossbar for a heartbreaking ending.
This was a back and forth game. Hard to tell who the better team was…at New Orleans. That's a sign that: (a) The Panthers are really good among the 'average' teams. And (b) The Saints are fading away, getting lucky to win week-to-week. Their run with Brees, et al. is over. The Bucs have surpassed them, among others.
The Saints are now (4-2), lucky they aren't (1-5). If they lose at TB Week 9…they might not even be a playoff team. I think they will get destroyed in Week 9 and then we'd project them to go 9 wins, 10 wins possible.
The Panthers are (3-4) and that's about what they are…a .500 team. They are the future of the NFC South from 2022 on. Right now, they're just a pesky team to play each week…not ready for primetime. 7-8 wins are very possible for Carolina this season…9 wins on the table.
Fantasy Player Notes…
 -- Will Christian McCaffrey (DNP) play Week 8? Probably not, but he looks strong for Week 9. This is the final week of Mike Davis (7-12-0, 5-24-0/5), which is timely because he looks like he's running out of steam a bit. Just 2.6 yards per carry his last two games…he may be secretly banged up. He was a bit questionable a few weeks ago.  
It's getting so bad at RB that UDFA rookie CB Myles Hartsfield (2-2-0) took the second-most carries in the game for the Panthers. Hartsfield recently converted to RB (a former high school RB star) to help the cause.
In a key goal line situation late, Curtis Samuel (1-5-1, 6-48-0/6) took a goal line TD to tie the game.
If no CMC, Davis is a play Week 8…but worry about underperformance. If CMC can play, Davis may not see the relief touches we think…I believe he needs a week to recoup from his injuries/hits he's been taking. He's always been an injury bug guy.
 -- Robby Anderson (6-74-0/8) is still the Carolina WR to have.
D.J. Moore (4-93-2/5) scored 2 TDs, and that's great but he's just a 3rd-wheel in this passing game now…and it's working, so no hate for the FF results but the real activity is that Robby is Teddy's guy and then Custis Samuel has become a de facto go-to in the important spots, a clutch WR …he's caught like 14-of-14 passes converting 3rd-downs this season. He's been a low-key MVP for the Panthers.
Moore hit on a 74-yard catch and run TD this game…which is nice. But he had 3 catches for 19 yards otherwise. He's closer to being 2020 Christian Kirk than you think.
Moore has 6 or fewer targets in four of his last five games…he's averaged 4.8 catches per game the past 5 weeks.
In that same span, Samuel has 4.5 catches per game…but add in his rushing attempts and he has his hands on the ball 7.2 times per game compared to Moore's 4.8.
Samuel is getting back on the Flex radar.
 -- Marquez Callaway (8-75-0/10) became the new favorite target for Drew Brees…by attrition. No Thomas-Sanders this game.
All I saw was Callaway running basic routes and sitting in pockets of the zone and Brees hitting him for easy catches. No star activity, just 'available'…and Tre'Quan Smith 4-54-0/4) sucks/is useless so a UDFA rookie WR is now more important in a crisis.
Callaway could be a factor this week if Thomas-Sanders out again, but he's very questionable with a late-game injury that didn't look great. I don't see a star or even a Travis Fulgham or Marcus Johnson-like potential rise to power. It just is what it is, that I see. Will go away quickly when Thomas-Sanders returns.
 -- Jared Cook (3-32-1/4) is doing Jared Cook things…lower volume, high propensity for TDs. 3 TDs in his last 4 games. Under 35 yards with just 2 catches each game in three of his last four games. That's who he is…but with some hope for upside for more when Thomas-Sanders returns, and things get back to more normal for the Saints.
 -- Saints DE Marcus Davenport (2 tackles, 1.0 sacks) is back from injury. In his two games played this year…3 QB hits total. He's getting to the QB playing about 50% of the snaps on defense as a pass rush specialist. He's showing signs of sacks to come especially against bad O-Line play. Problem is no great matchups for IDP the next 3 weeks: CHI-TB-SF.
 -- Is the Saints-DST a sleeper/worthy of attention ahead? Going into the season people felt like this was a top NFL defense…it hasn't been.
The have value vs. CHI this week but then at TB, SF, at ATL is not great. I'm not seeing any signs that this defense is turning a corner…I see more things to worry about then get excited about.
Snap Counts of Interest:
58 = Kamara
23 = Murray
33 = Mk Davis
22 = Samuel
04 = Hartsfield
03 = Cannon