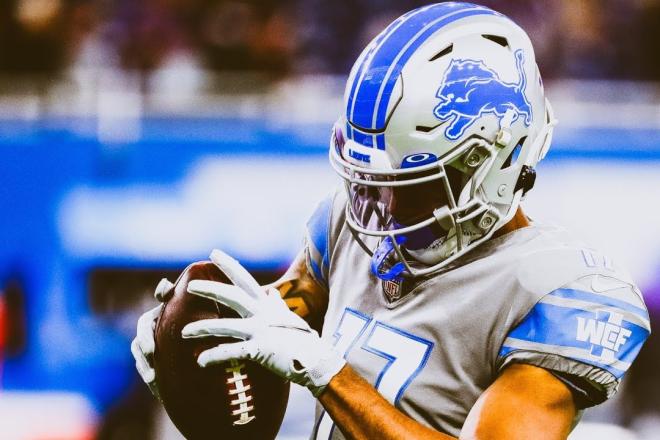 R.C. Fischer
FFM
19 September 2021
‍
A Detroit Lions Emerging Dynasty/Fantasy Opportunity…
Opportunity, thy name is WR Trinity Benson? We're starting to believe that Benson is the best WR on the Lions.
Here's the chain of events the past few weeks/months/years to consider with Benson…
 -- 5'11/182 UDFA WR out of East Central (OK) college. Posted a 4.44 40-time, 6.87 three-cone, 40.5" vertical at his 2019 Pro Day.
 -- Signed with Denver. Made the practice squad 2019 and 2020.
 -- I thought he was one of the standout performers of the 2021 NFL preseason (among non-starter WR names). A guy who was destined to make the Broncos roster…but to then be buried there. However, the Lions went and traded for Benson right before the 523-man rosters were set…they did so based on what they (and the whole league) saw in the preseason.
 -- Ross Jacobs and I both watched the Lions Week 1 game, and both thought…Benson is the best WR talent on the Lions already, and it's a weak Lions WR group where Benson can actually breakthrough quicker/not be buried.
 -- And if you are wondering if the Lions will really take him seriously, consider this article Ross Jacobs came across recently: https://www.prideofdetroit.com/2021/9/2/22654727/how-wr-trinity-benson-went-from-an-unknown-to-lions-gm-brad-holmes-no-1-target
In Week 1, Tyrell Williams got hurt and then Benson played more snaps (3rd-most among the WR group)…and in the blowout, Benson tied for the most targets among the WRs (with 6 targets). But beyond the decent numbers in a blowout…you could see, on tape, there was a little something trying to unfold between Benson and Jared Goff…almost like Goff knew Benson was the best WR he has.
Week 2…Tyrell Williams is out (concussion) and Benson may start…and then may have a breakout-ish type week, even if that is in garbage-time. And it would happen on national TV/on MNF. The secret may be no more after this week.
I don't know what Benson's FF ceiling is…it might WR2 in PPR in this wobbly offense (a bad offense but lots of garbage time), getting a lot of touches late in games in big losses all season. WR3 hopes with a WR2 PPR upside, but risk that he's a random WR3/4 on a bad offense.
He looks, to me, a little like Diontae Johnson…only a better pass catcher, but more raw/inexperienced at the highest levels. The best comp is probably like a Darnell Mooney.