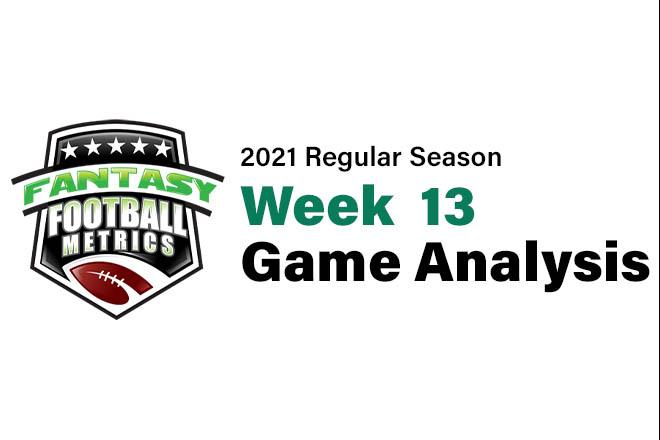 Ross Jacobs
FFM
11 December 2021
2021 Dynasty/Fantasy Game Analysis Week 13: Colts 31, Texans 0
Not a whole lot to say about this one. It was a straightforward beatdown by the Colts. Not sure why you would expect anything else from the Texans at this point. They aren't a remotely good team.
I do have to give Houston some credit though. Despite the season going down the toilet from the very beginning, I haven't seen the Texans quit yet. They are still out there giving their best every week, especially the defense. Those guys really bottled up Jonathan Taylor quite well for most of the game.
Houston has a chance to maybe grab one more win against the Jaguars, but ideally you'd like to lose it to get as high a draft pick as possible. The loser probably gets the 2nd pick in the draft and the winner should get the 3rd. Not a massive difference either way.
Indy finally climbs to a winning record at 7-6 and they are one of the hottest teams in football right now. You definitely don't want to face them in the playoffs, but they might not even make it after their poor start to the season. The next two games will likely decide it for them as they get the Patriots at home this week and then go to Arizona next week. Win both of those and they very likely come from behind to win the AFC South. Even just 1 win out of those two might be enough if Tennessee stumbles at the end of their schedule, but the Titans beat the Colts twice this season and therefore win the tiebreak. They probably need to get to 10 wins to have a chance.
I'll guess Indy finishes 10-7 but 9-8 isn't out of the question either. Assuming Tennessee holds on for the division title, the Colts will be in the mix along with the Chargers, Bengals/Ravens, and Bills for the three wildcard spots. Their win over the Bills could come in very handy in tiebreaks. My guess right now would be that they will make it in as the 7th seed at 10 wins, the Chargers and Bills get the final two wildcard spots at 11 wins each, and the Bengals win the North with 10 wins after Baltimore collapses down the stretch to miss the playoffs entirely.
Fantasy Notes
--The Texans announced this week that Davis Mills (6-14 for 49 yards, 0 TD/0 INT) would finish up the season as the starter over Tyrod Taylor. It's the right call. Taylor never should have gotten his job back in the first place. Mills isn't great, but he's young and has some tools you can develop. Let him get some experience, take a few more lumps, then reevaluate in the off-season to see if you want to move forward with him or draft a QB.
You can't play Mills in redraft right now. The team around him is simply too poor. He might be ok in the future if they can build the team up, but that's at least 2-3 years away. More than likely though Houston will be drafting a QB with their first pick. Mills hasn't been nearly as bad as we thought he would be, but he's still not on the dynasty radar.
--I guess Rex Burkhead (8-30-0, 1-15-0/2) is the starter for the Texans at RB now...for what that's worth. If you're absolutely desperate for RB points maybe you could start him against the Jaguars.
--Pharaoh Brown (4-23-0/5) brought in 4 passes here and has apparently ascended to the starting job at TE. He's the best they've got at the position, but that isn't saying a whole lot. He's not usable in redraft and will quickly be replaced by Brevin Jordan in dynasty.
--Ashton Dulin (1-2-1/1) got a TD here. Yay for him I guess. He's WR4 for Indy right now and has Mike Strachan looming. Not a bad player, you can't tell much of a difference between him and Zach Pascal for example, but he's not a player I'll ever be interested in for fantasy.
--One mildly interesting deep sleeper here is Colts rookie RB Deon Jackson (6-19-1). Jackson got a little mop up duty at the end of this game and looked like a fairly generic power back, not bad by any means but nothing special either. He kind of reminds me of another former Colt, Jordan Wilkins.
Jackson spent 4 years with Duke where he never really broke out. His production didn't stand out nor did his pro day, and thus he went undrafted. He does have good size at nearly 220 lbs to go along with probably 4.6 speed (he allegedly got a 4.42 at his pro day but it didn't look like it here), a 36" vertical jump, and an average 7.14 3-cone.
If Jackson was ever handed main carry duties for a couple games he'd probably do just fine especially behind this great Colts offensive line. I don't see a hidden star though, and he won't be seeing the field much behind Taylor.
IDP Notes
--My god Kamu Grugier-Hill (20 tackles, 1 sack, 3 tfl) went absolutely nuts here. He's been putting up decent stats all year, but this was insane. If you had him started at LB for whatever reason, congratulations! This wasn't some kind of coming out party or anything though. He's a decent player, but this was just a result of Taylor taking a million carries straight up the gut and Grugier-Hill being the only viable LB after Zach Cunningham was surprisingly inactive and then cut shortly after the game.
Speaking of Cunningham, he was cut for disciplinary reasons including a mandatory COVID test that he was late for. Houston decided to not play him as a healthy scratch and then obviously cut him. They had apparently had enough of his attitude, and it sounds like he was tired of the situation in Houston which is understandable. It's an unfortunate end for the NFL's leading tackler in 2020. The Titans picked him up off waivers due to his connection with Mike Vrabel, but it'll be a few weeks before he sees any playing time if at all.
--Kemoko Turay nabbed 2 more sacks here to give him 5 on the season. It's a good start to his young career, but I honestly don't see anything to get excited about. These were both hustle sacks, nothing he did to beat the offensive line (which is damning because this line is terrible).
Snap Counts of Interest
54 = Michael Pittman
54 = Zach Pascal
32 = TY Hilton
22 = Ashton Dulin
42 = Jack Doyle
31 = Mo Alie-Cox
43 = Brandin Cooks
31 = Nico Collins
30 = Chris Conley
32 = Pharaoh Brown
22 = Brevin Jordan
24 = Rex Burkhead
22 = Royce Freeman