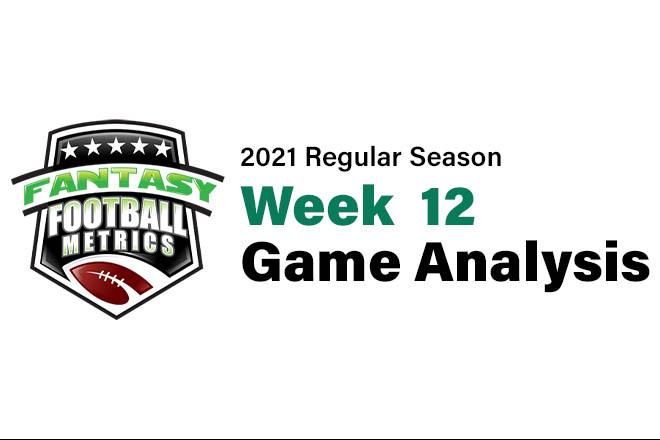 R.C. Fischer
FFM
30 November 2021
2021 Dynasty/Fantasy Game Analysis Week 12: 49ers 34, Vikings 26
The Vikings took a 14-7 lead in the early 2nd-quarter, and they looked pretty good to that point, and I was rejoicing in 'knowing' the Vikings would upset SF. The 49ers then took advantage of Vikings miscues to tie it up before the half, and then extended the lead in the 3rd-quarter…and the Vikings could never catch up, 49ers win and my assumptions of a Minny win dashed.
I would analyze this game as: Both teams are good/evenly matched. The Vikings won the first half. The 49ers won the 2nd-half. The Vikings had crucial turnovers to set up the 49ers, who ran a dominant 37/23 time of possession, and held off two chances in the last 5+ minutes for the Vikings to have a shot to tie up this game…and Minnesota just missed several chances to hit a TD for a potential tie at the end. The 49ers earned the win, but it was a pretty even matchup throughout.
San Francisco has won three in-a-row and four of their last 5 to jump to (6-5) and very much in the playoff race. They should get to 9 wins easily…10 wins possible, and 8 wins not totally out of the question. A mostly favorable schedule ahead with a chance to pass the Rams/kick the Rams out of the playoffs potentially Week 18.
Minnesota is the most inexplicable team in the NFL in 2021…they are (5-6) and could have won every game they lost. They could be (9-2) right now, but they could also be (3-8). All but one of their wins/losses have been by one score…and they've played in three OT games so far (1-2 in those). Every time they get going, they lose momentum via injury…just lost Dalvin Cook, had lost him prior, lost Patrick Peterson for a few games, lost Danielle Hunter for the season. They can't get out of their own way. They do have three very winnable games ahead and should race to (8-6) and then a tough LAR-GB schedule Weeks 16-17 will determine their fate for the playoffs or not. We think they get to 9+ wins and possibly into the playoffs, but 9 wins is probably the exact number and they have no quality NFC wild card wins to count on. This SF loss could be devastating. They really need to beat the Rams Week 16.
Fantasy Player Notes…
 -- How long will Dalvin Cook (10-39-0, 6-64-0/7) be out? Early reports were two weeks down. But Mike Zimmer says day-to-day, but he's also a known liar. Given they play Detroit this week, fair to say Cook will be off this week. Week 14 is a short week hosting PIT on TNF, so probably out there too. Week 15 hosting CHI, which Cook doesn't need to be there for. So, I think this will be a minimum of two weeks, but very likely a three weeks absence.
Week 16 hosting LAR is their season, if they win their next three easy ones…so having Cook back for that is critical.
Alexander Mattison (7-21-1, 2-7-0/3) is the obvious RB1 hopeful fill-in (considering the easy schedule). But I think Kene Nwangwu (1-7-0, KR return TD) is the interesting sleeper – he's going to see a bit more work now and he could be the shock of the football world as a limited touch, homerun hitter every touch guy.
He's already one of the most dangerous players in the NFL – averaging 41.3 yards per kick return with 2 return scores on 8 total returns. He has two carries this season…for 8.0 yards per carry.
…and if Mattison goes down…Nwangwu is the main option remaining.
 -- The 49ers also lost their offense when Deebo Samuel (6-66-2, 1-12-0/4) went down. He's supposed to be 1-2 weeks, but I bet he's 2+ weeks. He seems to always go down with injury in-season, usually soft tissue related, and doesn't come back fast, or tries and goes down gain…and out for more time. The 49ers have to take it easy, cautious, protective of him because he is their offense. The guy gets a handoff and NFL defenses are hit with a secret shockwave that incapacitates them and they watch Deebo run right by them. It's the darndest thing. If I were the 49ers, I'd literally run every play as a jet sweep or handoff to Deebo.
The past two weeks Deebo has caught just 2 passes for 27 yards on 6 targets…a disaster for a #1 WR. However, inexplicably, Deebo has run the ball 19 times the past three games, for 181 yards and 4 TDs…a 9.5 yards per carry clip, and it all wasn't one long run…it's every run is a minimum of 5+ yards. His collapse as a WR1 or WR2 even is masked by this rushing TD spike out of nowhere.
Deebo has as many rushing TDs as Najee Harris does this season (5).
 -- In Deebo's absence, the run game should be fine with Elijah Mitchell (27-133-1, 5-35-0/6) cementing his status as lead RB. I thought there might be some cause for Shanahan to split up touches with Jeff Wilson (2-5-0, 1-2-0/1) a little bit with a returning from finger surgery Mitchell for this one week…but, nope. Even more all-in with Mitchell.
This was a huge statement game. The statement being from Kyle Shanahan that Elijah Mitchell is his guy, no questions asked, and Jeff Wilson and Trey Sermon are all but meaningless when Mitchell is there.
Mitchell is now a top five RB1 in a time period where all the RB1 names are hurt or coming back from being hurt.
 -- With Deebo gone, you'd think Brandon Aiyuk (3-91-0/6) is going to push higher, as he's been for weeks, but I'd be a bit hesitant to go too crazy. Aiyuk is a better #2 WR than a #1 WR…he will now see the top cover corner while Deebo is out. That should be fine v. SEA, but worrisome Week 14 with Chidobe Awuzie Week 15.
However, they might give Aiyuk some of those Deebo jet sweeps…and maybe the secret shockwave incapacitates defenses when Aiyuk is running them too?
The WR who is really gaining some low-key momentum is Jauan Jennings (2-24-1/3). Scored a TD here, but his one missed target was a 2nd TD catch that JJ landed about an inch out of bounds for a reversal and no score.
Jennings is a big catch radius, capable WR…just lacking in speed/athleticism but his big frame and good hands makes up for it to some degree. With Deebo out, Jennings may see more snaps/targets.
 -- When Dalvin Cook missed half a game with an injury Week 4, and then missed all of Week 5 – Kirk Cousins (20-32 for 238 yards, 2 TDs/1 INT) struggled to put up numbers against Cleveland (Wk4, 203 yards, 1 TD/1 INT) and Detroit (Wk5, 275 yards, 1 TD/1 INT). it's a small sample size, but typically the big stud RBs very much lift QBs up a notch. Cook gone, tends to put more downward pressure on Cousins.
Week 6 last season (2020), Cousins threw for 343 yards, 3 TDs/3 INTs and got upset by then winless Atlanta.
Week 14 at DET should be a safe space for Cousins to roll numbers without Cook, but we'll see if recent history prevails in a Cousins struggle with turnovers while Cook is gone.
Snap Counts of Interest:
63 = Aiyuk
46 = Deebo
26 = J Jennings
20 = Sherfeld
49 = Mitchell
10 = J Wilson
29 = D Cook
22 = Mattison
02 = Nwangwu