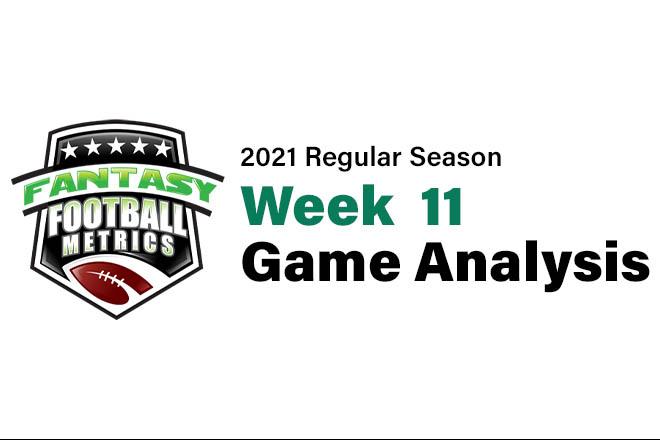 R.C. Fischer
FFM
26 November 2021
2021 Dynasty/Fantasy Game Analysis Week 11: Vikings 34, Packers 31
*With the Thanksgiving week schedule complexities of the triple-header, etc., the game reports this week will be less pontificating and more 'just the facts' on players/situations we need to consider for Week 12 and beyond. I'll be back to being a blowhard next week, I promise.
The Vikings really took control of this game right away…they were on the verge of putting it away quickly, but up 16-3, with the ball, 3rd & 1, with 5+ min left until the half…if they get a 1st-down they could run clock down towards the end of the half (maybe) and keep heading towards another score – so, what play do they call to deliver the potentially huge punch/keep control of the ball way from Aaron Rodgers? A pitch sweep to the single back, who was named C.J. Ham…the fullback. Not Dalvin Cook. You would not be shocked to know that Ham was wiped out for a loss.
After the Ham disaster, the Vikings punted…plenty of time for Rodgers to score, and you know he did…cutting it to a one score game at the half. The Vikings then scored first coming out of the half to take a 23-10 lead…which they then totally coughed up…Vikings down 24-23 with 7 minutes left.
At that point, I'm thinking the Vikings were gonna blow another golden opportunity – but they didn't. They rallied to take a 31-24 lead. They then saw GB tie it 31-31 in an instant on a bomb to MVS…so NOW the Vikes are gonna blow it, but credit Minnesota for going down the field and setting up for the game winning FG at the buzzer.
The Vikings are probably too far down to catch Green Bay in the standings, but I don't think the gap between them is very much in reality/talent/execution. If the Pack loses to LAR Week 12 (and I think they will) and if Minnesota upsets SF (and I think they will) – then we might have a potential race on our hands. Sadly, Minnesota always finds a way to not capitalize on things…
The Vikings are now (5-5). If they can dispatch San Fran Week 12, they can win their next three after that (DET-PIT-CHI) and get to (9-5) and really make some NFC North noise. We see them finishing with 9-10 wins and a wild card, but 11 wins a stretch goal possibility.
The Packers could be the best team in football…IF, IF they can get back their left tackle David Bakhtiari from injury and IF Jaire Alexander can get back, but I'm not sure they can…maybe for the playoffs, maybe. Green Bay is very likely locked into a minimum 11 wins, so Minnesota catching them is a stretch. 12+ wins possible for GB and a #1 NFC seed hopeful. If they beat the Rams Week 12, they are in great shape for a #1 seed.
Fantasy Player Notes…
 -- A.J. Dillon (11-53-0, 6-44-0/6) was in prime position to shine with Aaron jones (DNP) out, but of course the Vikings raced out to a quick lead and were on the verge of really putting the Packers away early on…so Green Bay abandoned the run and Dillon saw more pass game action than expected, but never got rolling as a runner.
No failure on his part. He played well, but the game flow went away from him...forced by Minnesota.
 -- Aaron Rodgers (23-33 for 385 yards, 4 TDs/0 INT) had a couple clutch throws to Marquez Valdes-Scantling (4-123-1/10) and a big one for a TD late.
Is MVS a good FF play from here? He's kinda like Mecole Hardman…you always think the 'other guy' WR will rack up numbers when the elite WR on the team gets all the coverage attention…but then it never really works out that way, except every 3-4-5 games…and you're left guessing which games those will be, and good luck trying to throw that dart.
MVS has played 6 games this season. His PPR numbers in each game (rounded, starting with Week 1): 5-0-15-4-5-22. Two of 6 games 'worth it' (33%) with one big game (Week 11/here). Even in this game you see the issue…10 targets, but only 4 catches. He's a lightning strike player that you have to guess where and when the lightning strikes.
Another issue is, what's left over from Rodgers in a game after he's done wearing out Davante Adams is not as much as it used to be/what we think. This was Rodgers best game by far this season…not typical of his 2021. If he didn't hit a lightning strike TD late to MVS, it would have been a really good FF-game, not a spectacular one.
For the past 11 seasons, Rodgers averages around 250-280 passing yards per game, per season. He's not with the highflyers throwing for 300+ yards all the time.
 -- Through Week 11, you would likely believe Aaron Rodgers to be an MVP candidate and the far superior NFL and Fantasy QB to Kirk Cousins (24-35 for 341 yards, 3 TDs/0 INT). They have both played 10 games this season. Here are their numbers season-to-date:
66.8% Comp. Pct., 2,571 yards, 21 TDs/4 INTs = Rodgers
68.2% Comp. Pct., 2,775 yards, 21 TDs/2 INTs = Cousins
So, who's the superior QB in 2021?
 -- Josiah Deguara (2-37-1/2) is making some minor noise since Robert Tonyan went down/out, but he's nowhere as good as Tonyan…and he's a smaller TE, a bit player that can be a 1-2 catch a game option. No race to an upside coming that we see.
 -- Not much to hit on with Minnesota…they do what they do, run with Dalvin Cook and throw to Justin Jefferson and then throw to Adam Thielen. All three are stars, and they are the focus every week. No new news on this offense.
 -- Mike Zimmer has yet to ruin Greg Joseph (2/2 FG, 2/3 XP). He shouldn't, it's the best kicker he's had since he cut Daniel Carlson his rookie season, like an idiot.
Joseph is currently the #2 kicker in FF PPG and is tied for #1 in 50+ yard FGs made this season.
Snap Counts of Interest:
52 = Davante
48 = MVS
45 = Cobb
21 = ESB
06 = Winfree
44 = Dillon
15 = Patrick Taylor
27 = Deguara
17 = M Lewis
16 = Dafney