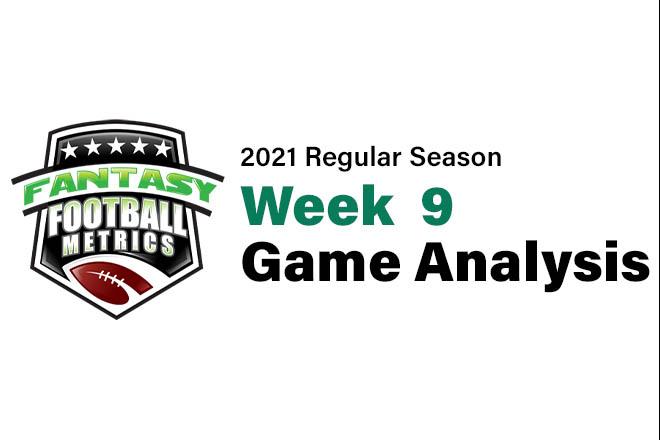 R.C. Fischer
FFM
12 November 2021
2021 Dynasty/Fantasy Game Analysis Week 9: Patriots 24, Panthers 6
In a battle of similar teams (run games and defense), the Patriots made the least number of mistakes and got an early cushion and just sat on the Panthers all game. There was no mystery to it…Sam Darnold is not good, and it showed, and helped the Pats to victory.
The Patriots are now (5-4) and crawling up the back of the Buffalo Bills in the AFC East. It's not improbable that the Patriots win the AFC East, but I'll say this Pats team is very stable/solid but not on Buffalo's level…they have five wins over Zach Wilson 2x, Davis Mills (barely), Sam Darnold…and the outlier win against Justin Herbert. We'll see how they fare against the better teams ahead. The only cupcake game they have for the rest of the season is Week 17 Jacksonville (is this a cupcake game still?). We project NE to finish with 7-8 wins, but 9 possible.
The Panthers fall to (4-5), losers of four of their last 5 games…and another loss coming to ARI Week 11. They just signed Cam Newton, but that's really not a big upgrade from Sam Darnold. We see the Panthers flopping to 6-7 wins in the end.
Fantasy Player Notes…
 -- So, Carolina signs Cam Newton…
It seems exciting…if it were 5+ years ago. Now, Cam is a shell of himself and not wanted by any team all season…until this crisis spot hit.
Cam is a worse passer, better runner version of Sam Darnold (16-33 for 172 yards, 0 TDs/3 INTs)…and Darnold played like he secretly bet on the Patriots this game.
Cam will likely run the ball 10-15 times a game, in lieu of his lost passer skills (which weren't great to begin with)…he can be decent/QB2 in 4pts per pass TD leagues for FF…maybe.
Christian McCaffrey (14-52-0, 4-54-0/5) gets a nice lift with Cam returning…anything is better than P.J. Walker for him.
D.J. Moore (2-14-0, 3-32-0/7) has little effect/help from Cam…as Cam is worse than Darnold as a passer to WRs, but he does have a relationship/history with DJM.
 -- Side note on CMC…I thought he looked totally healed/fine here, no limitations.
With CMC back, Chuba Hubbard was sparingly used and ineffective. He is the handcuff though…if you own CMC, you have to hold Hubbard to go with him the rest of the way in Fantasy.
 -- The Patriots have three RBs that are CLEARLY better than Chuba Hubbard – and they are rotating and look terrific.
Damien Harris (8-54-0, 1-3-0/1) is the lead dog, but he is constantly getting nicked up…and now he's down this week with a concussion and unknown if he'll get cleared in time for Week 10.
Harris has been very solid/good all season, but I'd say Rhamondre Stevenson (10-62-0, 2-44-0/2) looks like the more physically gifted/talented back of the two. Harris has the experience factor, but Stevenson has everything else – he's the lead back of the future, but Belichick is always spreading around his backfield touches (smart). With Harris down, Stevenson was in a prime spot to have a big touch count Week 10, but then Rhamondre also got a concussion and is very questionable for the upcoming game.
There were moments where I thought Brandon Bolden (8-54-0, 2-22-0/2) was the best looking back of this trio…he looks terrific for a guy turning 32 years old soon. With Harris-Stevenson in doubt this week…Bolden is the guy to have, a possible RB1 for the week if the main duo is out.
 -- The Patriots-DST is beating up on the week and is wobbly/allowing points against any of the better QBs they've faced this year (not many faced, Dak and Herbert)…but did frustrate Brady.
The schedule is a mixed bag for them ahead – CLE, ATL, TEN are not pushovers but not elite offenses either. They might be a decent start the next three weeks, but then it's buh-bye with BUF-BYE-IND-BUF Weeks 13-16.
 -- The Carolina-DST is better, talent-wise, than the Pats-DST, in my book…but Carolina's offense doesn't support their defense well, so it's shaky week-to-week. Cam coming in and running the ball a bunch will help them some.
Weeks 11-12 with WSH and at MIA aren't bad plays, especially Week 11. Then you're likely done with them after that…BYE-ATL-BUF-TB-NO-TB to finish the season.
Snap Counts of Interest:
29 = CMC
22 = Abdullah
10 = Hubbard
54 = Robby A
50 = DJ Moore
22 = Terr Marshall
17 = Snead
55 = J Meyers
54 = Agholor
33 = Bourne
29 = Bolden
24 = D Harris
17 = Stevenson