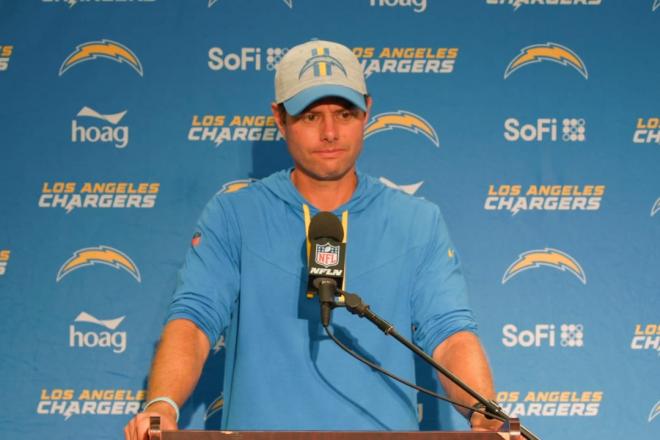 R.C. Fischer
FFM
30 June 2022
‍
2022 REWIND: 2021 Dynasty/Fantasy Game Analysis Week 11: Chargers 41, Steelers 37 (by Ross Jacobs)
I've started re-reading back through my 2021 game reports looking for good and bad scouting instincts on things I might have lost track of, whether for Fantasy or just the team in general. I especially wanted to focus on the L.A. Chargers' 2021 season…because my first computer simulation of the season showed them as the 2022 Super Bowl champs. From not making the playoffs in 2021 to the Super Bowl in 2022.
The Chargers didn't change their coaching staff this offseason and they didn't overhaul much of their offensive core, but they have dramatically boosted their defense this offseason. So, in theory, this team should be gelling and taking a step forward from a 9-win team last season to what I think will be a division winner and serious Super Bowl contender this season. At a minimum, it's a playoff team (if Herbert stays healthy). 
For some summer reading material, I'll be looking back at my Chargers' game reports from last season week-by-week and writing/typing some instant reaction notes (forgive any typos) to what I'm re-reading and then publishing that full 2021 game recap for LAC from each week of 2021 season WITH the 2022 reaction notes. 
We'll start with Week 1 and go through each game week, one game post per day for the next 16-17 days.
Long story short: the Chargers scored nearly at will on the Steelers who also moved the ball quite well considering their general offensive malaise this year, but they got quite a few breaks later in the game that allowed them to hang with LA.
LA quickly moved down the field on their first several drives scoring each time. They stuffed a Pittsburgh drive at the goalline on their second possession which led to a quick 14-3 lead. The Steelers would cut that lead to 14-10 on their next drive, and then LAC extended it again right after to make it 17-10 at the half. The only time either team had remotely stopped the other at this point was the goal line stand.
The Chargers got the ball after halftime and drove again for an easy TD. 24-10 and the Chargers looked to be pulling away. They stopped Pittsburgh and got the ball back, but a couple penalties stopped their drive and they had to settle for a FG.
Pitt kicked their own field goal a bit later, and the score was 27-13 LAC with about 14 minutes left. That is when things got wild.
The Steelers blocked a Charger punt which set them up with a short field. They capitalized with a TD after pass interference was called on the Chargers during an interception on 4th down in the endzone, and the game was back in question, 27-20.
The Chargers were having none of that though and promptly scored again, 34-20. The Steelers answered easily, cutting it to a one score game yet again, 34-27. On the next drive for LA, a Herbert pass was tipped and went straight to the Steelers who intercepted it with another short field. They scored and it was a tie game.
Next possession the Chargers are feeling the heat. They haven't been able to put away the pesky Steelers yet, and now the game is actually on the line. So on 4th and 1 from their own territory Brandon Staley gives the ball to Ekeler...who is stuffed. Pitt ball with a short field. They need to hold the Steelers to a FG to have a good chance at the win and do. 37-34 Steelers.
Final drive with about a minute left and the Chargers need a TD to win or field goal to tie. Somehow Mike Williams is left wide open in a busted coverage and Herbert hits him for a miracle long TD to win the game 41-37.
The emotions from this game were absolutely wild. I was texting RC during it as usual, complaining about various fantasy related things mostly involving Williams being ignored for 3 quarters (we'll talk about that) and how I should have started Jalen Hurts over Herbert (no I shouldn't have). He was complaining back about Mike as well...etc etc. And then the big play hit and we both pulled out seemingly impossible wins. Moral of the story? Shut up and watch the games because you never know what might happen. (I'm just kidding, go ahead and complain, that's part of the fun and misery of fantasy football).
So the Chargers move to 6-4 and are a half game behind the Chiefs for the AFC West. Can they catch them? Perhaps. The schedule isn't exactly hard, but the game against the Chiefs could be the deciding game. They've already beaten the Chiefs once. A second win could put them over the edge and obviously wins it for them in case of a tie.
Is the team good enough to pull this off? I don't know. Maybe. It should be close. The offense was much, much better here, but they were also beating up on a Steelers squad with all of their top guys out. But the defenses they have left to face aren't exactly killers.
The LAC defense is the problem right now. Brandon Staley is supposed to be a defensive genius, but right now they are getting their asses handed to them. Even the Steelers' sorry offense was moving the ball on them well. It's not a good sign to say the least. If they go 5-2 the rest of the year I would not be shocked, but I also wouldn't be shocked with 3-4. They probably need at least 11 wins to pull it out over the Chiefs. Spank the Broncos this week and we might have a race on our hands. Lose and it gets a lot harder.
Pittsburgh falls to 5-4-1 and things are not looking good. After winning 4 in a row they tied the Lions and should have gotten plastered here but luckily hung around until the end. The schedule is not their friend and I honestly don't see how they possibly get to 10 wins. I'm thinking they land somewhere around 8 wins but less than that wouldn't shock me.
*2022 JUNE NOTE = I kinda forgot about this game, and enjoyed reading Ross's recap version back...this was one of the 'funnest', wildest games of 2022. LAC was somehow involved in a few 'best games of 2021', in my mind. Most of them close losses for LAC.
11 games into this review and it feels like the Chargers were just shy of an offensive juggernaut...failing so many 4th-down random 'go for its' that if they had converted a good amount of them, they might have won 11-12 games and made a playoff run. But their defense didn't help at all...but in 2022 they have this defensive all-star team on paper. LAC just about has it all for 2022...now they just have to execute it.
‍
Fantasy Notes
--So what happened with Mike Williams (5-97-1/6) and can we trust him moving forward? On the first drive he was targeted 5 times and RC and I were thinking he was back. He was moving around well, catching it well, things seemed to be fine.
And then he got ignored for the next 50 minutes as Keenan Allen (9-112-0/13) was targeted over and over. On the very last drive Herbert hit Mike for a 53 yard miracle score due to busted coverage. Without that play Mike goes 4-44-0/5 and it's the same story all over. I don't think things are ok. I don't know what the problem is. I saw him being double covered an awful lot, but surely that can't be the whole reason. Herbert was connecting with him just fine on the first drive, so what changed? Why did he ignore him after that?
Unfortunately, I don't have a good answer. All I know is this has been a continual pattern for several weeks now. If we get more of that first drive then things will work out, but I'm not counting on it. Trends like this don't typically reverse course after one magical quarter. You have to hold and hope for the best for now. Mike could be a league winner in the final stretch, but it might be painful getting there. Allen is still the de facto #1 until we see a change in the targeting.
*2022 JUNE NOTE = I still cannot find a good answer to why this Big Mike swoon happened. I just know -- when it was working, it was magic...Magic Mike(?).
--What a huge night for Austin Ekeler (11-50-2, 6-65-2/7). He helped me pull out my second miracle win of the week, so thanks for that Austin! As long as he's healthy Ekeler has been a top 3 back all year and will remain so.
--Don't look now but Donald Parham (4-38-0/5) is starting to split more time with Jared Cook (3-28-0/5). This coaching staff has to realize what a waste Cook is. Parham isn't a star in waiting, but he's more than capable and certainly better than Cook at this point.
*2022 JUNE NOTE = You can look...it never flipped to Parham, although it should've.
‍
--RC told me that rookie TE Trey McKitty caught his eye with his lone catch here. I had noticed it too but kept waiting for another one to make a judgment on him...it never came. So I went back to watch this one lone, singular catch again, and...it was pretty good. McKitty showed some decent athleticism and movement skills evading a defender. Impossible to say if he's a star or something based on one play, but it was enough to know we can't outright dismiss him in the future. He's a guy to keep on the radar as he grows with Herbert the next few years.
*2022 JUNE NOTE = Another reason that I cannot get too Dyno-excited about Parham...Tre McKitty exists.
‍
--Not much to note on the Steelers. It's the same old story. Diontae is the ppr god. Claypool is a random WR3 hoping for a big play (he should have had a TD here but Ben can't throw the ball 30 yards anymore so he had to come back to the ball and was tackled short). Najee is still an overrated hack that's going to get insane touch counts to prop him up for fantasy.
The only thing a bit strange at first glance is Pat Freiermuth (4-11-1/7) with such a bad line. It wasn't for lack of trying to get him the ball. He's still going to get a ton of touches and finish as a TE1 the rest of the way. What held him down here was mostly Derwin James being a coverage hawk. Don't worry about Freiermuth.
IDP Notes
--Kyzir White's last 5 games he's averaging 9.4 tackles per game after his snap counts went up.
*RC NOTE = Bonus Commentary on this game: https://youtu.be/pMviPLWUiSg
Snap Counts of Interest
62 = Keenan Allen
60 = Mike Williams
41 = Jalen Guyton
23 = Joshua Palmer
38 = Jared Cook
32 = Donald Parham
‍