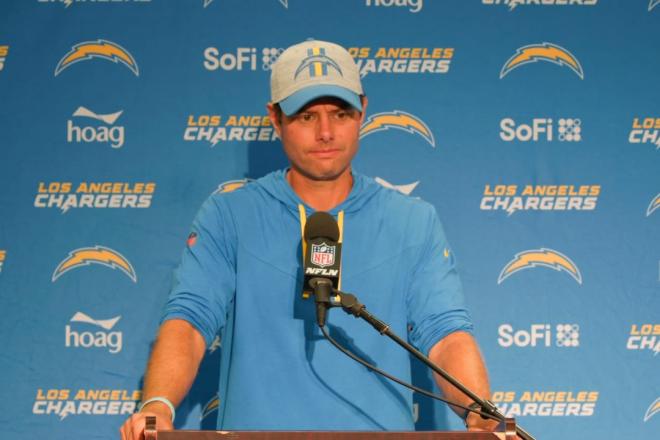 R.C. Fischer
FFM
29 June 2022
‍
2022 REWIND: 2021 Dynasty/Fantasy Game Analysis Week 10: Vikings 27, Chargers 20
‍
I've started re-reading back through my 2021 game reports looking for good and bad scouting instincts on things I might have lost track of, whether for Fantasy or just the team in general. I especially wanted to focus on the L.A. Chargers' 2021 season…because my first computer simulation of the season showed them as the 2022 Super Bowl champs. From not making the playoffs in 2021 to the Super Bowl in 2022.
The Chargers didn't change their coaching staff this offseason and they didn't overhaul much of their offensive core, but they have dramatically boosted their defense this offseason. So, in theory, this team should be gelling and taking a step forward from a 9-win team last season to what I think will be a division winner and serious Super Bowl contender this season. At a minimum, it's a playoff team (if Herbert stays healthy).
For some summer reading material, I'll be looking back at my Chargers' game reports from last season week-by-week and writing/typing some instant reaction notes (forgive any typos) to what I'm re-reading and then publishing that full 2021 game recap for LAC from each week of 2021 season WITH the 2022 reaction notes.
We'll start with Week 1 and go through each game week, one game post per day for the next 16-17 days.
‍
I walk away from this game with a BAD-BAD-BAD feeling about the Chargers. I got some bad vibes about the Chargers off this game, and it's been building off their last few games.
Brandon Staley is not going to be the Coach of the Year, that's for sure. The offense flashed early and has been figured out as they've gone on…it's the only explanation I can give for the fact that Justin Herbert is looking worse than I've ever seen him – and he worked in an Anthony Lynn offense last year and was better in that mess than he is now. You have to do quite the coaching job to make Herbert look human. Protection is an issue (but it was worse last year), but more so it's things like -- Jared Cook does nothing for this offense and when they hand it to Tugboat Larry Rountree…it's like a wasted down. A bad offensive plan and the players are not moving with any real spark/juice…they look bored with the offense. It could change against a wounded Steelers defense this week…I hope it does, but I'm getting nervous. More on the players in the next section. The good news is – it's a tweak, or change away…they have talent to work with…and it was just a couple weeks ago they were rolling hot.
The Chargers had several chances to win this game…chances to extend their lead midgame, but they just played comatose and let the Vikings be the ones with the spark…and when the Vikings took a two-score (27-17) lead with 9:29 remaining…the Chargers couldn't find offense to answer back against an injured, not-great Vikings defense. Embarrassing.
Minnesota earned the win to crawl back to (4-5)/near .500. I can't figure this team out – I thought they were a top 10 NFL team weeks ago, but then they went on a bye and lost two games in a row and looked to be on life support coming into this one as an underdog…but got a BIG win here. They miss Patrick Peterson and Harrison Smith, who should both be back for the GB game this week. We project the Vikings to 10 wins and a wild card…a nice schedule, mostly, ahead. If they can go beat Green Bay twice, they have NFC North title hopes.
The Chargers fall to (5-4) and are in danger of being the last place team in the AFC West if they're not careful. We still project them to 10 wins and a wild card, but they could scrape to just 9 wins and be in danger of missing out…but they could also get their S--- together and get to 12+ wins and take the AFC West.
*2022 JUNE NOTE = Well, RC (me) finally reached the tipping point on the Chargers...he finally saw the cracks in the armor. The first 4 games of the season...LAC was going great and RC was relishing in his lofty projections on L.A. -- but then the next/last 4 games it was choppy confusion that I tried to explain away...because I SAW the Chargers Weeks 1-4...where did they go? Certainly they'll be returning home soon? Nope. Week 10, game #9...the realization that something is wrong. And it's this 'turn', this collapse in 2021 that scares me on getting so high on them in 2022.
The Chargers and the Vikings, the two most mismanaged 'good' teams in the NFL in 2021...and it cost Mike Zimmer his job (finally), and if it happens again in L.A., then it should get Brandon Staley fired/no year 3 chance for him.
‍
‍
Fantasy Player Notes…
 -- I do not like what I see of Mike Williams (4-33-0/6) right now. It's been growing…I've been hoping a turn was coming…but this is getting to be too much of a reality on tape – that Justin Herbert (20-34 for 195 yards, 1 TD/1 INT) just isn't looking for Williams anymore, not like he used to.
And I mean that – his head/eyes are not in that direction. Williams will be open on the same side of the field as Keenan sometimes, and the tight window throw goes to Allen. Herbert is everything to Keenan Allen (8-98-0/11) like normal, but he's lost his love for Big Mike. Look at these splits…
6.2 rec. (10.2 targets), 94.2 yards, 1.2 TDs per game = Williams Weeks 1-5
2.5 rec. (5.3 targets), 34.3 yards, 0.0 TDs per game = Williams Weeks 6-10
It's one of the greatest drop-offs I've ever seen in my NFL study time of QB-WR relationships.
6.8 rec. (10.6 targets), 73.8 yards, 0.20 TDs per game = Keenan Weeks 1-5
7.8 rec. (10.0 targets), 82.3 yards, 0.25 TDs per game = Keenan Weeks 6-10
Keenan is keeping his numbers/targets up, but Mike's have fallen off a cliff…and they aren't going anywhere else…the drop-off coincides with a general drop-off for Herbert, for the most part.
Jared Cook (1-10-0/3) is doing Herbert no favors either. I think a switch to Donald Parham (1-17-0/2) as playing more snaps at TE is coming on…if LAC had half a brain, they'd ditch Cook and go all Parham in the passing game…and then Parham would be a TE1 in non-PPR, and possibly for PPR.
Jalen Guyton (0-0-0/1) is an absolute waste of space as the #3 WR, and I think the Chargers coaches are starting to figure that out and the Josh Palmer (3-22-0/4) era is about to start…him as a #3 WR. This would help the offense for sure.
It's possible, LAC changes things up having lost two of their last 3 and struggling on offense. If we see a push for Parham and Palmer, and a recommitment to Mike Williams…they can juice this offense back to it's early season days.
They have to do something, because more of the same is getting them nowhere. The good news is there's a way out. The question is – is Brandon Staley smart enough to figure it out. So far, I'm not impressed with Staley's choices and (non)adjustments on offense…but maybe he's about to make the change.
*2022 JUNE NOTE = What I wrote in this section deserves a football Pulitzer...it was Sherlock Holmes figuring out 'who done it?'. It was not the available talent -- it was management and I gave out all the clues that led me to the (season) murder -- Brandon Staley...and I think it's because he is allowing O-C Lombardi to exist is the deeper issue.
 -- Am I worried about the possible/pending legal ramifications for Dalvin Cook (24-94-1, 3-24-0/5) and his domestic abuse case?
Not likely to worry in redraft 2021. There's probably not enough time for the NFL to conduct a thorough investigation. So, unless video tape surfaces, etc., Cook is likely clear for the rest of 2021.
In 2022, who knows? In Dynasty, you want to be sure to have Alexander Mattison at almost all costs 'just in case'.
*2022 JUNE NOTE = Looks like Cook might have been set up, but I'm not 100% sure...just looking at what's happened on this case in 2022, Cook appears to be possibly-innocent.
‍
 -- MIN rookie RB Kene Nwangwu is an offensive threat waiting to happen…as a 2-5 touch a game guy, but he got no touches here. They ran another fake punt for him here but just as it got direct-snapped to him, the refs blew the whistle for some nonsense play stoppage and the play/surprise was ruined…then they punted away after that.
I don't know when the Vikings coaches will not be morons and let Nwangwu see some touches as a homerun hitter, but it shouldn't be too far off. Likely nothing here for redraft 2021 even if Cook goes down – it's just something to monitor, because if he ever gets a chance, I will be beside myself/unbearable to listen to/read when it happens…my excitement will be bananas.  
I can hardly think of a comp for what Kene could be. Our CFM scouting models tried to profile him but couldn't find a great fit. Ty Johnson was the top profile. Young Tevin Coleman was an effort. But none of those really fit as a comp, to my eyes. He's got real high-end speed but at a size to go-with like I've hardly seen (he has the speed of 170-180 pound blazers, but he's 210 solid pounds)…and never really been given a chance in college.
*2022 JUNE NOTE = Nwangwu would return another kick return for a TD the following game...2 KR TDs in his first 8 NFL kick returns, but couldn't get any additional offensive touches for several weeks, and then it was tepid at that. Did I mention Mike Zimmer was fired? Oh, OK. Just checking...
‍
 -- The Chargers have been horrible against the run all season…the #32 run defense by yards allowed in 2021. But they had their best game in weeks against Dalvin/the Vikings here, holding MIN to 103 yards on the ground…a big accomplishment for the LAC run D. Getting Kenneth Murray (4 tackles, 1 TFL) is helping improve things. There's a good chance they hold the Steelers under 100 yards rushing this week…given the Steelers O-Line.
 *2022 JUNE NOTE = Maybe there is hope for Kenneth Murray after all? BVoy, did his career die with boy wonder Brandon Staley year one...
‍
‍
Snap Counts of Interest:
56 = Mike Williams
55 = Keenan
18 = Palmer
18 = Guyton 
34 = J Cook
27 = Parham
19 = McKitty
07 = Stv Anderson
‍