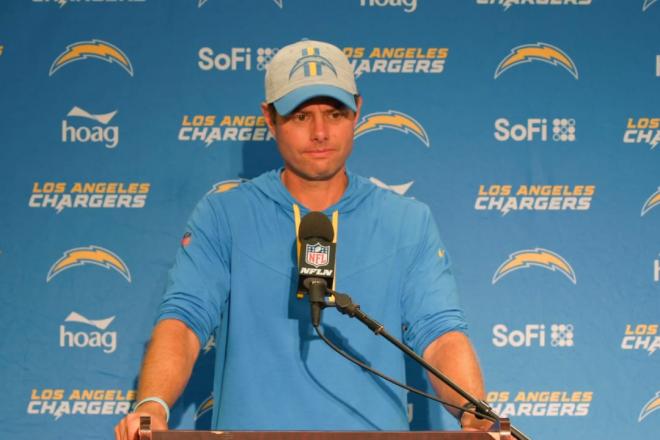 R.C. Fischer
FFM
24 June 2022
‍
2022 REWIND: 2021 Dynasty/Fantasy Game Analysis Week 4: Chargers 28, Raiders 14 (by Ross Jacobs, 22 notes by RC)
I've started re-reading back through my 2021 game reports looking for good and bad scouting instincts on things I might have lost track of, whether for Fantasy or just the team in general. I especially wanted to focus on the L.A. Chargers' 2021 season…because my first computer simulation of the season showed them as the 2022 Super Bowl champs. From not making the playoffs in 2021 to the Super Bowl in 2022.
The Chargers didn't change their coaching staff this offseason and they didn't overhaul much of their offensive core, but they have dramatically boosted their defense this offseason. So, in theory, this team should be gelling and taking a step forward from a 9-win team last season to what I think will be a division winner and serious Super Bowl contender this season. At a minimum, it's a playoff team (if Herbert stays healthy). 
For some summer reading material, I'll be looking back at my Chargers' game reports from last season week-by-week and writing/typing some instant reaction notes (forgive any typos) to what I'm re-reading and then publishing that full 2021 game recap for LAC from each week of 2021 season WITH the 2022 reaction notes. 
We'll start with Week 1 and go through each game week, one game post per day for the next 16-17 days.
The final score says the game wasn't particularly close, and if you watched then you did see one moment where the Raiders had pulled the game to within 7 points and were attempting a field goal to make it closer. They would miss that field goal and the Chargers calmly and easily put the Raiders out of their misery on the next drive.
The Raiders may have fought hard and tried to claw their way back in it, but this game was not in doubt, and there is absolutely no doubt who is the better team.
Over the summer some of us put together our faux season projections. One team that RC was particularly high on was the Chargers. I understood why. Justin Herbert just had the greatest rookie season ever at QB. They smartly brought in multiple offensive linemen to protect him. The defense was getting back Derwin James. And the team was going to be managed by the hottest upcoming coach, the defensive guru Brandon Staley.
I liked what I saw. I thought they would be a fine team. I still had a couple of questions about Herbert but nothing too serious. Perhaps they would fare well in the projections this year despite being in the same division as Mahomes and the Chiefs. And then I saw their schedule. Washington, Dallas, Kansas City, Cleveland, Baltimore, New England...all teams I had projected to be potential playoff teams. It looked like a murderer's row. In my final projections I had the Chargers stumbling to a poor record through their first 8 games only to recover in the latter half of the schedule when they played mostly bad teams. They would finish 8-9 in my final projections, certainly not a terrible record, and shockingly make the playoffs.
Well, it turns out I was wrong about two things. First, this team is even better than I supposed. And two, that early schedule isn't nearly as bad as I projected. Cleveland and Baltimore are still a test, and there is a second date with the Chiefs still to go, but the Chargers are ready for it. They are going to come out of this early portion with a winning record, and they are going to mow through the second half of the schedule.
They can absolutely win the AFC West this year, faster than I would have thought possible. I believe they already are the best team in the division. RC, you were ahead of the curve on this one, but I'm jumping aboard the Charger express. Will they pull it off? I'm not sure. Their schedule isn't brutal, but it's still harder than Kansas City's. They will have to beat the Chiefs again for it, but they get them at home next time.
Oh and the Raiders played in this game too. They've played well so far, really fought hard, showed good energy. They aren't a bad team by any means. They'll likely try to stay in the race for a while, but I just don't think they are ready to hang with the two big boys in this division. Carr is a good QB but he's no Herbert or Mahomes, and that's ultimately going to hold them back.
*2022 JUNE NOTE (RC) = Ross's 8 win prediction ended up close, but we were all agreeing -- the early look at this Chargers team was looking at atop NFL team. How they stumbled to 9 wins and missing the playoffs after such a nice start is something we'll see unfold through this series.
The early theme on the Chargers 2021 season...when they win, they look good. When they lose, they look good and shoulda won. They are (3-1) at this point in 2021...on their way to (4-1) next week...they then went (5-8) to the finish. How?
‍
Fantasy Notes
--Justin Herbert (25-38 for 222 yards, 3 TD/0 INT) carved up the Raiders in the first half and could have put up even bigger numbers but the team took their foot off the gas early in the 2nd half. He's only QB14 on the year so far, but I expect him to trend up as the year goes on. He could go nuclear in the second half of the season. Great buy low target right now if possible. The muted second half and his current ppg gives you just a crack to try and sneak him away from a desperate owner.
*2022 JUNE NOTE (RC) = From QB14 to QB2 by the end...how did they go (5-8) from here?
‍
--It was a muted game for both of Herbert's top two receivers, Keenan Allen (7-36-0/11) and Mike Williams (1-11-0/4). Don't worry about them though. This won't be the typical flow of a game. Herbert was utilizing what was working and got up big early while they tried to sit on a lead. Williams especially is another fantastic buy low candidate but you have to move fast and don't let the owner know how badly you want him. Nobody else believes in Williams like FFM. They think he's going back to his inconsistent ways. He's not though. He's a bona fide WR1.5, possibly better. Don't fear this one weird game. Use it to your advantage. Fast fact: even including this dud of a game, Williams is still the #5 WR in ppr leagues to date.
Speaking of Allen and Williams, one thing this game did clarify was one of the rare disagreements between RC and I. RC was speculating that Williams was the new #1 and would be the higher scoring receiver. I never bought that and I have plenty of Williams stock. I like him as a WR1.5 or so, maybe a back end WR1 when it's all said and done, but I think Allen is a top 5-6 guy this year. Herbert and his targets seem to agree.
RC NOTE: I think Allen is the way better WR, but I think WIlliams will wind up the higher scorer between them this year. But it's not set in stone. Keenan is awesome too. 
*2022 JUNE NOTE (RC) = this was the beginning of the Big Mike tumble from top 1-2-3 Fantasy WR in scoring to hurt and trying to limp through games with WR3-4 output. Only getting back to his better ways later in the season.
‍
‍
--All things Chargers related are good for fantasy, and that includes one of my favorite players in the league, Austin Ekeler (15-117-1, 3-28-1/5). He doesn't often get you 100+ yard rushing games like this, but it doesn't matter when he's catching a million passes and scoring 15+ points in ppr every game.
Name me all the RB's in ppr that have scored more points than Ekeler to date. Derrick Henry. Done. Name me all the RB's that have scored more than Ekeler in standard. Derrick Henry. Done. 
(RC NOTE: I was gonna say Cord Patterson, but I have to correct myself -- I've been using FantasyPros for PPG leaders and I keep seeing CP at #2 RB PPG...so, I've been running around claiming he's the #2 scorer at the position. But FantasyPros, for whatever reason, is ignoring his Week 1...because (I think) he was classified as a WR for them then...and then as an RB the next 3 weeks (his scoring pop), so they are only picking up his best 3 games. So, now I'm the fool who has been saying '#2 RB in FF' all week. He's not. He's top 10 not top 2. My bad.)
So long as Ekeler remains healthy, always a question mark, he's going to finish as a top 5 back this year.
--If Ekeler does get hurt I believe it's rookie Larry Rountree that will get first crack at replacing him. Justin Jackson was in the game before Rountree, but he looked dreadful and was quickly replaced by the rookie who at least was a plausible replacement. Neither is particularly good however, and I wouldn't be shocked if the Chargers picked up another guy to get in on the rotation behind Ekeler. Marlon Mack perhaps?
--Even Jared Cook (6-70-1/7) is getting in on the action. I still don't think you can trust him every week since he's splitting snaps with Donald Parham, but he's another possible streaming option if you're hurting at TE.
--Derek Carr (21-34 for 196 yards, 2 TD/1 INT) had a nice run of 400 yard games, but it was never going to last as we talked about last week. Sometimes these wild streaks happen and you ride them while you can. It was nice, but it's time to move on. Carr is just another QB2 backup option.
--Josh Jacobs (13-40-0, 5-17-0/5) is so terrible. I'm not even going into it. RC has been warning you to stay away from this one long enough. Nothing good is going to happen here.
--It's officially ok to let go of your Bryan Edwards (1-4-0/4) lottery tickets. Sorry, everyone. I screwed that one up. The good news is it only cost you a late round pick. That's what you do with those late picks. Take a shot on high upside guys. Most of the time it doesn't work out. Sometimes it does. Edwards isn't the problem. The guy can obviously play. But for whatever reason Carr and Gruden just refuse to throw him the ball until there's only 3 minutes left in the game. I still wonder if Edwards might not break out later in the season, but you can't hold him on your bench hoping for a miracle that doesn't seem close to happening. Go chase other things for now. I'll be watching for any signs of an impending breakout though and ready to sound the alarm to grab him again.
*2022 JUNE NOTE (RC) = Just when I think I'm out...they pull me back in. I'm hopeful on Edwards with ATL 2022.
‍
--On the season, Darren Waller (4-50-1/7) has 24 catches on 40 targets for 274 yards and 2 TD's. He's the #2 scoring TE so far. What disturbs me is that 48% of his targets, 40% of his catches, 38% of his yards, and 50% of his TD's all came in that first monster game against the Ravens. Since then he's gotten exactly 7 targets a game and either 4 or 5 catches for around 50-60 yards with only 1 TD. Not exactly setting the world on fire. I'm not saying there's a problem here, but I'm growing just a little bit concerned.
*2022 JUNE NOTE (RC) = The concern was real...Waller flew out of the gates fast and then slowly spiraled all season into a TE1.5-2.0 most weeks, accelerated by the rise of Hunter Renfrow. Now he has Davante Adams to take food out of his mouth.
‍
--As I talked about weeks ago, Hunter Renfrow (6-45-1/8) is far more important to this passing game than Bryan Edwards no matter how many few snaps he's getting. He's a fine receiver I guess, your usual slot guy. Nice player to help move the chains. But I don't understand spending so much work on him catching 5 yard passes instead of trying to attack with Edwards down the field. The best play he made in this game was recognizing a fake punt the Chargers were running and flying upfield to dislodge the ball after it was caught by a wide open gunner. Great heads up play that helped keep his team in the game just a little bit longer.
Of course now he's being billed as some godly slot receiver because he stopped the fake punt and ran a cool looking route at the goalline for a TD. Those plays are flashy and all, and again he is a solid receiver, but the hype has gotten totally out of control. He's not a star, he's not even a star fantasy player. He's just another boring slot guy that occasionally has a reasonable day when he gets a TD. Don't get sucked into the nonsense.
 *2022 JUNE NOTE (RC) = But he did become a near-star for FF 2022. This game started his march towards PPR WR1 status the rest of the way.
‍
IDP Notes
--Another week, another great IDP tally for Denzel Perryman (12 tackles, 1 tfl). The guy has been on fire this year. He is averaging 12 tackles per game. That's a pace of 204 tackles for the year. He's not going to be able to maintain that, but he should remain among the league leaders if not the outright #1 tackler.
*2022 JUNE NOTE (RC) = Perryman missed a few games midseason, but outside of that was an IDP revelation, a top 5 FF scorer per game at LB.
‍
--Not to be outdone, his teammate Corey Littleton (14 tackles) took it up a notch as well. He's put up 10+ tackles in 3 of 4 games so far this year and is averaging 9.5 per game on the year.
‍
Snap Counts of Interest
39 = Jared Cook
39 = Donald Parham
22 = Larry Rountree
11 = Justin Jackson
51 = Bryan Edwards
46 = Henry Ruggs
38 = Hunter Renfrow
‍