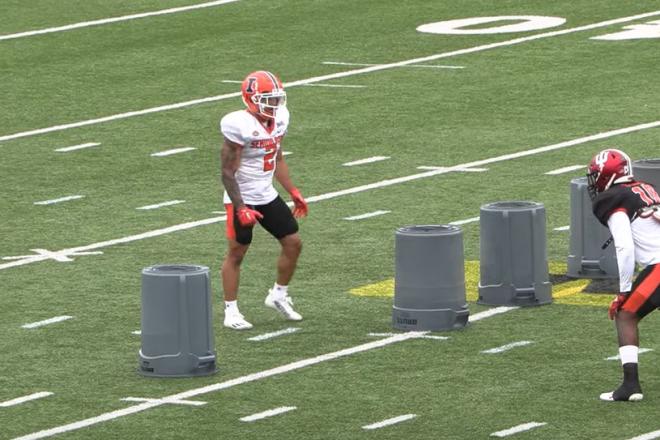 R.C. Fischer
Weekly Report
05 May 2023
*Our RB grades can and will change as more information comes in from Pro Day workouts, leaked Wonderlic test results, etc. We will update ratings as new info becomes available.
*We use the term "Power RB" to separate physically bigger, more between-the-tackles–capable RBs from our "Speed RBs" group. "Speed RBs" are physically smaller, but much faster/quicker, and less likely to flourish between the tackles.
*This report was conducted post-NFL Draft…
When I saw Chase Brown get drafted by the Bengals in the 5th-round of the 2023 NFL Draft, I thought…is this their Samaje Perine replacement? And by that I mean: Is this their 3rd-down RB, who played some relief snaps for Joe Mixon and who would be a blocker/protection for Joe Burrow? I assumed Brown was taken for that role -- he's compact, tough and ran the ball heavy at Illinois and worked the screen game. The image I had in my mind kinda fit.
At the same time that I'm watching to see what Cincy does to replace the very specific Samaje role…there has been weeks of talk/rumors that the Bengals looked to be cutting Joe Mixon -- an underperformer for two years now (fine, but not anything special)…and the Bengals could save $7M in salary cap by cutting Mixon this offseason. If Mixon gets cut…who would be taking over? The next person in line right now is Chase Brown.
But that didn't jive with what I had in my mind…Brown isn't a lead RB projection, is he? He's more a 3rd-down type 'change of pace' type RB, right? Looking at a lot of his 2022 season tape -- Brown is not just a '3rd-down back'…he's a worker. He was #2 in the NCAAs in carries (328) last season and 4th in rushing yards (1,643)…#1 in the NCAAs in plays from scrimmage (355). On the other hand, Brown was graded as one of the better pass blocking RBs in the 2023 draft class…and he's built to be a good blocker -- very muscular frame and athletic with a will to do the job. However, his blocking on tape looked a bit sloppy/lacking to me…but he's built to be good at it…there's hope.
Is Brown the Samaje replacement or the Mixon replacement?
Maybe a little of both? The Bengals took a real RB…in the face of Joe Mixon on 'the bubble' for remaining with the team, etc. We have to look at Brown in the context of replacing Perine's role first while also looking at the possibility he could replace Mixon if the situation called for it.
Brown is like a slower, less fluid, but more powerful Austin Ekeler type RB…smaller in stature backs but tough/gritty with athleticism. I use Ekeler to compare Brown not to claim 'Brown is just like Ekeler'/'he's the next Ekeler'. I use Ekeler in comparison more because they are shorter, easy to look past as legit every down type RBs who live in the gym and are physical/muscular specimens…and I bring that up because NFL coaches LOVE-LOVE-LOVE the grinder, gritty, workout fiends who put on a hardhat and grab a lunch pail and go to work. They are the kind of players who are super serious employees and are always on time/early for meetings, and never cause any trouble and the other players look up to them and respect their work ethic.
You take a B/C grade RB talent and mix him with an A+ attitude and physique -- and you get a guy who is gonna get opportunities.
Let me tell you what I saw on tape, to try and paint a picture of Brown…
Not the most gifted RB that I've ever seen but what he lacks in high-end burst or shiftiness (he's fine in either sense, just not 'wow'), he makes up for in smart running and toughness. He goes 100% on every touch. He's pretty smart/has good sense for reading holes and situations…he takes what is there. He has short space shiftiness with his low to the ground running style. He doesn't try to dance around and avoid hits…he just shifts into space and when he runs into trouble/congested holes, he just barrels into it and then gets up for the next play.
Brown doesn't do anything flashy…he just does his job and does it pretty solidly.
You know who he's like…and I don't know if this is good or bad -- he's like Phillip Lindsay, when he first hit the NFL scene. Lindsay was undrafted/not thought much of…just outworked everyone…and annoyingly produced immediately (back-to-back 1,000+ yard rushing seasons his first 2 NFL campaigns) by sheer will but is never fully respected and is eventually in a split role over time, just never the main guy on purpose. Every team needs/wants a guy like Brown…a reliable hand who can be your lead back and rush for 1,000+ yards or be your quality #3 RB to use/underutilize in case of emergency.
Brown is solid/good in the short passing game…the screen and short flare pass game. He really sets up for screens nicely but he's not a sneaky great 'hands' receiver out of the backfield. He needs to stay to screens and flares. His hands are not totally natural or smooth, but he catches the basics well.
As a blocker, he's willing. He's tough and wants to do a good job in protection and did well in college but also had games where he struggled, especially against bigger/better opponents. That's not unusual for a college RB.
Off the field, Brown (and his twin brother) are impeccable characters…uber-hard-working and gracious. They just want to play football or workout in the gym. Again, coaches LOVE that.
Chase Brown is a very good, not great, all-around RB prospect. He's not just a Samaje Perine replacement, but he could be if forced too. He's not the obvious Joe Mixon takeover, but he could handle it if forced too.
Chase Brown, Through the Lens of Our RB Scouting Algorithm:
 -- Top 10 in the Big Ten in rush attempts three years running, and #1 in attempts in 2022. Brown is not a scatback, he's an every-down type worker (in his mind).
 -- Subsequently, top 10 in the Big Ten in rushing yards the past three seasons.
 -- 27 catches for 240 yards and 3 rec. TDs in 2022 season…he's a scrappy screen/dump pass guy.
 -- 5.0 yards per carry in 2022, in a year he led the conference in carries and everyone knew he'd get the ball and with a shaky/often overmatched O-Line.
2023 NFL Combine/Pro Day measurables:
5'9.4"/209
10" hands, 31" arms
4.43 40-time, 1.53 10-yd…both high quality times
25 bench reps (high end, historically for his size)
40" vertical
10'7" broad jump
The Historical RB Prospects to Whom Chase Brown Most Compares Within Our System:
Here's the battle with trying to project Brown ahead…he has a lot in common with the Darrynton Evans and Mike Boone type RB prospects of the past -- smaller, strong/thick…forgettable in the NFL. But Brown has the big conference visibility and production therein, so you'll notice the D'Andre Swift and Miles Sanders comps are appropriate to consider as well. Brown could go either way -- but he's more likely to be endeared by his new team/coaches than dismissed as just a 3rd-down back.
However, Brown was not a 2nd-round pick like Swift-Sanders…he was a distant 5th-round pick, so that doesn't help his visibility/urgency, per se.
Swift-Sanders got shots to lead a backfield right away. Might Brown? He's about the same size as those guys but much stronger (physically) than either. 
| | | | | | | | | | | | | |
| --- | --- | --- | --- | --- | --- | --- | --- | --- | --- | --- | --- | --- |
| RB Score | RB-Re | RB-ru | Last | First | College | Yr | H | H | W | Speed Metric | Agility Metric | Power Metric |
| 7.017 | 6.98 | 7.11 | Brown | Chase | Illinois | 2023 | 5 | 9.4 | 209 | 7.29 | 5.71 | 8.98 |
| 7.001 | 7.02 | 6.22 | Evans | Darrynton | Appalachian St. | 2020 | 5 | 10.1 | 203 | 7.80 | 6.17 | 7.65 |
| 6.432 | 5.36 | 7.78 | Boone | Mike | Cincy | 2018 | 5 | 9.7 | 206 | 3.33 | 4.06 | 8.93 |
| 7.100 | 8.44 | 5.46 | Swift | D'Andre | Georgia | 2020 | 5 | 8.2 | 212 | 6.91 | 8.85 | 7.16 |
| 10.259 | 7.83 | 8.99 | Brown | Donald | Connecticut | 2009 | 5 | 10.2 | 210 | 7.11 | 8.61 | 6.19 |
| 6.833 | 6.97 | 7.20 | Koback | Bryant | Toledo | 2022 | 5 | 10.6 | 209 | 5.78 | 5.27 | 9.39 |
| 7.226 | 6.70 | 5.29 | Sanders | Miles | Penn St. | 2019 | 5 | 10.5 | 211 | 4.68 | 7.17 | 6.90 |
*A score of 8.50+ is where we see a stronger correlation of RBs going on to become NFL good/great/elite. A score of 10.00+ is more rarefied air in our system and indicates a greater probability of becoming an elite NFL RB.
All of the RB ratings are based on a 0–10 scale, but a player can score negative, or above a 10.0 in certain instances.
Overall rating/score = A combination of several on-field performance measures, including refinement for the strength of opponents faced, mixed with all the physical measurement metrics – then compared/rated historically within our database and formulas. More of a traditional three-down search – runner, blocker, and receiver.
*RB-Re score = Our formula/rating that attempts to identify and quantify a prospect's receiving skills even deeper than in our original formulas. RB prospects can now make it/thrive in the NFL strictly based on their receiving skills – it is an individual attribute sought out for the NFL and no longer dismissed or overlooked. Our rating combines a study of their receiving numbers in college in relation to their offense and opponents, as well as profiling size-speed-agility along with hand size measurables, etc.
*RB-Ru score = Our formula/rating that attempts to classify and quantify an RB prospect's ability strictly as a runner of the ball. Our rating combines a study of their rushing numbers in college in relation to their offense and strength of opponents, as well as profiling size-speed-agility along with various size measurables, etc.
Raw Speed Metric = A combination of several speed and size measurements from the NFL Combine, judged along with physical size profile, and then compared/rated historically within our database and scouting formulas. This is a rating strictly for RBs of a similar/bigger size profile.
Agility Metric = A combination of several speed and agility measurements from the NFL Combine, judged along with physical size profile, and then compared/rated historically within our database and scouting formulas. This is a rating strictly for RBs of a similar/bigger size profile.
2023 NFL Draft Outlook:
Brown was the #163 pick in the 2023 NFL Draft…that's not a huge, ringing endorsement of him by the team/NFL -- but it was a curious/intriguing pick because Cincy wanted/needed another running back badly…and Brown was their only free agent or draft add at the position.
If I were an NFL GM, I would've considered (but not been desperate for) Brown late day three of the draft, if I had the need. He's a very useful/workable RB…just not a game changer…but his solid play and attitude might make him a super-quality/reliable NFL producer.
NFL Outlook:  
All eyes on what Cincy does with Joe Mixon. Do they just leave his contract as is? Do they get into a fight and threaten a cut/release to try to get him to sign a more favorable, spread-out deal? They need to raise cash/CAP space for Tee Higgins now and for Burrow in a year as well. If Mixon goes…is Brown really going to step in and be the team lead in 2023, as a rookie? Or would Cincy go get a veteran back? I assume 'veteran' given the strong Super Bowl aspirations for them in 2023, but maybe Brown shines enough in summer camp…
The upside/hope here for Brown is that the situation lends itself to Brown getting a chance to show in the summer and preseason (because Mixon won't really play preseason, if still a Bengal). Might Brown just worm his way into the coach's hearts and force more of a split in-season with Mixon?
Brown likely has moments in the NFL, especially early on…but over time he's more on the 'forgettable' side of things. Not a long-term star likely…but just so very solid/capable/respected over the years. He's not likely an obvious star, but may 'will' his way/outwork everyone to some level of attention/prominence.