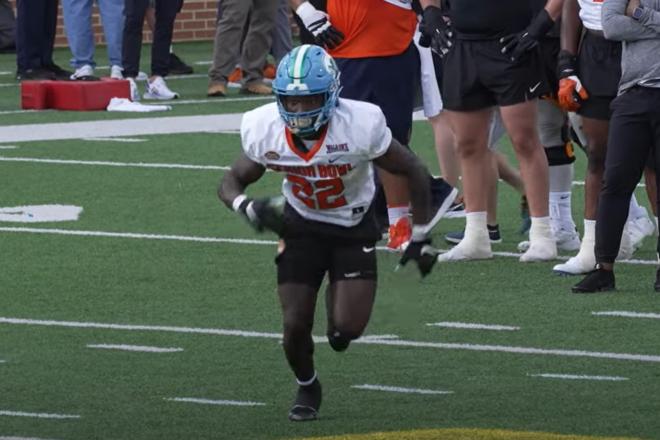 R.C. Fischer
Weekly Report
06 February 2023
Position re-grades: QB | RB | WR | TE | DT | LB | OLB/DE | CB | SAF
Position previews: QB | RB | WR | TE | DT | LB | OLB/DE | CB | SAF
Leading up to Senior Bowl week, I do 15-30 minutes of scouting preview work on each prospect set to attend -- watching a couple game tapes and looking over some performance data, etc., and then I give each prospect a pre-event scouting grade for the NFL based on that brief look.
After we scout their performance at the Senior Bowl week of practices, drills, etc., we update the grades and comments and re-rank. We continue to go through the same process for the NFL Combine, as we build a study for 2023 draft prospects until we ultimately choose to do an even deeper study of certain prospects and publish a full scouting report and run our computer scouting models for numerical grades on over 600+ prospects for the NFL Draft.
After watching the Senior Bowl practices live and on tape, I've re-graded the group and added new commentary where needed.  This is a very brief look for me, as a scout, to start to build my data and scouting notes for the weeks and months ahead, and to be ready to focus in on certain prospects in Mobile that are jumping at me from the early preview.
This is a second look (for me) at these prospects from a Senior Bowl perspective. We'll be looking at them again for the NFL Combine coming up…as we build our scouting profile and metrics on these prospects. My impressions/grading can and will change as we go through the year long process.
Post-Senior Bowl week, here are my impressions, re-grades, and re-ranking of each position (except O-Line, we'll look at OLs after the Combine).
The Running Backs…
RB Tyjae Spears, Tulane (Post-SB Grade: A-/B+, Pre-SB Grade: C-/D+)
5'10"/2.04
Projected 40-time: 4.45+
Projected 3-Cone: 6.8 +/-
Consensus mainstream NFL Draft ranking overall: top 200
Post-SB comments:
Spears is the biggest 'riser' from our pre-event grade to post-event grade.
You can read below, I noted he might be the most talented back here…but his size would hold him back for NFL grading/projections. He was listed at 5'10"/190 in college, but weighed in at the Senior Bowl at 204-pounds with 10" hands. If I had known that, I would have made him my top RB prospect going in -- but that's what the Senior Bowl/early scouting process is all about…discovery and adjustments on the data. He's the top RB prospect here, now, for us…that's for sure.
Spears is Austin Ekeler-like…maybe not as strong (but strong), but he's got stunning agility and cutback ability. I'm all about this for Dynasty Rookie Drafts in 2023…and so will many analysts. Spears didn't fly below the radar, all the 'smarts' in the FF community will be on to this. But, in the end, they'll only get as excited as his draft rankings let them -- I'm willing to shove a lot of chips in the middle, based on what I saw this week.
His comp is more Austin Ekeler hope than Tevin Coleman (my initial preview reaction).
---------------------------
Pre-SB comments:
A really nifty, highly productive smaller speed back…great for college football (1,800+ total yards and 21 TDs in 14 games in 2022) but likely too small for a lead role. But as a 4-8 carries, 3-5 targets a game weapon back, he might have something there.
Spears might be the best pure RB talent at the 2023 Senior Bowl (vision, toughness, speed, elusiveness), but his size is going to hurt his draft stock and he'll be overlooked in the draft and likely pushed to being a return man in the pros, hoping to get a break for some touches if injury above him on the depth chart opens up the chance. He'll not likely be an on-purpose NFL RB…but he might wiggle his way to a career over time because he's got skills.
NFL Comp? Smaller Tevin Coleman, or better Salvon Ahmed
Highlight video = https://youtu.be/rmgnCIclV9U
RB Chris Rodriquez, Kentucky (Post-SB Grade: B/C, Pre-SB Grade: B/C)
2022: 175-904(5.2)-6, 5-41-0 (8g)
5'11"/224
Projected 40-time: 4.55+
Projected 3-Cone: 7.0 +/-
Consensus mainstream NFL Draft ranking overall: top 175
Post-SB comments:
This went the way I thought it might… The Senior Bowl practices are not designed to help power RBs show their wares. There's no-contact all week, so what's a banger like Rodriguez supposed to do to shine?
However, when it came to the game itself…then Rodriguez could show off his higher end skill -- his pure/raw strength. He just bullies people…he runs NFL-style -- between the tackles and takes what he's given, not always dancing around trying to evade everything. He also showed that he has competent hands in the passing game.
Rodriquez doesn't seem like an elite prospect…but could be really good in the right-fit offense that wants a banger and has a good O-Line to help him.
---------------------------
Pre-SB comments:
There are moments when you watch Rodriguez, and you'd swear that he's a star power back for the NFL. Other times you watch him, and he looks a little slow to be a great lead back in the NFL…more part of a duo backfield, perhaps.
Rodriquez has a lot of scouting positives…he might be the toughest power back coming out this draft season…he runs over and through a lot of tackles, he makes yards where they are not. He's not going to hit homeruns, but he is going to hammer away with body blows and he has good+ vision and some elusiveness to make plays over and over. Very productive in college…30 TDs in his last 30 games.
He also has some issues: suspended four games in 2022 season…dealing with a DUI and a situation where he and other players got caught working a job where they were on the time clock but weren't there physically. 
Rodriguez is a bit of an enigma but also of interest as a power runner in the NFL.
NFL Comp: Jamaal Williams…maybe a bit better/aster Jamaal Williams.
Quick highlight video: https://youtu.be/dyr5ME72rBE
RB Roschon Johnson, Texas (Post-SB Grade: C+/C, Pre-SB Grade: C+…with nice upside)
6'2"/223
Projected 40-time: 4.55+
Projected 3-Cone: 7.0 +/-
Consensus mainstream NFL Draft ranking overall: top 150
Post-SB comments:
Johnson can't catch a break…stuck behind Bijan Robinson at Texas, in the shadows…and then after some impressive moments on day one of practice week, he caught a 'break', but not in a good way -- broke his hand and missed the rest of the event.
There's something to Johnson…that size and movement skills with solid receiving skills. I wish we got to see more of it at Texas…and in Mobile.
---------------------------
Pre-SB comments:
Boy, if this guy played anywhere else he might have a lot more draft heat on him…but he was a second fiddle to Bijan Robinson.
Johnson is a load at 6'2"/223. He almost plays like a fullback…was kinda for Texas, but when he got the ball, he showed surprising speed and agility, and can really catch the ball out of the backfield. The NFL might try to make him a fullback or an H-back and/or a small move TE…or a legit RB. Whatever he plays, he is a legit football player with skills.
NFL Comp? Smaller A.J. Dillon?
A quick one-play taste of Roschon: https://youtu.be/Mnqag8u1_6o
RB Kenny McIntosh, Georgia (Post-SB Grade: C, Pre-SB Grade: B)
2022: 149-829(5.6)-10 rush, 43-505-2 rec. (15g)
6'1"/210
Projected 40-time: 4.45+
Projected 3-Cone: 6.9 +/-
Consensus mainstream NFL Draft ranking overall: top 100
Post-SB comments:
McIntosh did not help himself at all this week. Not that he did anything 'bad', per se, it's just that a few of the other backs really impressed and rose up to probably surpass him come draft day.
McIntosh didn't really flash and great speed/quickness here. He looked 'average', 'capable'. His game tape looks much better than his Senior Bowl week.
I thought he might be better than former teammate James Cook, and his receiving game hands are…but everything else may be a little 'lesser'.
---------------------------
Pre-SB comments:
I'm a fan. A solid runner of the ball but a really good receiver…I mean, really good. Very graceful in the passing game…almost like a WR at RB. He's a better receiver out of the backfield than James Cook was at Georgia but Cook looks like the better athlete/speedster.
McIntosh will stand out at the Senior Bowl practice week because he is so good in the passing game…there's not any drills for RBs to show their wares as a runner, but they can show out in the passing game (like Demetric Felton, among others in past years).
McIntosh shared the backfield at Georgia, as is their norm…so his numbers aren't amazing -- but he's better than his numbers.
NFL Comp: Smaller, not-a-lead-runner version of Rachaad White. Better receiver than James Cook, but lesser of a runner, maybe…maybe James Cook-like with better hands.
Quick Highlight Tape: https://youtu.be/8dmG9ZCWU94
RB Chase Brown, Illinois (Post-SB Grade: C-, Pre-SB Grade: D/D+)
2022: 328-1,643(5.0)-10 rush, 27-240-3 rec. (12g)
5'9"/215
Projected 40-time: 4.50+
Projected 3-Cone: 6.95 +/-
Consensus mainstream NFL Draft ranking overall: top 200
Post-SB comments:
He helped himself this past week by being a hard worker…coaches and TV analysts like him a lot because he's such a dedicated worker. As far as what I saw on the field -- I didn't think he stood out besides being 'competent' as like a pass game back and emergency fill-in who will 'give his left arm' for the team.
Came in 15 pounds thicker than expected. He might wanna shave 5-10 pounds off to run at the Combine, and he might light his draft stock up even more. He's getting a Michael Carter type push…but I don't think he's as quick/nimble as Carter, but we'll see at the Combine.
---------------------------
Pre-SB comments:
Was a quiet/solid RB for Illinois for three seasons, then broke out in 2022 with 1,600+ yards rushing, and nearly 1,900 total yards with 13 total TDs. He looks like a possible Austin Ekeler type back at a glance. He's really good 0-10 yards working his way through traffic and evading tackles, but he doesn't have great long speed from there.
He's a try-hard scrapper who could have a role as a satellite back if his Combine is good enough. He doesn't have the body or style of a lead back in the NFL…nor the athleticism of a homerun hitter weapon. He's just 'solid' enough/useful in my first viewings of his work and looking at his performance data.
NFL Comp: Travis Homer
RB Eric Gray, Oklahoma (Post-SB Grade: C/C-, Pre-SB Grade: C+)
2022: 213-1,366(6.4)-11 rush, 33-229-0 rec. (12g)
5'9"/210
Projected 40-time: 4.55+
Projected 3-Cone: 6.85+
Consensus mainstream NFL Draft ranking overall: top 175
Post-SB comments:
Didn't do anything good/bad to really sway scouts. He was fine/as expected. The problem for him is that the other smaller guys like Tyjae Spears and Chase Brown came in bigger (weight) than expected and they also took more command of the practice week, and Gray kinda blended in quietly.
---------------------------
Pre-SB comments:
Very unique RB prospect…short but thick, decent speed by excellent cut-ability/agility. Good hands in the passing game -- he's going to be overlooked somewhat in the draft but is the kinda guy you want to build a duo-trio cheap backfield with.
NFL Comp? = Small Dameon Pierce.
Highlight video: https://youtu.be/L4wyXcmnwNE
RB Evan Hull, Northwestern (Post-SB Grade: D+, Pre-SB Grade: D-)
5'10"/214
Projected 40-time: 4.6+
Projected 3-Cone: 7.2 +/-
Consensus mainstream NFL Draft ranking overall: top 250
Post-SB comments:
Had a nice run as the starter in the Senior Bowl game. He has good vision. Runs hard/tough. Can catch the ball. He'll make a team as a backup/emergency option RB. He's capable. Reminds me a bit of less-athletic Toby Gerhart.
---------------------------
Pre-SB comments:
Solid college player but not enough of an athlete for a big career in the NFL. He's a grinder RB who is too small for his lack of speed to make it in the NFL. 4.1 yards per carry as the lead back for Northwestern in 2022. Is a hard worker and can catch the ball (55 catches in 2022) but not enough juice after he gets the ball.
NFL Comp? Unathletic Zach Zenner
RB SaRodorick Thompson, Texas Tech (Post-SB Grade: D+, Pre-SB Grade: n/a)
6'0"/213
Projected 40-time: 4.5+
Projected 3-Cone: 7.1 +/-
Consensus mainstream NFL Draft ranking overall: top 400
Post-SB comments:
Thompson was a late add to the roster. I thought Thompson showed a little juice/energy/hope for the NFL. He has decent size and runs/plays bigger. Has decent speed with his size with good cutback ability…he has pretty good feet for a guy his size. Not a superstar prospect, likely a UDFA, but he could scrap his way to the NFL in an emergency situation. Good speed/agility times at the NFL Combine could get him into the 6th-7th-round of the draft. There's some hope here.
---------------------------
Post-SB comments:
n/a
NFL Comp? A more athletic Jermar Jefferson.
RB Camerun Peoples, Appalachian St. (Post-SB Grade: D+/D, Pre-SB Grade: C-/D+)
2022: 101-593(5.9)-5 rush, 6-43-0 rec. (11g)
6'2"/215
Projected 40-time: 4.5+
Projected 3-Cone: 7.0 +/-
Consensus mainstream NFL Draft ranking overall: top 200
Post-SB comments:
Didn't help himself here because he really struggled catching the ball during practice week…and then dropped his first two targets in the actual game. He's a one-dimensional power runner…a Ronald Jones hope at absolute best.
---------------------------
Pre-SB comments:
A tall, raw, wiry but strong 220-pound RB. His size and unbridled running style can get you excited, but there's also inconsistency for 'feel' for the position and questions on his vision in crowded spaces. He's a more 'run you over' RB than shifty one, but he looks more like a shifty body-type. Barely used in their passing game but shows some promise with his long arms and bigger hands.
Peoples will stand out among the RB group because of his size, but we'll see if he shows out in the drills/practices to back that up.
NFL Comp: Has a little Latavius Murray possible.