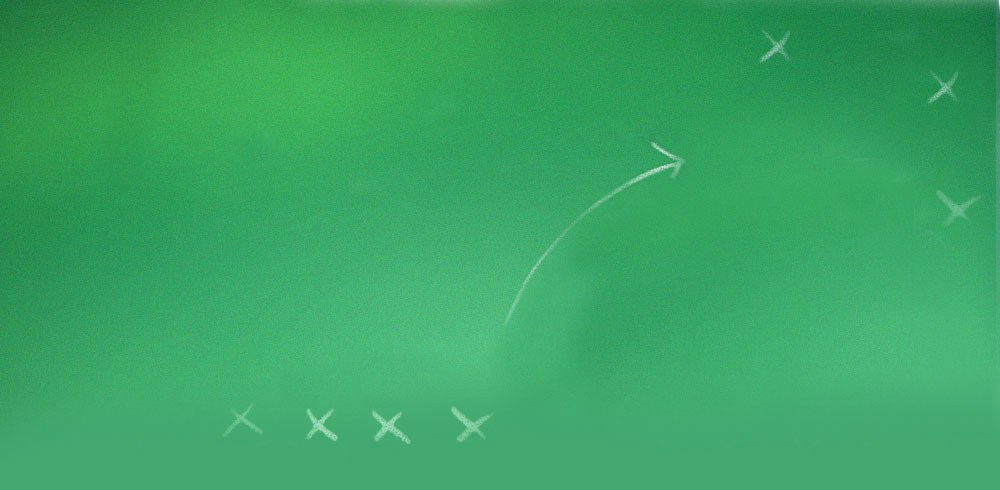 The Moneyball-inspired scouting alternative to the mainstream echo chamber
Total Football Advisor
Find undervalued assets and expose the fraud prospects with our radically unique scouting and analysis program
Get everything you need year-round for building your dynasty, re-draft, IDP or high-stakes tourney fantasy team.
Be ready on draft day with full off-season coverage: 100+ pro-level rookie scouting reports, top 350 dynasty rookie draft, top 600+ players graded & ranked (includes IDP)
Find in-season gems with in-depth analysis: film-study of every game, waivers to trust/not trust, sell-high/buy-low alerts, weekly projections, stash reports and more.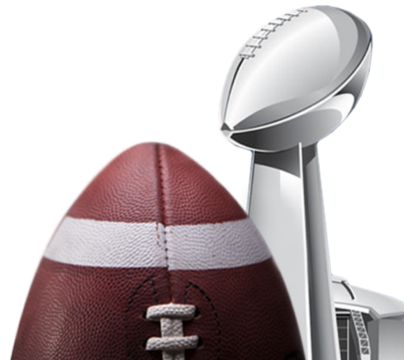 Avoid the misguiding of media hype with the help of nationally acclaimed R.C. Fischer and his team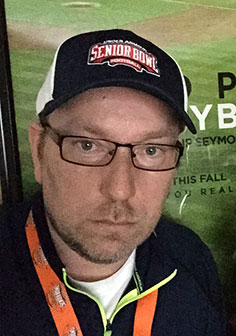 About R.C. Fischer
---
10+ year football independent scout and national fantasy analyst/author.
Consultant to NFL and CFL scouts, personnel dept., and agents.
You've heard R.C. as a guest on Sirius/XM and various podcast appearances.
The most published fantasy/scouting content in the industry over the past decade+.
Senior Bowl and East-West Shrine Scouting Analyst for various media outlets.
"I was supposed to write a flowery description of myself and the company here.
That's how you are supposed to promote a Fantasy Football website – talk about a love of fantasy, boast about 'dominating' competition, cherry pick a few testimonials from people you don't know if they are real or not -- all to convince you 'how great we are'.
Quite frankly – all that is bull… And it's nothing like how I founded this company.
This Fantasy Football Metrics experiment I started 10+ years ago was born out of frustration. I continually experienced the same lazy, wrong, parroted information/scouting everyone else had via 'experts' -- none of it giving me any edge in Fantasy/Dynasty. So, I decided to pursue an edge developing my own Moneyball/analytics for scouting football talent…and it turned into a career.
My passion is putting my football studies into actionable Fantasy ideas, in an entertaining format. I will not guarantee you'll win a zillion dollars/every league title but will guarantee that you'll never see football analysis the same way again and that you'll be the most informed person in your Dynasty/Fantasy league – informed with data/projections, and anti-establishment scouting you will not find anywhere else.
The best way I can convey our work: People typically won't recommend us to even their closest friends or family, they keep us a guarded secret. It sucks for business (satisfied subscribers, but no referrals) but it is also the thing I'm most grateful for (loyal supporters).
I publish over 700,000+ words on football annually, and I hope you'll sample some of our material to see if it speaks to you and can assist in your football profiteering pursuits."
R.C. Fischer, President of College Football Metrics
You won't find scouting depth like this anywhere else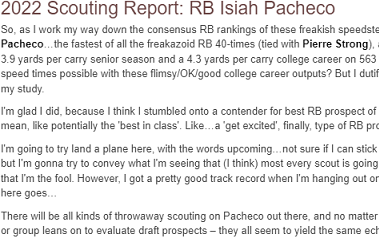 Hundreds of NFL-Quality Scouting Reports
---
Based on a decade+ of experience with in-depth film study and Moneyball-style analytics (college and pro)
Fully independent scouting reports and valuation rankings/projections that dispels media hype/fraud analysis
All-inclusive NFL Draft scouting process with a Dynasty Rookie Draft focus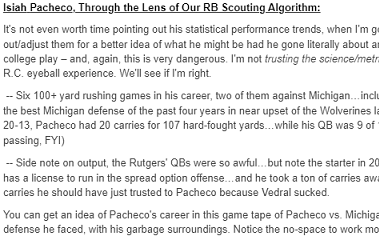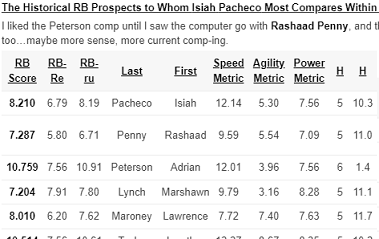 Statistically-Based Grades & Comps
---
"Moneyball-style analytics" means we are constantly improving our formulas to find the most predictive metrics of NFL prospects
You get a full metrics-based analysis of rookies using our secret formula
Accurately predicts top rookies
Compares each rookie with NFL greats and busts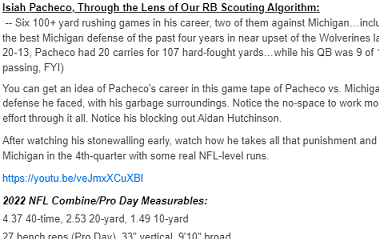 Tape Analysis of All Games
---
Get detailed tape analysis of every regular and preseason game
Don't be fooled by the one-week wonders, but learn who are the hidden gems that are really emerging
Weekly projections/rankings updated daily all regular season
Q&A Fantasy Shows
---
Participate in our live video Q&A fantasy shows
Tuesday night is for waivers prep
Pre-kickoff Sunday mornings is for reviewing the latest news and setting lineups
Stash Reports
---
Receive special stash reports specifically tailored for identifying the players to add to your roster for next year
Which players were under-utilized but have real talent and will have more opportunity, are learning the playbook, recovering from injury, etc.
We are watching all aspects to anticipate player movement (contract years, salary cap issues, team chemistry), and coaching moves
IDP Scouting
---
Defensive/IDP prospects are fully scouted and graded for the NFL Draft.
200+ player projections weekly all season
IDP scouting and analysis weekly in-season within our preseason and regular season game reports/analysis.
Devy Reports
---
50+ top Devy prospects (all positions, including IDP) preview scouted, graded/ranked with commentary and discussion every summer.
Independent in-depth rookie rankings and analysis help you find the top rookies for your dynasty rookie draft and building your team.
Get the most in-depth FF scouting content on the planet.
Sign-up now
to access the rest of this premium article.