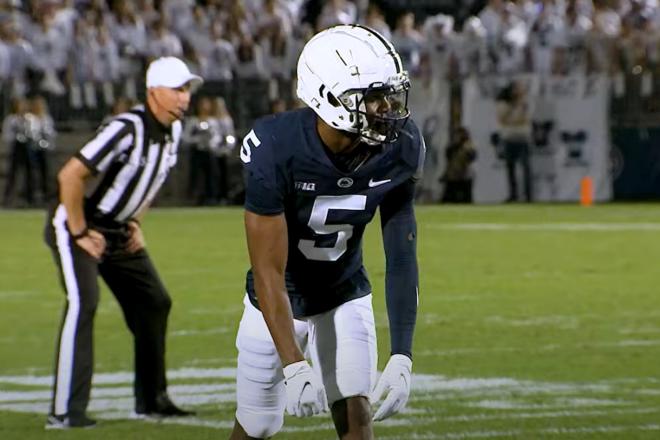 R.C. Fischer
Rookie Scouting Reports
19 March 2022
NFL Draft 2022 Scouting Report: WR Jahan Dotson, Penn State
*WR grades can and will change as more information comes in from Pro Day workouts, Wonderlic test results leaked, etc. We will update ratings as new info becomes available.
*WR-B stands for "Big-WR," a classification we use to separate the more physical, downfield/over-the-top, heavy-red-zone-threat-type WRs. Our WR-S/"Small-WRs" are profiled by our computer more as slot and/or possession-type WRs who are typically less physical and rely more on speed/agility to operate underneath the defense and/or use big speed to get open deep...they are not used as weapons in the red zone as much. 
Jahan Dotson is a tough scouting case.
The entire 2022 offseason (to this point), I always see him ranked highly in the mainstream, but the first time I watched preview tape on him, I thought 'meh'…and wondered what everyone was thinking of to push him so high. It felt like another K.J. Hamler situation – fast guy makes a few plays for Penn State, and everyone falls in love with cool highlight plays, but in the end it's just another smaller, fast guy who's nice for college but isn't anything special for the NFL.
Then I saw his NFL Combine results…nothing special again. Running a 4.43 40-time is 'meh' these days, especially at 178 pounds. And the 178 pounds part at 5'10"+ isn't too thrilling either. And then you see his very poor 7.28 three-cone with an 'average' 36" vertical and 'average' 10'1" broad and the whole Combine package wraps up supporting a 'meh' prospectus. I didn't even wanna do a deeper dive on Dotson based on the surface info…at least not in the early WR group of studies. But he's ranked so highly in some places that I thought I might as well take a look/get his study out of the way and move on.
When I put on the first game tape, I wasn't really swayed. Struggled somewhat against Michigan/2021…couldn't get open on the outside. Dotson was reduced to bubble screens to get him the ball, and nothing that special happened with them. I pretty much had my mind made up at that point…Dotson is 'meh'.
But as I kept watching more game tape, I started to understand his appeal. If you block out the noise of analytics/measurables on the three-cone and his size, and you just watch him play WR game-in-and-game-out, you'll see NOT a 'next Brandin Cooks' (as I've seen postured) – you'll see more of a next Julian Edelman or Randall Cobb-type worker…you'll see a very good football worker/player/WR, measurables be damned.
You wanna use Dotson as that scrappy, annoying underneath option that just kills you with finding the space over-the-middle and taking bubble screens and a jet sweep here and there – Dotson, for his size, is a tough, capable worker. He's an asset with a unique set of skills…an interior worker who can expand, run routes deeper every so often to keep everyone honest. Dotson can be that QB's BFF throw like a Cobb or Edelman or Cole Beasley, etc. And credit to Penn State, they used him as such. They got him the ball…and Dotson typically delivered something when given the ball. He scored a lot of TDs for a player his size and one with good-not-amazing speed…but he just got open and made plays near the goal line (fast feet off the snap, good routes) or further out. Give him simple bubble screens and he'll find a way through the trash to make yards and occasionally break one.
I learned to like/love Dotson as a 'football player', apart from his measurables, because he just 'made things happen'. He is reliable for the QB/offense. He's not a fast guy on the outside doing fast guy things…he returned punts, he caught passes over the middle in traffic, he ran into the fray off bubble screens, he took jet sweeps, he threw (and completed) two passes in 2021. He's a 'football player'.
Dotson doesn't jump off the screen or paper with any impressive single attribute – but his quality of work confirms his career production/season production numbers. He's just a good football player and will most likely be a successful pro.
The downside is – will an NFL team put him into that slot/weapon/gadget role, like Penn State did? Will a team commit to giving him the touches he needs, in a variety of ways? The true crime here would be Dotson being drafted and then stuck out as an outside receiver, a medium and deep ball threat mostly…it's wasting his gift. He's not John Brown or K.J. Hamler, he's more Julian Edelman or Randall Cobb.
Off the field, Dotson seems pleasant, confident, and serious about football. He's notoriously hard-working and respected by teammates and coaches. He's smart, well spoken, carries himself well in interviews. There are really no red flags here except the fears on him getting miscast as a flanker/outside speedster guy, which is not his true gift.
Jahan Dotson, Through the Lens of Our WR Scouting Algorithm:
25 TDs in his last 23 games.
Top three in the Big Ten in receptions, yards, receiving TDs in 2022 and 2021 season. Top 25 all-time in the Big Ten in receptions, yards, and receiving TDs.
#6 in the Big Ten in punt return average (7.4) in 2021. Returned a punt for a TD in 2020 season, while averaging 24.6 yards per return…a career 13.5 yards punt return average.
Eight or more catches in a game in eight of his 12 games in 2021 season. Eight or more catches in a game in twelve of his last 20 games.
60 or more yards receiving in a game in 16 of his last 21 games.
Dotson is a model of (somewhat) quiet consistency and production.
2022 NFL Combine Measurables:
5'10.6"/178
9.5" hands, 30.75" arms
4.43 40-time, 7.28 three-cone
36" vertical, 10'1" broad jump
Oh, and I didn't mention it enough prior – but the weak 7.28 three-cone time…it's not showing on tape. Dotson is fast-footed off the snap to get open in a flash going left or right for a particular short route.
The Historical WR Prospects to Whom Jahan Dotson Most Compares Within Our System:
An analytics system of scouting tends to overlook guys like Dotson…and the other subtle, quality, tough WRs like him. Fast and flashy and big and those types of things scream out in an algorithm…or on a quick eyeball test. A Dotson type WR needs to be 'found'/discovered more with extra time tape watching and experience of seeing his gift.
Our own analytics grading is likely undervaluing him…we're trying to get better running data to help find these subtle-quality receivers, but the small size, thinner-frame here with so-so speed/agility times drags the grade down a bit.
Sometimes, you throw out the 'numbers' and go with your gut/eyes/experience/proven production. I think that's the case here.
| | | | | | | | | | | |
| --- | --- | --- | --- | --- | --- | --- | --- | --- | --- | --- |
| WR Score | Draft Yr | Last | First | College | H | H | W | Power Strngth Metric | Speed Agility Metric | Hands Metric |
| 7.611 | 2022 | Dotson | Jahan | Penn State | 5 | 11.5 | 178 | 6.04 | 7.39 | 8.87 |
| 5.932 | 2014 | Richardson | Paul | Colorado | 6 | 0.3 | 175 | 2.93 | 9.17 | 10.08 |
| 5.853 | 2012 | Hilton | T.Y. | Fla Int'l | 5 | 9.5 | 183 | 3.93 | 10.56 | 8.27 |
| 5.620 | 2018 | Coutee | Keke | Texas Tech | 5 | 9.6 | 181 | 5.77 | 8.01 | 5.07 |
| 6.180 | 2011 | Cobb | Randall | Kentucky | 5 | 10.3 | 192 | 7.90 | 6.35 | 8.20 |
| 3.285 | 2009 | Butler | Deon | Penn State | 5 | 10.3 | 182 | 4.72 | 9.97 | 6.85 |
| 3.112 | 2017 | Westbrook | Dede | Oklahoma | 5 | 11.7 | 178 | 2.07 | 4.83 | 8.13 |
*A score of 7.0+ is where we start to take a Small-WR prospect more seriously. A score of 8.50+ is where we see a stronger correlation of a Small-WR going on to become NFL good/great/elite. A score of 10.00+ is more rarefied air in our system and indicates a greater probability of becoming an elite NFL Small-WR.
All of the WR ratings are based on a 0–10 scale, but a player can score negative, or above a 10.0 in certain instances.
Overall WR score = A combination of several on-field performance measures, including refinement for strength of opponents faced. Mixed with all the physical measurement metrics, rated historically in our database.
"Power-Strength" = A combination of unique metrics surrounding physical-size profiling, bench press strength, etc.  High scorers here project to be more physical, better blockers, and less injury-prone.
"Speed-Agility" = A combination of unique metrics surrounding speed, agility, physical size, mixed with some on-field performance metrics. High scorers here project to have a better YAC and show characteristics to be used as deep threats/create separation.
"Hands" = A combination of unique metrics surrounding on-field performance in college, considering the strength of opponents played. Furthermore, this data considers some physical profiling for hand size, etc. High scorers here have a better track record of college statistical performance, and overall this projects the combination of performance and physical data for the next level.
2022 NFL Draft Outlook:
I see Dotson mocked drafted or ranked between #20-50 mostly. I suspect he goes in that range ultimately. The NFL seems to be onto his subtle gifts as well…and they were well before I 'saw the light'.
If I were an NFL GM, I'd love to have a player like this on my roster but I'm not sure I'd pay a top 50 pick for it, considering all the other talent at other positions…or similar WRs available later in drafts. Dotson's worth a top 50 pick, probably…I'd just think I'd do better with my pick – and these types of WRs get overlooked in the NFL, so via free agency or later in the draft I might have a shot as a similar prospect.
NFL Outlook:   
This will be SO much about his landing spot.
Dotson could go to the wrong place and be stuck outside on the wings and then be forgotten and then be seen as a wasted top 50 draft pick in a few years.
Or…
He lands right, becomes a BFF target for a top QB and racks numbers…and we look back in a few years and wonder why he wasn't taken higher, why we didn't grade him higher.
Dotson's potential/upside/quality of play is better than the grade we're giving.