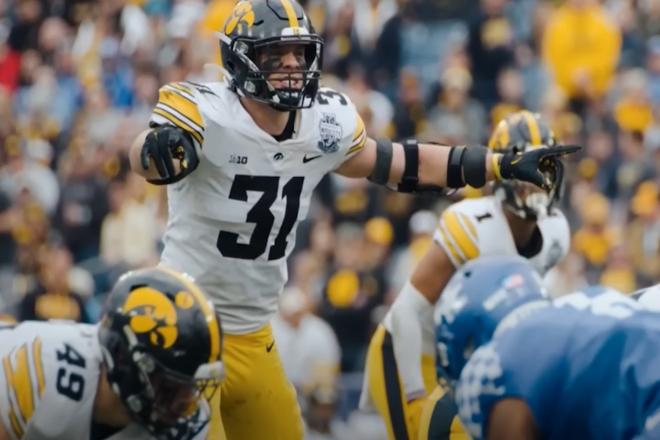 R.C. Fischer
Rookie Scouting Reports
18 May 2023
*Our LB grades can and will change as more information comes in from Pro Day workouts, leaked Wonderlic test results, etc. We will update ratings as new info becomes available.
*This report is being filed post-NFL Draft…
When the Lions made Jack Campbell the #18 pick in the 2023 NFL Draft, analysts and fans went into an uproar -- the Lions had committed the crime of drafting a player in the 1st-round more than 5-10 spots away from where the consensus/hive mind said they should have been drafted. And knowing the NFL sticks to draft rules, I understand thinking that Detroit 'could've waited'/'traded back' to get him, but seriously -- the guy was a need, he was the top ILB prospect in this weak-at-ILB draft, and most importantly …he's a (head coach) Dan Campbell guy.
Pick slot aside, this was a very good-to-great pick by the Lions. Jack Campbell is FAR AND AWAY the best ILB prospect in this draft. Campbell is ready to go Week 1/now…all the other ILB options were going to be not-natural ILBs converting to the spot and needing to change their bodies and styles, etc., to try and make a go of it. Not Campbell. He's ready to go right now.
After scouting Campbell's tape and profile deeper, he is exactly what his resume and scouting, and coach Dan Campbell appeal, says he is. He's a throwback ILB…a heavy-hitting ILB that has a solid frame but comes with the bonus of gifted feet -- a 4.65 runner with wonderful 6.74 three-cone agility. The Combine measurements match what's on tape.
Campbell reads situations well and has the feet to move to the spaces he needs to go to in order to make plays. He hits hard with proper tackle form. He's got size and athleticism and topping it all off -- he's got the perfect off-field resume. Campbell is a permanent team captain type…an all-Big Ten Academic performer and various other awards winner.  
My scouting of Campbell can be boiled down to this statement: Detroit now has a grown-ass-man, who happens to be a high-end athlete with a high IQ as their defensive leader in the middle. That's worth a top 20 overall pick…he wasn't a reach, he was perfect for coach Dan Campbell.
Jack Campbell, Through the Lens of Our ILB Scouting Algorithm:
 -- 2022 Big Ten Defensive Player of the Year
 -- 2022 Consensus All-American
 -- 2022 Dick Butkus Award winner
 -- Three time All Academic Big Ten
 -- 2022 Williams V Campbell Trophy for Scholar Athlete of the Year
 -- 2021 Big Ten 1st-team
 -- Led the Big Ten in tackles in 2021 (and #2 in the NCAA) and 2022 seasons.
The Historical ILB Prospects to Whom Jack Campbell Most Compares Within Our System:
Sean Lee was one of the first ILBs that came to mind watching Jack Campbell at work and learning more about Campbell's background. Sean Lee is a Hall of Fame level NFL middle linebacker.
| | | | | | | | | | | |
| --- | --- | --- | --- | --- | --- | --- | --- | --- | --- | --- |
| ILB Score | Last | First | Yr | College | H | H | W |   | Tackle, Strngth Metric | Speed, Agility Metric |
| 8.563 | Campbell | Jack | 2023 | Iowa | 6 | 4.5 | 249 | | 8.71 | 8.36 |
| 7.911 | Chenal | Leo | 2022 | Wisconsin | 6 | 2.5 | 250 | | 8.70 | 10.86 |
| 8.243 | Lee | Sean | 2010 | Penn State | 6 | 2.1 | 236 | | 7.95 | 7.48 |
| 7.451 | Vander Esch | Leighton | 2018 | Boise St. | 6 | 4.2 | 256 | | 9.55 | 7.78 |
| 7.455 | Cushing | Brian | 2009 | USC | 6 | 2.7 | 243 | | 7.74 | 8.73 |
*A score of 8.00+ is where we see a stronger correlation of LBs going on to become NFL good/great/elite. A score of 10.00+ is more rarefied air in our system, and indicates a greater probability of becoming an NFL elite LB.
All of the LB ratings are based on a 0–10 scale, but a player can score negative, or above a 10.0 in certain instances.
Tackle-Strength Metrics = A combination of several physical and performance measurements. An attempt to classify the LB prospect's ability to stop the run, as well as to gauge how physical the player is, and the likelihood of higher tackle counts in the NFL. All based on profiles of LBs historically.
Speed-Agility Metrics = A combination of several speed, agility, and size measurements...as well as game performance data to profile a LB for speed/agility based on LBs historically. A unique measuring system to look for LBs that profile for quickness, pass-coverage ability, and general ability to cover more ground.
2023 NFL Draft Outlook:
Jack Campbell was the 18th pick in the 2023 NFL Draft. We had him top 15 overall on our big board. His consensus rank was #35-45 overall.
If I were an NFL GM, if my team needed/wanted a 10-year anchor middle linebacker and locker room leader and community leader -- then, yes, I'd chase Campbell.
NFL Outlook:  
The most likely career trajectory -- long time ILB starter, team leader, future Pro Bowler, and worthwhile draft pick.