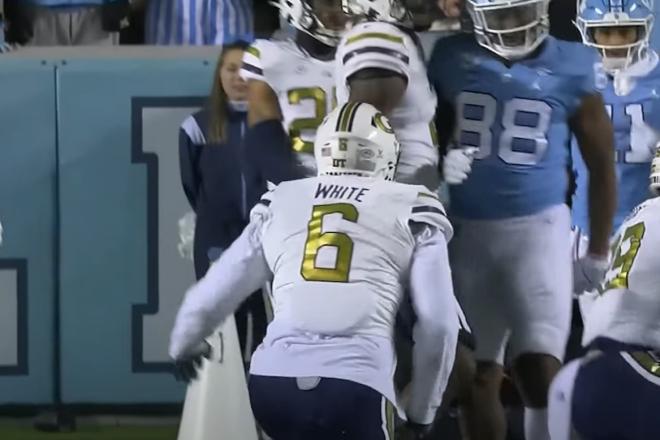 R.C. Fischer
Rookie Scouting Reports
09 May 2023
*Our DL grades can and will change as more information comes in from Pro Day workouts, leaked Wonderlic test results, etc. We will update ratings as new info becomes available.
When Keion White was announced to have received (and accepted) and invite to attend the 1st-round of the NFL Draft, one of 17 guys to get an invite, I hurried White up the list of prospects to study before the 1st-round of the draft went off and write/file a scouting report -- to be prepped for a guy I didn't think was going in the 1st-round, but the special invite said to me that he was definitely going in the 1st-round, maybe top 20. So, I conducted the scouting study but ran out of time before the draft to write it up. So, here I am.
Oh, and when Keion White DIDN'T go in the 1st-round (he was pick #46 in the 2nd-round)…I didn't feel the need to rush the report, especially because nothing in my studies really 'moved me' to convey what I saw.
It's getting on my nerves -- NFL teams lusting after, over-drafting these edge rushing prospects…loading up on these guys that might be the worst thing about an NFL defense -- 50-60+ snaps a game from an edge (let's say) and they get to the QB maybe once for a sack, maybe 1-2 pressures, and 55+ other run-themselves-out-of-the-play/run past the play or they're blocked out of the play. There are rare 'special' pass rushers who are a force unto themselves and require game plans against and double teams, etc. But there are a whole lot of generic/solid/capable same-sized edge pass rushers who are near indistinguishable from each other and thus have a low value, in my book.
Keion White is another one of those low value pass rushers -- head down, constant surge of the backfield…and are successful (disrupting) about 3-5% of their game snaps and half their 4-8 sacks in a season come off of great secondary coverage or a nice DT surge up the middle creating opportunity and the edge rusher is near the escape-attempting QB and the edge wrangles the QB to the ground or the QB runs right into them.
White is an NFL GM's/head coach's wet dream -- 'tall' (6'4"+) AND over 270 pounds AND can move pretty well. Somehow NFL teams think these guys are game changers…but they're just role fillers. White is more to the 'role filler' side. He got drafted by the Patriots…and you won't tell the difference between White and Deatrich Wise or Chase Winovich or Derek Rivers or Trey Flowers, etc., over time.
Keion has one 'gift', besides tall/thick…he's very strong. If a blocker gets off balance, White can take advantage. Otherwise, White is a moderate 4.79 speed, mediocre leg power (mediocre vertical and broad jump) pass rush prospect -- there's a million like him. Start him, and he'll find his way to 4-8 sacks a season…or rotate him and he'll get 3-6 sacks in a season. And for sure you'll forget about him quickly after a year or two.
There is cause for 'hope' with White -- he was a tight end at Old Dominion, converted to pass rusher and then transferred to Georgia Tech. He hasn't been a pass rusher as long as others, but watching his tape, I see no great natural instinct he has…aside from 'big' and 'strong'. He's got below average-to-average speed among today's much faster edge prospect crowd. He'll be fine -- but forgettable.
White best upside might be adding 10+ pounds and making him a smaller/speedy DT.
Keion White, Through the Lens of Our DE Scouting Algorithm:
 -- 3rd-team All-ACC. So, his best season (2022) with 7.5 sacks (about half were 'chasing an escaping QB) leads to a 3rd-team All-ACC? This is the guy invited to the NFL Draft…to be humiliated there?
 -- Lost 2020 season to COIVD at ODU. Broke his leg playing basketball in 2021, and lost time.
 -- A terrific 19.0 TFLs as a sophomore season debut/convert to edge, but just 3.5 sacks.
 -- Tall and strong and SO great to pressure passers, but just two PDs logged in five years/28 games.
 -- Is 24.5 years old due to his lost COVID year and broken ankle season.
2023 NFL Combine/Pro Day Measurables:
6'4.7"/281
10 1/8" hands, 34" arms
4.79 40-time. 2.75 20-yd, 1.69 10-yd
30 bench press reps
34" vertical
9'9" broad jump
The Historical DE Prospects to Whom Keion White Most Compares Within Our System:
If White can be Rashan Gary without all the motivation issues in college and early in his NFL career, then he'll be a solid NFL edge. White has good character and is a smart dude…he's not a knucklehead.
| | | | | | | | | | | | |
| --- | --- | --- | --- | --- | --- | --- | --- | --- | --- | --- | --- |
| DE Score | Last | First | Yr | College | H | H | W | Bull Rush | Speed Rush | Pass Rush Metric | Tackle Metric |
| 6.906 | White | Keion | 2023 | Ga Tech | 6 | 4.7 | 281 | 8.81 | 2.59 | 4.95 | 4.81 |
| 5.355 | Gary | Rashan | 2019 | Michigan | 6 | 4.3 | 277 | 8.58 | 6.74 | 6.28 | 4.49 |
| 2.148 | Wright | Alex | 2022 | UAB | 6 | 5.1 | 271 | 6.36 | 1.64 | 4.57 | 4.35 |
| 3.771 | Williams | Jonah | 2020 | Weber St | 6 | 5.0 | 281 | 6.64 | 6.24 | 5.26 | 4.16 |
| 5.798 | Ansah | Ezekiel | 2013 | BYU | 6 | 5.2 | 271 | 7.97 | 8.54 | 6.41 | 6.93 |
*A score of 8.00+ is where we see a stronger correlation of DEs going on to become NFL good/great/elite. A score of 10.00+ is more rarefied air in our system and indicates a greater probability of becoming an elite NFL DE.
All of the DE ratings are based on a 0–10 scale, but a player can score negative, or above a 10.0 in certain instances.
Power-Strength Metrics = A combination of several measurements. An attempt to classify the DE prospect as more of a battle-in-the-trenches type of DE, a 'bull-rusher', and/or a DE prospect who has some DT capabilities.
Speed-Agility Metrics = A combination of several speed, agility, size measurements. A unique measuring system to look for DEs who profile more as speed-rush, stand-up DEs, and/or possible OLBs.
Pass-Rusher Rating = A combination of physical measurables, and college performance, graded historically for future NFL profiling. In the simplest of terms, this is an attempt to classify whether a particular DE is likely to achieve high sack totals in the NFL. We know the 'system'/scheme the DE goes on to play in has a part in future success...but so do the player's skills and performance history. "You can't keep a good man/DE down," we'd like to think.
Tackling Rating = A combination of physical measurables, and college performance, graded historically for future NFL profiling. In the simplest of terms, this is an attempt to classify the DE as one more likely to be involved in a heavy amount of tackles, tackles for a loss, and forced fumbles. Lower-scoring DEs in this subcategory tend to be more pure pass-rushers/specialists. This is also our attempt to quantify, if it's possible, the 'toughness' of a player.
2023 NFL Draft Outlook:
Drafted #46 by the Patriots. I thought he'd be a 2nd-round type prospect…and he was. Why he got an NFL Draft invite to attend day one live…I don't know.
If I were an NFL GM, I would not waste top 100 picks on generic/good pass rushers. So much more out there at the more important positions to get. I can get pass rushers all over the draft and in free agency. I don't need Myles Garrett or Danielle Hunter…I mean, I'll take them if I luck into them…but I'm fine with what the Patriots or Titans (among others) do -- get a bunch of decent hand DEs and rotate them.
NFL Outlook:  
Could be a solid pass rusher a year or two into the Pats system, but most of the Patriots drafted pass rushers of the past five years or so have been flameouts/forgettable, so…