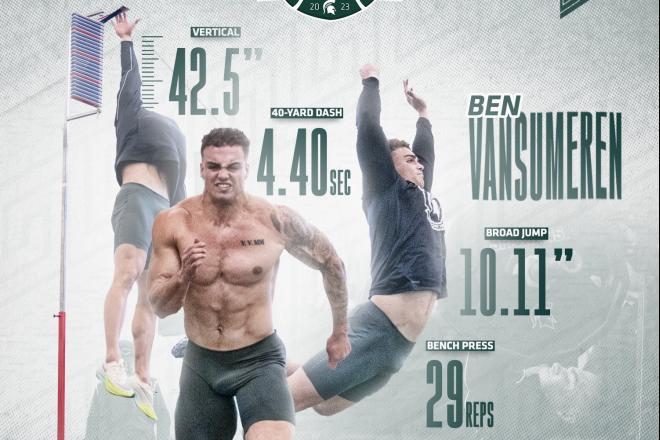 R.C. Fischer
Rookie Scouting Reports
22 April 2023
*Our LB grades can and will change as more information comes in from Pro Day workouts, leaked Wonderlic test results, etc. We will update ratings as new info becomes available.
Ben VanSumeren is a former 230+ pound RB recruit for the University of Michigan in 2019 is turned linebacker in 2020, COVID 2020, then he transfers to Michigan State (to play with his brother and stay close to home) in 2021 to continue transitioning to linebacker and he finally gets his shot to start in 2022 and he has a good-not-great run, and his career ends kinda quietly.
…but then he gets an East-West Shrine invite and ends up leading all tackles in the game itself, and people take notice of his size/athleticism and some draft buzz percolates -- and then he drops a nuclear bomb of a Pro Day to really get himself on the draft map: 6'2"/231, 4.45 40-time, 1.52 10-yd, 7.10 three-cone, 29 bench reps and a whopping 42.5" vertical. Now, he's gone from a forgotten high recruit who bounced from Michigan-to-Michigan State and was barely noticed the past 4 years -- to likely going to be drafted day three in the 2023 NFL Draft.
My question was, after I saw his excellent Pro Day results -- is he a legit prospect or just a workout warrior? It's a complicated answer…yes and no.
After I saw the Pro Day, I was super excited to see the tape. The first thing I ever saw of him was a highlight reel and the first play was him as an RB at Michigan and I was in love…230+ pounds, a 4.45 runner with 29 bench press rep strength and a 42.5" vertical -- are you kidding me? He looked athletic and huge…and promising. Then I started to watch his work at linebacker…OK-ish on highlights, but then watching actual full games -- not so great.
At linebacker, VanSumeren seems lost/a fish out of water. His reaction time to things happening on offense is slow…his high-end speed/athleticism is negated by his too hesitant reactions defending the run game. I don't know if he just doesn't see it as a linebacker newbie…or if he just has no feel. It's not that he is dumb -- he turned down Ivy League schools to go to Michigan. He just isn't natural at linebacker, from the tape. And he tackles like an offensive player -- all arm tackles/grab tackles trying to wrangle people, not form tackling them. He just doesn't look comfortable at linebacker.
VanSumeren looks more comfortable on offense, to me. He was a terrific high school QB/RB/WR…he showed breakaway speed and good hands in high school. He showed some interior power running skills at Michigan, but they've all been thrown away to move him to linebacker -- where he's not that great.
I bet VanSumuren gets drafted day three as an athletic raw piece of clay to mold -- and the NFL tries to work him at linebacker but quickly moves him to fullback. Regardless of what his draft team does with him -- his athleticism warrants drafting and seeing what you can make of him. He's what the draft is all about -- his athleticism is off the charts, so much so you have to take a look for the later round pick price.
Ben VanSumeren, Through the Lens of Our OLB Scouting Algorithm:
 -- Four of 11 games in 2022 with 10+ tackles in a game, but only one of those games did he have more solos than assisted. He's so slow to react, but so fast to make up ground that he gets in on a lot of assisted tackles -- he's not a tackle machine at all, I guess he is an 'assisted tackle' machine.
 -- 81 tackles in 2022 season…1/3rd solos (27) and 2/3rds assisted (54). That's the statistical sign of a problem…a problem that is clear as day on tape.
The Historical OLB Prospects to Whom Ben VanSumeren Most Compares Within Our System:
BVS comps with mostly athletic Combine guys who went on to the NFL to be role players, special teamers, failed starting linebacker…EXCEPT for the Combine/analytics god Ryan Shazier. The fact that VanSumeren can comp anywhere near Shazier's athleticism numbers lets you know how special an all-around athlete BVS is…but I don't really see it playing out on the field, at linebacker. Maybe he can develop? 
| | | | | | | | | | | |
| --- | --- | --- | --- | --- | --- | --- | --- | --- | --- | --- |
| OLB Grade | Last | First | Draft Yr | College | H | H | W | Tackle Strgth Metric | Spd Agil Metric | Pass Rush Metric |
| 6.025 | VanSumeren | Ben | 2023 | Michigan St | 6 | 2.0 | 231 | 6.82 | 7.26 | 7.41 |
| 4.486 | Ebukam | Samson | 2017 | E. Washington | 6 | 1.7 | 240 | 6.19 | 8.26 | 7.48 |
| 6.878 | Tindall | Channing | 2022 | Georgia | 6 | 2.0 | 228 | 7.50 | 7.95 | 6.52 |
| 8.817 | Pierre-Louis | Kevin | 2014 | Boston College | 6 | 0.4 | 232 | 9.27 | 10.82 | 8.11 |
| 13.176 | Shazier | Ryan | 2014 | Ohio State | 6 | 1.0 | 237 | 10.04 | 12.03 | 10.60 |
*A score of 8.00+ is where we see a stronger correlation of LBs going on to become NFL good/great/elite. A score of 10.00+ is more rarefied air in our system, and indicates a greater probability of becoming an NFL elite LB.
All of the LB ratings are based on a 0–10 scale, but a player can score negative, or above a 10.0 in certain instances.
Tackle-Strength Metrics = A combination of several physical and performance measurements. An attempt to classify the LB prospect's ability to stop the run, as well as a gauge of how physical the player is and the likelihood of higher tackle counts in the NFL. All based on profiles of LBs historically.
Speed-Agility Metrics = A combination of several speed, agility, and size measurements...as well as game performance data to profile a LB for speed/agility based on LBs historically. A unique measuring system to look for LBs that profile for quickness, pass-coverage ability, and general ability to cover more ground.
Pass Rush Metrics = A combination of the physical measurements, but also proven on-field ability to get to the QB/backfield in college.
2023 NFL Draft Outlook:
VanSumeren is tracking as a 7th-round/UDFA level draft projection. His Pro Day was too good for him to go undrafted. I suspect a team will take a flier on him in the 7th-round.
If I were an NFL GM, VanSumeren is the type of guy I accumulate 6th and 7th-round picks for. Bring in these misfit/undervalued athletes cheaply and see if you can strike gold with any of them…if you get one hit for every 2-3-4 misses, you still 'win' overall. I am intrigued by VanSumeren, but Houston's Derek Parish is a better late-round uber-athlete to chase over BVS…if I had to choose just one.
NFL Outlook:  
No clue. Likely, he fails due to inability to transition to linebacker at the highest level -- but might cling on to a roster as a special teamer and fullback/H-back. But if he could really learn the linebacker craft, and to be fair he's still in the early stages of learning defense, he'd be a nice OLB upside profile for the NFL.