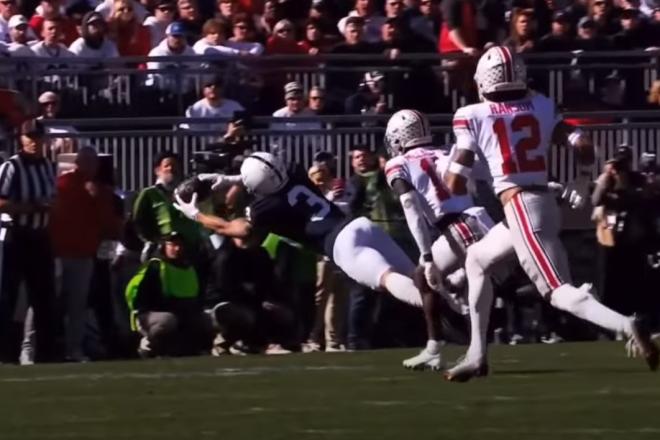 R.C. Fischer
Rookie Scouting Reports
17 April 2023
*WR grades can and will change as more information comes in from Pro Day workouts, Wonderlic test results leaked, etc. We will update ratings as new info becomes available.
*WR-B stands for "Big-WR," a classification we use to separate the more physical, downfield/over-the-top, heavy-red-zone-threat-type WRs. Our WR-S/"Small-WRs" are profiled by our computer more as slot and/or possession-type WRs who are typically less physical and rely more on speed/agility to operate underneath the defense and/or use big speed to get open deep...they are not used as weapons in the red zone as much. 
In the month of February 2023, Parker Washington was tracking as a top 100 overall prospect, a top 10 WR in the WR class -- everything was looking up. But the ankle injury he suffered late 2022 season carried over to the pre-Draft season and he was unable to participate in the Combine…and couldn't run at his Pro Day. The lack of visibility has hit his draft stock hard, and he has fallen outside the top 100 to the #125-150 range (consensus average).
Without any data on his athleticism, we're gonna have to scout him old school style and project his measurables from the tape.
Scouting Washington wasn't too complex…it's pretty simple -- he's a smaller (5'10") 'good hands' slot/grinder WR. But in a draft where there are a ton of flashy, smaller, speedy, tiny slot or deep ball WRs -- Washington is somewhat unique among the smaller set, in that he is not thin/quick/worrisome on his frame…Washington is very muscular and 20-30+ pounds thicker than all the Downs-Mims-Flowers-Scott, etc., type WRs in this class.
Washington is kind of unique in this WR class -- he's like an Amon-Ra St. Brown type, but shorter, styled WR. Reliable hands, nice frame for his size…and good going over the middle, taking hits, and breaking some tackles. He's a physically stout, tough, an over-the-middle grinder WR…and there are really not many/any like him in this draft.
Now, Washington is not special…just very solid/good. He could have a very Amon -Ra St. Brown type career start -- if he lands in the perfect spot and becomes the new QBs BFF target, because the team is void of WR talent (as Detroit was in 2021)…then Washington could be a nice producer quickly. Had St. Brown, or if Washington, landed in a bad place…like…let's say the Miami Dolphins in 2022 -- it's the wrong place at the wrong time and Washington will be forgotten quickly like Cedric Wilson was last year.
The game tape was pretty much the same every game I watched -- Washington being a solid (not exciting) WR on bubble screens and decent on downfield throws but really makes his hay as a short, over-the-middle, pitch & catch workhorse. I never saw any flashes of 'wow', but his attempt at 'wow' is his consistency and toughness…and making catches where many in this class fear to go or are at elevated risk of injury to go.
Washington has a clean background, has a nice enough personality, and just does his job consistently. He's going to be a nice/good pro…but not a big jersey sales or fan favorite WR…just respected and reliable.
Parker Washington, Through the Lens of Our WR Scouting Algorithm:
 -- 2022 was a 2nd-team Freshman All-American, as a true freshman.
 -- Handled punt return duties in 2022 but averaged a weak 5.5 yards per return…he was just there for consistency not his homerun hitting ability…he's not a homerun hitter.
 -- Three career games vs. Ohio State: 8.0 rec., 120.0 yards, 0.33 TDs per game.
 -- 6 TDs in his last 23 games/last two seasons…he's a more short pass catcher weapon, and not a big TD guy.
2023 NFL Combine/Pro Day Measurables:
5'9.6"/204
10 1/8" hands, 29" arms
16 reps bench press (Combine)
4.50+ 40-time
7.0+ three-cone
35" vertical
The Historical WR Prospects to Whom Parker Washington Most Compares Within Our System:
Washington comps with a lot of grinder NFL WRs…the 'unsexy'/dirty work WRs, mostly…some got a shot to be a big part of an offense while others just kept clinging to 53-man rosters on different teams seemingly every year. Washington projects in-between those ranges. 
 
| | | | | | | | | | | |
| --- | --- | --- | --- | --- | --- | --- | --- | --- | --- | --- |
| WR Score | Draft Yr | Last | First | College | H | H | W | Power Strngth Metric | Speed Agility Metric | Hands Metric |
| 7.005 | 2023 | Washington | Parker | Penn State | 5 | 10.0 | 204 | 7.92 | 6.71 | 8.16 |
| 7.563 | 2010 | Tate | Golden | Notre Dame | 5 | 10.3 | 199 | 10.02 | 7.57 | 8.97 |
| 6.507 | 2020 | Proche | James | SMU | 5 | 10.8 | 201 | 8.75 | 3.91 | 7.49 |
| 8.390 | 2018 | Kirk | Christian | Texas A&M | 5 | 10.3 | 201 | 11.49 | 5.92 | 9.40 |
| 5.596 | 2018 | Quinn | Trey | SMU | 5 | 11.3 | 203 | 8.07 | 4.99 | 7.18 |
| 6.090 | 2019 | Kennedy | Tom | Bryant | 5 | 10.3 | 197 | 10.43 | 4.51 | 7.44 |
*A score of 7.0+ is where we start to take a Small-WR prospect more seriously. A score of 8.50+ is where we see a stronger correlation of a Small-WR going on to become NFL good/great/elite. A score of 10.00+ is more rarefied air in our system and indicates a greater probability of becoming an elite NFL Small-WR.
All of the WR ratings are based on a 0–10 scale, but a player can score negative, or above a 10.0 in certain instances.
Overall WR score = A combination of several on-field performance measures, including refinement for strength of opponents faced. Mixed with all the physical measurement metrics, rated historically in our database.
"Power-Strength" = A combination of unique metrics surrounding physical-size profiling, bench press strength, etc.  High scorers here project to be more physical, better blockers, and less injury-prone.
"Speed-Agility" = A combination of unique metrics surrounding speed, agility, physical size, mixed with some on-field performance metrics. High scorers here project to have a better YAC and show characteristics to be used as deep threats/create separation.
"Hands" = A combination of unique metrics surrounding on-field performance in college, considering the strength of opponents played. Furthermore, this data considers some physical profiling for hand size, etc. High scorers here have a better track record of college statistical performance, and overall this projects the combination of performance and physical data for the next level.
2023 NFL Draft Outlook:
Washington is tracking around pick #125 right now. There's a chance he can sneak inside the top 100 but he's fading from the draft status he used to have AND there's been other WRs getting attention to backfill his former place. I'd have to project him outside the top 100…likely 4th-round.
If I were an NFL GM, Washington is not really my jam of a WR…and there are several guys just like him roaming around the NFL, down into the practice squad levels. I'm not using a top 150 pick on a worker bee WR.
NFL Outlook:  
If he lands right/good, he'll be a solid but forgettable NFL Draft pick…but there's just as good a chance that he lands on a crowded depth chart and he fights for playing time/targets and gets forgotten quickly.