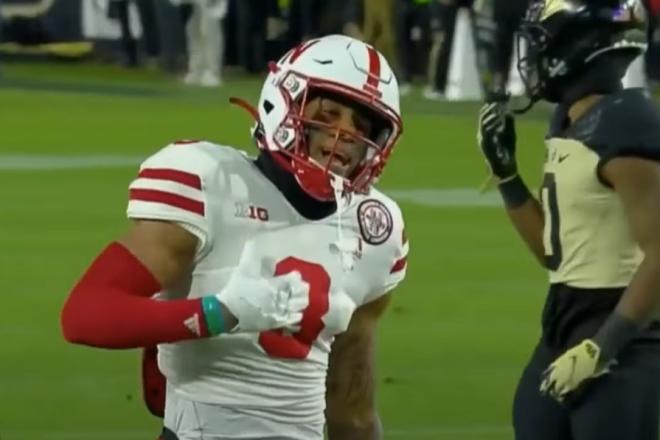 R.C. Fischer
Rookie Scouting Reports
10 April 2023
*WR grades can and will change as more information comes in from Pro Day workouts, Wonderlic test results leaked, etc. We will update ratings as new info becomes available.
*WR-B stands for "Big-WR," a classification we use to separate the more physical, downfield/over-the-top, heavy-red-zone-threat-type WRs. Our WR-S/"Small-WRs" are profiled by our computer more as slot and/or possession-type WRs who are typically less physical and rely more on speed/agility to operate underneath the defense and/or use big speed to get open deep...they are not used as weapons in the red zone as much. 
No one in the NFL Draft scouting and analysis game was really thinking too much about Trey Palmer's NFL prospects…he was tracking as a nondescript day three prospect option to start out the year. And then he ran the fastest 40-time among any of this year's WR class at the 2023 NFL Combine (4.33) and now he's slowly creeping up into the top 125 range and trying to make a case for the top 100 overall.
Is it really that simple? A guy runs fast at the Combine and shoots up the draft rankings?
Yes.
…especially when it's THE fastest 40-time, AND he does it at 190+ pounds (Palmer is 192).
I have over 1,600+ WRs in my database of Combine/Pro Day 40-times, and if I filter the group to look for those who ran a sub-4.35 40-time, doing so at 190+ pounds -- the list whittles down to 31 names. It's an impressive, rare ability to run that fast at that size -- but that's where Palmer's excitement begins…and ends, athletically.
Outside of the speedy 40-time, Palmer crapped out on other Combine/Pro Day measurables…at his Pro Day, Palmer ran a disappointing 7.13 three-cone. He also posted what would've been the 2nd-worst vertical jump (29.5") among all the Combine WRs…and what would've been a worst in class 9'6" broad jump.
Most scouts and analysts classify Palmer as a speedy, deep-ball-only guy -- and they are right. But the thing is -- that one 'only' is pretty useful, desired in the NFL.
Watching Palmer's tape, the speed seems real. His 2022 tape is filled with him splitting zone coverage deep, outrunning one-on-one coverage deep, making his catches and then if clear…he just runs away from tacklers and scores. It seemed like defenders didn't take him so seriously and especially if it was a soft zone, Palmer ran through it/by it. His work/his movement was not jaw-dropping on tape…I would not have guessed he was a 4.3s runner watching him at the Senior Bowl. But he consistently ran by coverage during his 2022 season, as I watched on tape.
The scouting 'knock' on Palmer is that he is this 'one-note' WR, and he is on tape -- but it's a pretty effective note. He's not a future #1 WR for an NFL team. He's not bad when used in the bubble screen or jet sweep game, but he's not great going east-west…but get him going north-south and now you got something.
As attractive as a 4.3s running, 6'0"+, 190+ pound WR is -- all the other concerns might cut into/wipe out any of the 'speed' excitement.
Palmer was a lightly used WR at LSU for three seasons and then transferred (2022) to Nebraska due to a relationship with an ex-LSU coach who was then at Nebraska. Palmer broke out with his new team -- finishing top five in the Big Ten in receptions, receiving yards, and receiving TDs. But the work was mostly the one note…beating some defenders deep for a few big games but otherwise not as impressive in the technical aspects of the WR position.
I thought Palmer was a 'meh' route runner. A weaker east-west movement WR. He didn't really run by/through and run over any defenders…it was mostly beat them deep and made wide-open catches and sprinted home for a score untouched. Recent NFL history is littered with these types of WRs failing to splash anywhere like they did in college.
Palmer's lack of agility or leg power (vertical, broad) or as much definition in his arms/frame as you'd like -- it's a concern. And listening to him in interviews…not too swift, by my judgment. He frames up, in my book, like a WR who has a gift (straight line speed) and relies on it/gets by on it and never developed any of the other aspects of his game -- which is potentially why he was a nobody at LSU for years and why his non-40-time work at the Combine/Pro Days was bottom of the barrel.
Palmer's speed is a gift for the NFL, but it's not unique or well-rounded…and the rest of his game/profile is not that enticing to want to invest heavily in.
Trey Palmer, Through the Lens of Our WR Scouting Algorithm:
 -- Had a 1-1-0 nightmare game at Illinois (the top pass D in CFB)…a sign of trouble with Palmer's ability against top CBs -- but also he lost his starting QB in the 2nd-half of the game.
 -- Three two-TD games in his final 6 games at Nebraska.
 -- For all his breakaway speed and big plays and a few big output games…just 14.7 yards per catch, 9th best in the Big Ten in 2022.
 -- Returned a kick and a punt for a TD in his three seasons at LSU.
2023 NFL Combine/Pro Day Measurables:
6'0.2"/192
9 5/8" hands, 31 7/8" arms
4.33 40-time (best at the Combine among the WRs), 2.52 20-yd, 1.48 10-yd
Pro Day: 4.26 shuttle, 7.13 three-cone (would've been 2nd worst at the Combine among WRs)
29.5" vertical (would've been the 2nd worst among the Combine WRs)
9'6" broad jump (would've been the worst among the Combine WRs)
The Historical WR Prospects to Whom Trey Palmer Most Compares Within Our System:
When Anthony Schwartz came up as our top system comp -- it was a 'mic drop' moment. Schwartz did little-to-nothing impressive in college but blazed a 4.27 40-time at the NFL Combine and got himself drafted #91 by the Browns in 2021…and as of this writing, you forgot he even existed in the NFL. But people had the same excitement for Schwartz's 'speed' this time two years ago in his pre-Draft.
 
| | | | | | | | | | | |
| --- | --- | --- | --- | --- | --- | --- | --- | --- | --- | --- |
| WR Score | Draft Yr | Last | First | College | H | H | W | Power Strngth Metric | Speed Agility Metric | Hands Metric |
| 4.537 | 2023 | Palmer | Trey | Nebraska | 6 | 0.0 | 192 | 3.97 | 9.04 | 6.80 |
| 4.356 | 2021 | Schwartz | Anthony | Auburn | 6 | 0.0 | 186 | 3.61 | 8.74 | 7.70 |
| 5.791 | 2022 | Gray | Danny | SMU | 5 | 11.7 | 186 | 5.24 | 6.79 | 7.47 |
| 4.256 | 2006 | Reid | Willie | Florida State | 5 | 10.4 | 188 | 6.32 | 10.84 | 4.55 |
| 2.641 | 2016 | Listenbee | Kolby | TCU | 6 | 0.0 | 197 | 7.51 | 11.11 | 3.30 |
| 5.144 | 2018 | Trinnaman | Jonah | BYU | 5 | 10.4 | 192 | 7.89 | 8.99 | 7.44 |
*A score of 7.0+ is where we start to take a Small-WR prospect more seriously. A score of 8.50+ is where we see a stronger correlation of a Small-WR going on to become NFL good/great/elite. A score of 10.00+ is more rarefied air in our system and indicates a greater probability of becoming an elite NFL Small-WR.
All of the WR ratings are based on a 0–10 scale, but a player can score negative, or above a 10.0 in certain instances.
Overall WR score = A combination of several on-field performance measures, including refinement for strength of opponents faced. Mixed with all the physical measurement metrics, rated historically in our database.
"Power-Strength" = A combination of unique metrics surrounding physical-size profiling, bench press strength, etc.  High scorers here project to be more physical, better blockers, and less injury-prone.
"Speed-Agility" = A combination of unique metrics surrounding speed, agility, physical size, mixed with some on-field performance metrics. High scorers here project to have a better YAC and show characteristics to be used as deep threats/create separation.
"Hands" = A combination of unique metrics surrounding on-field performance in college, considering the strength of opponents played. Furthermore, this data considers some physical profiling for hand size, etc. High scorers here have a better track record of college statistical performance, and overall this projects the combination of performance and physical data for the next level.
2023 NFL Draft Outlook:
Now tracking in the top 125 overall…there's a chance he 'Anthony Schwartz's it' into the top 100 for some GM. The speed is getting less and less unique every year, so with Schwartz as a history lesson, I suspect Palmer doesn't crack the top 100 but is a 4th-round selection.
If I were an NFL GM, I'm not suckered by one note, non-technical speedster WRs. I think he'll struggle as a return man overtime as well…but capable of housing one on occasion.
NFL Outlook:  
Palmer will be drafted top 150, and his new team will talk about his speed and how they plan to use it, and then they never fully do and in 2-3 years he's struggling to stay on the roster or make hay as a return man and we forget about him mostly, with an occasional reminder when he hits a random big play moment.