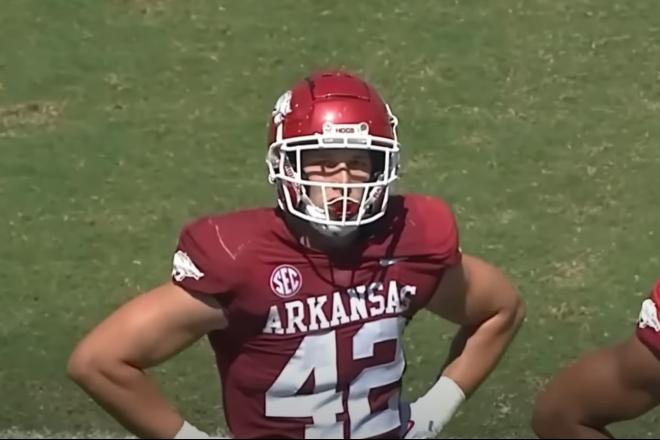 R.C. Fischer
Rookie Scouting Reports
24 March 2023
*Our LB grades can and will change as more information comes in from Pro Day workouts, leaked Wonderlic test results, etc. We will update ratings as new info becomes available.
Sometimes, I get a bad read off the preview scouting -- and this is one of those times. Maybe I was distracted…maybe I was having a bad day…or maybe I just missed it; struck out looking in my at bat. Whatever it was, it's not common…but I still hate when it happens. It comes with the territory of watching 300+ prospect's worth of preview tapes and highlight reels to get a quick feel for a prospect, that there's gonna be some bad early reads for whatever reason. This issue only comes to light when I dig in and study the prospect deeper and compare him to other deep studies of top guys at the same position.
It's all a part of my scouting process that takes time -- I don't know how (but I do know how, and it makes me mad) football people can throw together a top 50-100-200 draft prospect ranking board in January/February and then just stick to it for months/years. It's not possible to eternally 'know' all these prospects in a blink and without long study and constant re-observation and interpreting data, etc. As I go through the all-offseason/preseason scouting process, sometimes I see things (positive or negative) that I missed the first one or two preview times around.
Such is the case with Drew Sanders.
On my preview of him, ahead of the NFL Combine, I thought he was a fantastic-looking linebacker prospect -- a do-it-all prospect…a linebacker who could man the middle, rush the QB at a high level, drop into coverage well, excellent form tackler. I thought there was, perhaps, a young Luke Kuechly trying to show through. Then I started watching Sanders' tape and was confused.
I began by watching him against Alabama/2022, and I was waiting to see 'it'…and wondering all game: 'where is this great linebacker at'? And then the game ended, and I was dazed. Perhaps, it was just an off game, but then I watched him against Texas A&M…the same thing -- utterly dull and not making any plays over and over. Ditto against South Carolina, and so-on.
Then I looked over his game logs…yes, he had a lot of tackles, but most of them were assisted tackles. He had only a few solo tackles in most every game…and it made sense because on his tape, he wasn't making any tackles/plays all over like I had expected.
Drew Sanders is a bit of a head-fake prospect. He has about one play per game that is awesome…because he does have a gift of acceleration. If he has a clear lane to get to a ball carrier or receiver, he'll get there in a blink. He has high-end NFL acceleration…and he's a solid tackler. So, his highlight reel tape is divine. The problem is, at ILB, he's easily blocked out of most plays, against the better opposition, and always in the wrong spot it seems to make a run stop. And he also was put on the EDGE a bunch or dropping into coverage some too. He was not 'manning the middle' constantly. He is not 'the next Luke Kuechly' (at least at this stage…not even close). He has some attributes that will serve him well in the NFL, but he's not the elite-hopeful prospect I thought he might be.  
Sanders' NFL gift is acceleration and that burst at a decent size (235 pounds) but if anything is in his way, the acceleration gift is halted/neutralized and then everything else is lacking. He's way too easily blocked out either patrolling the middle or trying to pass rush. I classified him as an ILB, but I don't see any great hint of a great ILB prospect right away. He's more of an 4-3 scheme OLB 'chaser' -- good at running after ballcarriers going side-to-side…good/hopeful in coverage…good at surprise blitzing. He has an NFL role, but it's more chaser than elite stopper/'man in the middle'. He has tools where he can develop into a good middle linebacker, maybe, but they are not there day one.
A player comp comes to mind, and I fear this might be his future all of a sudden -- Blake Cashman. Quick athlete. 100+ tackles in a season his final college year too for Minnesota. Looked promising on tape. Drafted by the Jets 5th-round 2019. Started for the Jets right away but got hurt and was not as effective as hoped, he was a 'chaser' and he gave a great effort, and coaches loved him, he was that guy who earns the coaches trust and admiration -- but then he just never became a must start, impact linebacker in the NFL. He's a backup linebacker and special teams' journeyman now. Drew Sanders is a little better, and taller, more promising for an NFL role -- but not better by much potentially.
Two things will stick out to me about this scouting study, that I will likely never forget…and they are negatives…
1) I was reading some of Sanders' background and learned he was with Alabama for a couple years, but wasn't starting, so in 2022 he transferred. At first, when I thought Sanders might be 'wow' prospect, I thought Nick Saban must have made a mistake that he regrets. But now that I've studied Sanders deeper…and watched him against his old team, Alabama, do little/nothing -- now, I get what Saban was thinking. He liked Sanders, but didn't like-like Sanders…and that's where I'm at too.
2) In the Alabama game, there was a play where Alabama RB Jahmyr Gibbs took a handoff off-tackle, and it was a clean hole and he shot through it on his way to a long TD run. Sanders was in the middle on defense but over by the left tackle, as Gibbs shot through the right tackle side. Sanders saw what was happening and started sprinting to where Gibbs was headed, and he was in a full sprint with Gibbs sprinting free as well…they were about even on the field in their sprint once Gibbs hit the level where the linebackers should've been…and the chase began and was over quickly as Gibbs quickly left Sanders in the dust. It was eye opening and should make everyone question Sanders' true long speed and translation to the NFL…and wondering if he's a 1st-round pick prospect or not. I have the clip of it to show you.
I have the YouTube video to start right at the 11:54 mark where you will see two blurs in the middle of the tape…the white jersey is Gibbs, and the red jersey is Sanders…they are even on the field when this video starts…and then you'll see the white jersey totally dust the red jersey in short order. You'll want to watch it back from the full snap to get a better feel, but this tape will open right into the horse race: https://youtu.be/j0baVOcH2TU?t=714
I know Gibbs is fast, faster than Sanders, so he should win that race…but the visual/eye comparison is jarring when considering Sanders-things (and a positive for Gibbs).
I don't mean to paint Sanders as some awful prospect…he is an NFL prospect, but he's (a) a disappointment from my lofty pre-expectations, and (b) not a top 10…or top 31 draft prospect. But he is an NFL prospect…as an OLB and developmental ILB, perhaps.
Drew Sanders, Through the Lens of Our ILB Scouting Algorithm:
 -- 103 tackles in 2022 season, 40 solo and 63 assisted…a bad ratio/a big red flag for my analytics on an ILB.
 -- Only three of 12 games in 2022 season where he had more solo tackles than assisted ones.
 -- 9.5 sacks…he can rush the backfield well, as a sneak attack guy, not as a line up on the edge and battle the 300+ pound offensive tackles. Big OTs will, and did, chew him up and spit him out off the edge.
2023 NFL Combine/Measurables Projections:
Sanders smartly skipped the timed Combine drills. So, we have to project his times until his Pro Day data comes in.
6'4.3"/235
9 3/4" hands, 32 1/8" arms
40-time projection: 4.5-4.6+
Three-cone projection: 7.00 +/-
The Historical ILB Prospects to Whom Drew Sanders Most Compares Within Our System:
A perfect comp job by our computer models -- all terrific college linebackers who failed as ILBs in the NFL…I fear we could be headed there with Sanders as well.
Sanders' ILB comparisons in our system:
ILB Score

Last

First

Yr

 

College

H

H

W

Tackle, Strngth Metric

Speed, Agility Metric

7.074

Sanders

Drew

2023

Arkansas

6

4.3

235

7.62

8.95

6.988

Davis

Jamin

2021

Kentucky

6

3.4

234

7.39

9.41

7.597

Niemann

Nick

2021

Iowa

6

3.0

234

7.80

9.09

8.318

Bush

Devin

2019

Michigan

5

11.0

234

7.87

13.22
Sanders really needs to be looked at as a useful/quality OLB prospect in a 4-3 scheme. Our comps at OLB aren't that special looking either…more useful hands/played for a it guy, but not high impact, memorable guys.   
Sanders' OLB comparisons in our system:
| | | | | | | | | | | |
| --- | --- | --- | --- | --- | --- | --- | --- | --- | --- | --- |
| OLB Grade | Last | First | Draft Yr | College | H | H | W | Tackle Strgth Metric | Spd Agil Metric | Pass Rush Metric |
| 7.560 | Sanders | Drew | 2023 | Arkansas | 6 | 4.3 | 235 | 7.64 | 9.29 | 7.24 |
| 7.910 | Niemann | Nick | 2021 | Iowa | 6 | 3.0 | 234 | 7.25 | 8.22 | 7.65 |
| 6.381 | Rose | Mike | 2022 | Iowa State | 6 | 4.0 | 245 | 7.10 | 7.55 | 7.35 |
| 6.342 | Beavers | Darrian | 2022 | Cincinnati | 6 | 3.6 | 237 | 6.98 | 7.76 | 6.87 |
| 3.099 | McKinney | Benardrick | 2015 | Miss State | 6 | 4.1 | 246 | 5.87 | 4.90 | 4.02 |
*A score of 8.00+ is where we see a stronger correlation of LBs going on to become NFL good/great/elite. A score of 10.00+ is more rarefied air in our system, and indicates a greater probability of becoming an NFL elite LB.
All of the LB ratings are based on a 0–10 scale, but a player can score negative, or above a 10.0 in certain instances.
Tackle-Strength Metrics = A combination of several physical and performance measurements. An attempt to classify the LB prospect's ability to stop the run, as well as a gauge of how physical the player is and the likelihood of higher tackle counts in the NFL. All based on profiles of LBs historically.
Speed-Agility Metrics = A combination of several speed, agility, and size measurements...as well as game performance data to profile a LB for speed/agility based on LBs historically. A unique measuring system to look for LBs that profile for quickness, pass-coverage ability, and general ability to cover more ground.
Pass Rush Metrics = A combination of the physical measurements, but also proven on-field ability to get to the QB/backfield in college.
2023 NFL Draft Outlook:
Tracking as a 2nd-rounder now…falling out of the 1st-round, which was where he was trending at weeks ago. The fade is on…I think the jig may be up from NFL evaluators as well. In the end, I think he'll be a mid-to-late 2nd-rounder, as a guess. I got a lot more ILBs and OLBs to study, but I don't think Sanders will be the first ILB/OLB prospect taken, non-EDGE OLB guy taken.
If I were an NFL GM, I'm disappointed from my initial reaction to Sanders' tape/work, but now looking elsewhere for a middle linebacker…or cheaper/later pick 4-3 OLB.
NFL Outlook:  
Makes a team right away, possible rotational linebacker quickly. Could develop into a weapon linebacker with his reaction speed -- a blitzer and pass coverer, a version of Myles Jack. Could be developed into an ILB with some body work/muscle build. There is hope here, but it's not instant…it's developmental. And it's very possible he just slips quietly into a forgettable NFL linebacker and more of a special team's maven.