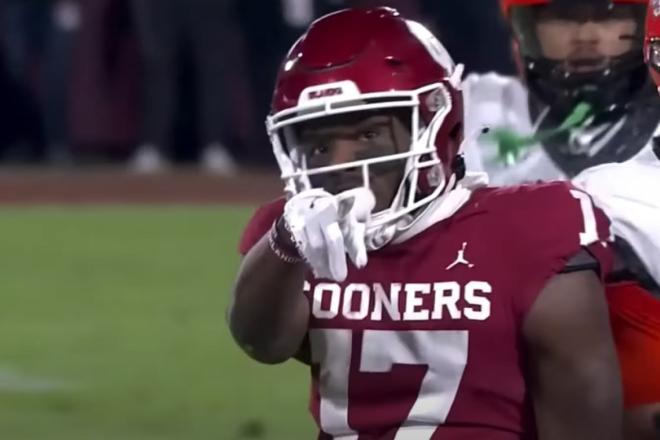 R.C. Fischer
Rookie Scouting Reports
12 March 2023
*WR grades can and will change as more information comes in from Pro Day workouts, Wonderlic test results leaked, etc. We will update ratings as new info becomes available.
*WR-B stands for "Big-WR," a classification we use to separate the more physical, downfield/over-the-top, heavy-red-zone-threat-type WRs. Our WR-S/"Small-WRs" are profiled by our computer more as slot and/or possession-type WRs who are typically less physical and rely more on speed/agility to operate underneath the defense and/or use big speed to get open deep...they are not used as weapons in the red zone as much. 
I'm getting worn out on scouting/watching these 5'8-9"/170-180 pound WRs on tape the last few days. I planned to do so specifically to compare and contrast them in the same time frame -- first Zay Flowers, then Josh Downs, and now Marvin Mims. All three are top 50 or so prospects and you can find each of them in various mock drafts as 1st-round picks for some.
After watching all three, I see some distinctions between them and their individual styles…but there's more similarities than differences. They're all 'good' (not great) and I couldn't blame anyone for defending any one of the three as 'the best' of the smaller-speedy WR crop in 2023.
After watching them on tape, crunching their Combine data in our system, and investigating their backgrounds, I'd have to say (still) that Zay Flowers is the one that pops the most. He's more aggressive and a better route runner…maybe the best route runner in the class. He has that Tyler Lockett/Brandin Cooks quiet-quality vibe.
Josh Downs is quite solid as well. He reminds me more of a Christian Kirk or Randall Cobb (without the return game skills of them) -- just good, reliable WRs who can work short and deep…and they aren't elite, they're just solid/good and will flow with the offense/QB opportunity.
Marvin Mims is different than Flowers or Downs. Mims seems to prefer a medium and deep type game…like a spitting image of Marquise Brown, right down to the same college. And like Marquise Brown, Mims is a finesse WR…not a physical one. The attribute that Mims has over Flowers-Downs is his 'hands'. Mims is more likely to come down with a throw, have a higher catch rate than Flowers or Downs….not that those guys have bad hands, they don't -- just Mims is a tick better. Zay Flowers just jumps off the screen with his ability to get open…Mims jumps off the screen with his sticky hands.
Mims is also faster than Flowers-Downs (from the Combine times), but he's also more finesse…doesn't like the physicality and gets tackled way too easily, too often. However, I could say the same about Marquise Brown as well…and he's having a solid NFL career. If you can get open and catch the ball…that's a priority over taking hits/giving licks. You want these smaller guys to get open, make the catch, and runaway from defenders or dive down to avoid hits…you're not getting them to run over tacklers. Mims may be the best 'run away', downfield finesse smaller WR of the group we're discussing.
Mims gets dinged on scouting reports for not running shorter routes…he seems to prefer going deep. However, at his Combine press conferences, when asked about it…he said the new coach didn't ask/have him running a full route tree -- he was called to work medium and deep. When I watch Mims on tape doing any type of short space cutting off the snap to get open quick/short…he seems like he has the feet to do it. Whether he has the desire to is a guess for any evaluator.
I really have no red flags or complaints about Mims…he is the epitome of the smaller-speedy WR. He gets open. He has 4.3+ speed. He has really nice hands. He plays a bit soft…and that can be a turn off, but in today's NFL it means less and less, with a lot of the excessive physicality out of the game, out of the passing game especially, if he can produce in all the other ways.
Mims is a very solid prospect for the NFL. I'd still favor Zay Flowers among Flowers-Mims-Downs. And then I'd slot the next best as Mims…he has more speed and better hands than all of them and that's gonna matter at the next level.
Off the field, Mims is fine. Smart, shy-ish young man. Almost went to Stanford to study finance, but backed out of the offer to go to O.U. He's no dummy. He's a talented WR prospect. Then only question mark is how bad does Mims 'want it'…is he too passive for the NFL?
Marvin Mims, Through the Lens of Our WR Scouting Algorithm:
WR comparison (at the Combine)…
5'10.7"/183, 4.38 40-time, 1.55 10-yd, 6.90 three-cone = Mims
5'9.2"/182, 4.42 40-time, 1.53 10-yd, n/a three cone = Flowers
5'9.0"/171, 4.48 40-time, 1.48 10-yd, n/a three-cone = Downs
 -- #10 in the nation in punt return average as a freshman.
 -- Led the Big 12 in TD catches as a freshman (9 TDs).
 -- #1 in the Big 12 and #3 in the nation in yards per reception in 2021 (22.0) and 2022 (20.1)…he likes to work medium and deep, and he's good at it, so why not? He's 4th all-time in the Big 12 in yards per catch.
 -- Three bowl appearances, averaging: 1.7 rec., 53.7 yards, 0.67 TDs per game…bigger/better opponents held him down a lot in his career…some to be blamed on the QB, but it is a concern for Mims' aggressiveness/'fight' desire as well.
.
The Historical WR Prospects to Whom Marvin Mims Most Compares Within Our System:
It's a collection of smaller-speedy, more finesse WRs. The comp that scares me is Mecole Hardman…I could see Mims being too soft, lacking aggression to really thrive in the NFL jungle…like Hardman, as a WR. Mims is just better at his craft than Mecole from my scouting vantage point.
| | | | | | | | | | | |
| --- | --- | --- | --- | --- | --- | --- | --- | --- | --- | --- |
| WR Score | Draft Yr | Last | First | College | H | H | W | Power Strngth Metric | Speed Agility Metric | Hands Metric |
| 7.397 | 2023 | Mims | Marvin | Oklahoma | 5 | 10.7 | 183 | 4.31 | 10.98 | 9.11 |
| 7.553 | 2022 | Wilson | Garrett | Ohio State | 5 | 11.6 | 183 | 4.15 | 9.09 | 8.32 |
| 6.934 | 2019 | Brown | Marquise | Oklahoma | 5 | 9.3 | 166 | 3.17 | 11.15 | 7.77 |
| 7.091 | 2021 | Waddle | Jaylen | Alabama | 5 | 9.4 | 180 | 4.98 | 9.90 | 6.83 |
| 6.420 | 2019 | Hardman | Mecole | Georgia | 5 | 10.2 | 187 | 7.83 | 13.56 | 5.46 |
| 7.107 | 2020 | Ruggs III | Henry | Alabama | 5 | 11.0 | 188 | 6.08 | 12.24 | 7.01 |
*A score of 7.0+ is where we start to take a Small-WR prospect more seriously. A score of 8.50+ is where we see a stronger correlation of a Small-WR going on to become NFL good/great/elite. A score of 10.00+ is more rarefied air in our system and indicates a greater probability of becoming an elite NFL Small-WR.
All of the WR ratings are based on a 0–10 scale, but a player can score negative, or above a 10.0 in certain instances.
Overall WR score = A combination of several on-field performance measures, including refinement for strength of opponents faced. Mixed with all the physical measurement metrics, rated historically in our database.
"Power-Strength" = A combination of unique metrics surrounding physical-size profiling, bench press strength, etc.  High scorers here project to be more physical, better blockers, and less injury-prone.
"Speed-Agility" = A combination of unique metrics surrounding speed, agility, physical size, mixed with some on-field performance metrics. High scorers here project to have a better YAC and show characteristics to be used as deep threats/create separation.
"Hands" = A combination of unique metrics surrounding on-field performance in college, considering the strength of opponents played. Furthermore, this data considers some physical profiling for hand size, etc. High scorers here have a better track record of college statistical performance, and overall this projects the combination of performance and physical data for the next level.
2023 NFL Draft Outlook:
Mims probably goes top 50 overall in the draft. Long shot, late 1st-round. His 4.3s speed might sneak him top 30-40.
If I were an NFL GM, I'd say the same thing as a I said with Flowers and Downs…I respect their skillset, but I'm not paying a heavy draft price for small-speedy WRs unless they are Tyreek Hill -- and Mims is not.
NFL Outlook:  
Copy and paste: It's all about landing spot and how fast they can get in to the pecking order of targets, and who is the QB/talent they work with? Mims' career relies upon who his O-C and QB are.