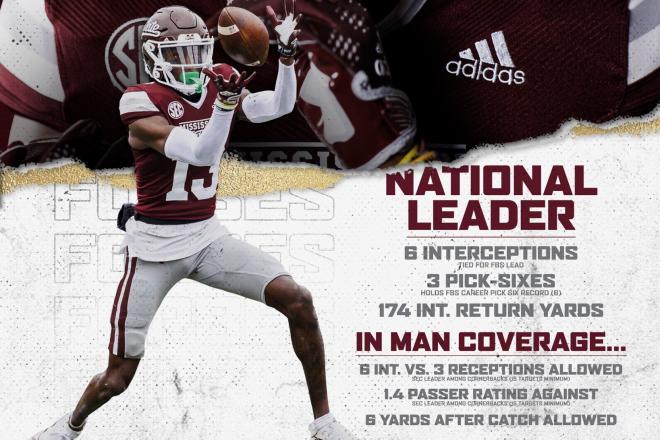 R.C. Fischer
Rookie Scouting Reports
08 March 2023
*CB grades can and will change as more information comes in from Pro Day workouts, Wonderlic test results leaked, etc. We will update info as it becomes available. 
I had a tough time scouting Emmanuel Forbes…because, seemingly, no one ever throws against him. He was the elite shutdown corner of the SEC, feared by everyone.
If the following numbers are correct…it's surreal: Forbes in 2022 in man-to-man coverage allowed just 3 catches all season but had 6 picks. He allowed a 1.4 passer rating against him and allowed just 6 yards after the catch all season. How is that even possible? But that data reflects some of what I saw on tape -- a very good-to-great cover corner prospect.
What makes Forbes so special is his feet. He has some of the best agility/movement skills I've seen on a CB prospect. He moves left-to-right with such ease and grace…sometimes his tape looks like it must be edited or a CGI thing, or something. He can change directions about as smoothly as you'll ever see. He can also go north-south with high-end quickness as well. He just has tremendous feet overall.
More backup to my claims: Forbes also is the all-time NCAA leader in pick sixes with 6 INT return TDs, which is stunning.
A personal testimony from his late head coach (Mike Leach), who said this upon learning that Forbes didn't win some best player in the state award: "I have great respect for the other finalists, but they didn't rewrite the record books like Emmanuel Forbes," Leach said. "He is the ultimate competitor. One of the greatest players I've ever coached."
There's another reason I'm having a hard time properly scouting Forbes…
He came in at 166 pounds at the NFL Combine. I only have one CB prospect in my database of the past 10+ years who came in under 170 pounds and was at least 5'10" tall (and it's no one who anyone, including me, remembers/knows. Over 6'0" tall and under 175…stretching it…there are 7 names, including Forbes. All nobodies and 2022 3rd-round draft pick (NYG) Cordale Flott.
Forbes is either going to be too skinny to succeed…or he'll just be the beginning of a new trend/option in the CB game. Perhaps Forbes can cover 6'0"/170 WR DeVonta Smith? We all had some fears about Smith being too skinny to succeed at a high level, and he's doing fine…hasn't missed a game in two seasons.
I think/theorize that in this era of less contact allowed between WR and CB, you need guys who just suffocate the receiver before the ball is thought to be thrown their way. You don't have to worry about a skinny CB tackling when all he's doing is mirroring a WR and taking them out of the game. And, side note, for his size…Forbes has decent tackle metrics in our data. He wasn't a soft CB…he made a solid+ amount of solo tackles in college. If a team wants to skip Forbes and go with one of the other bountiful top CB prospects instead…I can't fault them. I just think Forbes is gonna 'make it' in the league and his frame is not going to be as big of an issue…and he can add 5+ pounds of muscle to help his cause as well.
Forbes is going to enter the NFL as a Week 1 starter and almost instant shutdown type corner. I really can't fully, with 100% confidence, say just 'how good' Forbes is because no one (who matters) would really throw his way in college. He didn't always play man-to-man, he drifted around some in a zone or tried to blitz the backfield too -- but I wanted to watch him man-to-man a bunch (against top competition), but there was not as much tape as I'd like to see out there. I watched him against Alabama 2022, and Bryce Young barely looked in Forbes' direction…and when he did it was a WR taking Forbes deep and clearing out a short dump pass in the area.
Will Levis tried to go at Forbes a few times in 2022…Forbes pick-six'd him on one of the attempts. Dropped a pick another time.
The tape looks good-to-great, and the statistical data is off-the-charts. There are no injury bug/issues. There are no off-field concerns. He seems like a jovial, nice young man in interviews and at practice. He isn't the greatest tackler…but who cares about that with shutdown corners?
The only real negative I have is -- I don't think he's as good as Oregon's Christian Gonzalez, but I don't think anyone from this class will be.
Emmanuel Forbes, Through the Lens of Our CB Scouting Algorithm:
 -- Forbes in 2022 in man-to-man coverage allowed just 3 catches all season but had 6 picks. He allowed a 1.4 passer rating against him and allowed just 6 yards after the catch all season.
 -- Forbes also is the all-time NCAA leader in pick sixes with 6 INT return TDs, which is stunning. 12th all-time in INT return yards.
 -- Consensus All-American 2022
 -- The past three seasons Forbes was #1, #5, and #1 in the SEC in interceptions.
 -- Forbes was the lightest (weight) CB at the NFL Combine.
 -- Forbes was the third-fastest CB in the 40-times AND #1 in fastest 10-yard split (1.48). He also had the third longest wingspan (79") of the group (of the limited amount of wingspans reported).
If you can get past his light weight/frame…there's a ton of elite attributes here.
2023 NFL Combine Measurables:
6'0.6"/166
8.5" hands, 32.25" arms
40-time: 4.36, 1.48 10-yard
Vertical: 37.5"
(projection) Three-cone: 6.6 range?
.
The Historical CB Prospects to Whom Emmanuel Forbes Most Compares Within Our System:
Forbes is such a high-end anomaly, in many ways, that it's hard to classify him in our system. I do see 'Sauce Gardner' possibilities, but Sauce's tape and whole demeanor was so high-end it's almost impossible to compare anyone to him…and Sauce was so much bigger.
| | | | | | | | | | | | |
| --- | --- | --- | --- | --- | --- | --- | --- | --- | --- | --- | --- |
| CB Grade | Last | First | Draft Yr | College | H | H | W | Cover Rating | Speed Metrics | Agility Metric | Tackle Metric |
| 8.786 | Forbes | Emmanuel | 2023 | Miss State | 6 | 0.5 | 166 | 9.14 | 13.28 | 12.20 | 4.68 |
| 10.809 | Rodgers-Cromartie | Dominique | 2008 | Tenn State | 6 | 1.4 | 184 | 9.43 | 14.11 | 10.14 | 6.27 |
| 8.743 | Gilmore | Stephon | 2012 | So Carolina | 6 | 0.2 | 190 | 9.09 | 9.34 | 11.80 | 7.28 |
| 6.178 | Jones | Jack | 2022 | Arizona State | 5 | 10.6 | 171 | 6.37 | 5.28 | 8.08 | 4.00 |
| 2.963 | Flott | Cordale | 2022 | LSU | 6 | 0.4 | 175 | 4.07 | 3.52 | 7.20 | 4.73 |
| 10.687 | Gardner | Sauce | 2022 | Cincinnati | 6 | 2.6 | 190 | 10.87 | 9.52 | 9.97 | 5.87 |
*The ratings are based on a 1–10 rating scale, but a prospect can score over 10.0+ and less than 0.0
OVERALL RATING -- We merge the data from physical measurables, skill times/counts from the NFL Combine/Pro Days, with college performance data available on pass coverage/tackles, etc. and grade it compared to our database history of all college CBs, with a focus on which CBs went on to be good-great-elite in the NFL. We found characteristics/data points that the successful NFL CBs had in common in college, that most other CB prospects could not match/achieve.
Scoring with a rating over a 7.00+ in our system is where we start to take a CB prospect more seriously. Most of the future NFL successful college CBs scored 8.00+, and most of the NFL superior CBs pushed scores more in the 9.00+ levels...and future NFL busts will sneak in there from time to time. 10.00+ is where most of the elite NFL CBs tend to score in our system analysis.
COVERAGE -- A combination of on-field data/performance and physical profile data
SPEED -- Measurables from a perspective of straight-line speed, burst, etc.
AGILITY -- Measurables for lateral movements, quick cuts, body type, speed, etc. 
POWER -- A look at physical size, tackling productivity in college, other physical measurables. One of the side benefits/intentions here, is to see which CBs may be more of a model for a conversion to playing safety successfully in the NFL. Also denotes CBs who are more physical/will have higher tackle totals...over pure speed/coverage CBs.
2023 NFL Draft Outlook:
Forbes is tracking right on the edge of the 1st and 2nd-round among the consensus…right in that #25-40 range overall. In the end, I would bet he slips into the 1st-round.
If I were an NFL GM, Forbes is a 1st-round prospect and in the argument as the best CB prospect in this draft, though I don't think anyone will top Christian Gonzalez. So, if that's how we grade Forbes…then he's a value in the late 1st-round or falling to the 2nd-round.
NFL Outlook:  
Forbes should be an NFL starter pretty quickly, and then be a top shutdown corner hope year one. If he were to struggle, it could be he isn't as good at being a physical CB when needed. He will run with and cut with WRs all day long, but he's a thinner-framed guy so he plays a more finesse coverage than physical. Top 2023 CB prospect Devon Witherspoon is (kinda/sorta) in Forbes' same size range/frame and plays much more physical than Forbes, but he cannot move like Forbes can.