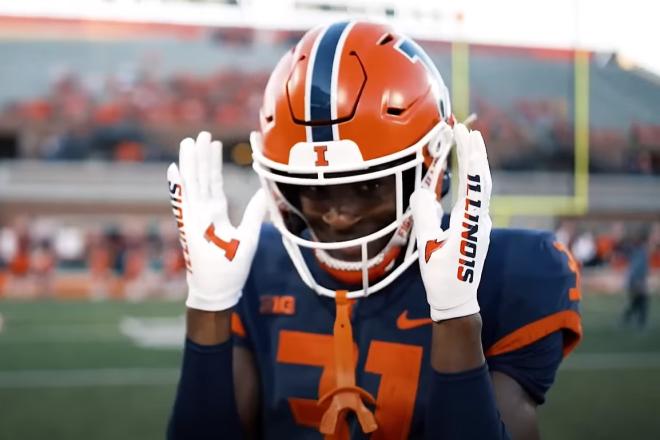 R.C. Fischer
Rookie Scouting Reports
26 February 2023
NFL Draft 2023 Scouting Report: CB Devon Witherspoon, Illinois
*CB grades can and will change as more information comes in from Pro Day workouts, Wonderlic test results leaked, etc. We will update info as it becomes available. 
My first preview scouting/impression (pre-Combine) of Devon Witherspoon was 'meh'…seemed OK, not as enthralling as some of the other bigger/thicker top CB prospects in the draft. After my preview, I was shocked to see Witherspoon as a universal/consensus 1st-round pick…sometimes top 15 pick…sometimes even the #1 ranked CB prospect in the class for some services. I wasn't there.
However, after a deeper look at the tape and data -- I'm leaning more towards the consensus side now…Witherspoon is very good and is 1st-round pick worthy.
I wouldn't say Witherspoon is the top CB prospect in the draft…I can't see anyone supplanting Christian Gonzalez after our studies and metrics on him, but I won't discount/rule out anything on Witherspoon anymore. He's really very good.
Of the big four/highest rated CBs that I've studied deeper, I would sum them up this way…
(so far…still mid-process with more and more info/ data coming in)
1) Christian Gonzalez = God's gift to CB play…looks totally elite in all phases.
2a) Joey Porter = Very good press corner with nice overall cover skills with a long/sturdy body.
2b) Julius Brents = Fantastic movement skills…in the era that needs CBs who can run/cut with WRs and not lay hands on them all the time to draw a bunch of PIs. Also, is 6'3" with great reach.
2c) Devon Witherspoon = The grittiest top CB prospect…has decent size and athleticism but has a natural instinct for coverage and is aggressive/fearless doing battle.
I watched more Witherspoon tape than any CB prospect so far…because I couldn't get a full feel on just how good or kinda good or average Witherspoon was. QBs stayed away from him for the most part, so there's not much great tape to dig in on him. He also benefited from a great schedule draw the past two years -- no Ohio State on the schedule, no bowl appearances, mostly facing stiff Big 12 offenses/QBs. Even his toughest matchup in 2022 was a schedule quirk/gift -- he faced Purdue WR Charlie Jones, a Cooper Kupp-ish, huge output WR and Witherspoon took him on nearly every snap…but Jones was not 100% going into the game and was going in-and-out of the game. I'm not sure how much the injury affected Jones, but Witherspoon handled him all game…  Jones is really good, but in this game looked worse than I'd seen him before -- was it the injury or Witherspoon, or both? I think 'injury' (back and leg issues) at least played a part…so it's hard to determine just how much Witherspoon excelled in their matchup. Jones did land a 30+ yard TD in the game…when Witherspoon wasn't on him, so…maybe Jones wasn't as injured as I thought he was.
I watched a lot of random Witherspoon games from 2021 and 2022, and I kept waiting to find the game he struggled in -- but I couldn't find it. Eventually, I was won over by his consistency and his overall ball skills and energy/aggression. He's a very good north-south mover…he can jam a WR off the snap and travel with them in a sprint or he can give a cushion and dare a throw that he'll rapidly close in on. Witherspoon is also adept at mirroring the WRs cutting around/running routes to the inside and out. He was just consistently good in coverage, dominating his opposing WR…and QBs feared throwing his way…but also he didn't face any of the Ohio State offenses the past two seasons, just non-NFL Draft WRs and QBs.
Witherspoon can be deceiving at a glance because your first impression, when you've watched some of the other top CB prospects, is that he's too slender and not as tall/long as the other top guys. Witherspoon's frame was an issue coming out of high school…he got no star ratings and barely any CFB attention because he was a toothpick of a body/player -- but he's grown/built his body to 180 +/- pounds of muscle…and despite being the smallest-frame guy of the top CBs that I've studied so far, he's probably the most aggressive/violent hitter of the group when tackling. His body type is fine/works.
Off the field, Witherspoon seems like a very jovial, happy human being -- but he's a different guy/personality on the field. No real injury issues or character concerns detected.
Devon Witherspoon, Through the Lens of Our CB Scouting Algorithm:
 -- 2022 consensus All-American
 -- Reported stats from 2022: No TDs allowed and a passer rating of 25.0 range against him. But again… with slight exceptions, he faced mostly weak/garbage QBs for two years. But he did his job and shut down what needed to be shut down.
 -- 7 or more tackles in a game six of his last 15 games. By comparison, Kelee Ringo hit that mark twice in his whole career, as did Joey Porter. Christian Gonzalez hit it 4 times in his whole career. 
2023 Measurables Projections:
6'0"/180
9.5" hands, 32"+ arms
40-time: 4.4+
Three-cone: 6.95+
.
The Historical CB Prospects to Whom Devon Witherspoon Most Compares Within Our System:
I really like the Desmond Trufant comparison from look to style. Darryl Roberts was a great college CB too…overlooked in his draft, and had a long, stable, quiet-ish NFL career.
| | | | | | | | | | | | |
| --- | --- | --- | --- | --- | --- | --- | --- | --- | --- | --- | --- |
| CB Grade | Last | First | Draft Yr | College | H | H | W | Cover Rating | Speed Metrics | Agility Metric | Tackle Metric |
| 8.399 | Witherspoon | Devon | 2023 | Illinois | 6 | 0.0 | 180 | 8.91 | 8.66 | 8.12 | 8.09 |
| 8.380 | Roberts | Darryl | 2015 | Marshall | 5 | 11.0 | 187 | 8.83 | 6.15 | 8.55 | 8.77 |
| 9.147 | Trufant | Desmond | 2013 | Washington | 5 | 11.5 | 190 | 9.85 | 8.32 | 11.15 | 7.57 |
| 6.936 | Barnes | Kevin | 2009 | Maryland | 6 | 0.2 | 187 | 8.95 | 6.62 | 10.41 | 5.60 |
| 5.599 | Fuller | Kyle | 2014 | Va Tech | 5 | 11.6 | 190 | 8.79 | 3.62 | 5.91 | 6.39 |
| 6.209 | Echols | Brandin | 2021 | Kentucky | 5 | 10.1 | 179 | 6.30 | 9.03 | 8.59 | 4.06 |
*The ratings are based on a 1–10 rating scale, but a prospect can score over 10.0+ and less than 0.0
OVERALL RATING -- We merge the data from physical measurables, skill times/counts from the NFL Combine/Pro Days, with college performance data available on pass coverage/tackles, etc. and grade it compared to our database history of all college CBs, with a focus on which CBs went on to be good-great-elite in the NFL. We found characteristics/data points that the successful NFL CBs had in common in college, that most other CB prospects could not match/achieve.
Scoring with a rating over a 7.00+ in our system is where we start to take a CB prospect more seriously. Most of the future NFL successful college CBs scored 8.00+, and most of the NFL superior CBs pushed scores more in the 9.00+ levels...and future NFL busts will sneak in there from time to time. 10.00+ is where most of the elite NFL CBs tend to score in our system analysis.
COVERAGE -- A combination of on-field data/performance and physical profile data
SPEED -- Measurables from a perspective of straight-line speed, burst, etc.
AGILITY -- Measurables for lateral movements, quick cuts, body type, speed, etc. 
POWER -- A look at physical size, tackling productivity in college, other physical measurables. One of the side benefits/intentions here, is to see which CBs may be more of a model for a conversion to playing safety successfully in the NFL. Also denotes CBs who are more physical/will have higher tackle totals...over pure speed/coverage CBs.
2023 NFL Draft Outlook:
No one has Witherspoon outside the top 25 overall. Mostly he's ranked in the top 15…mostly top 10, right at #10 to Philly a bunch. He's going to go in the top 10-15. The only reason that I'd say he's not a top 10 lock is -- there are so many great CB prospects this year, someone at the top is gonna fall a few pegs potentially…but top 10 for Witherspoon is definitely in play.
If I were an NFL GM, and needed a shutdown CB, Witherspoon is on my list. There are other great CB options right there with him in this draft, so he's not a must-have but would be in the mix for who I would take after Christian Gonzalez was gone (I would chase Gonzalez up in the draft).
NFL Outlook:  
Should be drafted high…to start immediately, and should have a solid career with upside. Low probability of bust but could be a mild disappointment for how highly he's drafted if he turns out to be just 'good' in his career, not great.