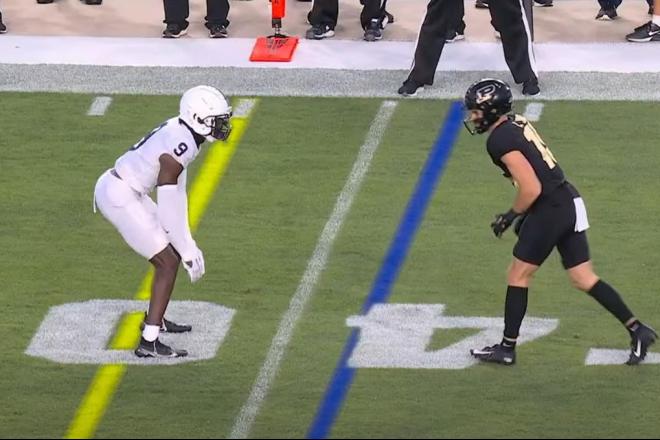 R.C. Fischer
Rookie Scouting Reports
25 February 2023
NFL Draft 2023 Scouting Report: CB Joey Porter Jr., Penn State
*CB grades can and will change as more information comes in from Pro Day workouts, Wonderlic test results leaked, etc. We will update info as it becomes available. 
Among the top regarded names in this flood of intriguing/talented CB prospects for the 2023 NFL Draft, we find a football-familiar name -- Joey Porter Jr., son of long-time Pittsburgh Steelers defender Joey Porter. In these situations, my first reaction is to wonder: Is this guy (Porter in this case) really this good or is he ranked so high because of his name? After a decade+ in the scouting business, I am jaded to the NFL's, and its analyst's ways…so, this is all too often a good question.
However, after studying the tape and background deeper here with Porter Jr…I was surprised, he really is a very solid/good NFL CB prospect. He's not 'just a name'.
Porter has the size (6'2"/198) and the long arms the NFL likes. He also shows nice NFL movement/cover skills and a toughness/edge that coaches like. He's not a silver spooned prima donna…he's just a really good NFL CB prospect.
I mainly watched Porter work against Ohio State the past two seasons and his multiple matchups with Auburn the past two years as well, plus against Purdue/2022 (wanted to see him against Charlie Jones) -- and Porter graded out well in all those contests. I noticed one small/slight negative note…but mostly all positive notes.
Porter is a really good north-south corner. He excels in press coverage at the line of scrimmage, and if/when the WR gets off the release to start heading downfield…Porter travels very well with the receiver. Porter can knock WRs off their intended route/move off the snap and then does a great job recovering if the WR gets a step to try and beat him deep. Porter is hard to beat deep with his mirroring skills, ability to sprint downfield, and with his long arms/reach to swat incoming passes. Porter can also give a cushion and fly in/close fast on a short route in front of him…again, Porter excels in north-south movement.
The slightest negative would be that Porter is just 'good' with east-west movement. WRs who are very quick-footed off the snap can get the jump on Porter to cut inside or to the immediate sideline (timing route) and leave him a step behind. Porter doesn't recover as well if he's a step behind east-west, compared to how he does north-south. For example, Garrett Wilson 2021 or Charlie Jones 2022 could get open on Porter short inside/outside…especially Wilson with his fast feet and a QB who could deliver the ball bang-bang. Porter isn't a liability east-west like Kelee Ringo appears to be, but Porter is great north-south and merely OK/good east-west. Whereas Oregon's Christian Gonzalez is unbeatable on any route style…he runs it for the WR. Porter is more good+, well trained, has size and movement and typically wins most snaps/targets against his WR…but Porter is beatable short/timing off the snap with a quick-off-the-snap WR -- and the NFL has a lot of those guys to try and cover.
Porter might be a great #2 CB…but 'just' a very good #1 CB. It's splitting some hairs, but I'm trying to figure out comparisons and proper valuations on this very good CB class. Summing it up, I'd say Porter's 'floor' is a 'B' grade/NFL starter day one. His ceiling is 'A'/Pro Bowl corner who improves his footwork even more and becomes high-end east-west in coverage. Porter will be great against a Mike Evans, Mike Williams, Courtland Sutton type…but 'just' good-to-very good against Garrett Wilson, Davante Adams, Cooper Kupp, etc., types.
Off the field, Porter is a really solid character. He's not entitled. He's a good 'kid'/young man. No medical issues. Well-liked by teammates and coaches.
*A nice 5-minute story on Porter and his family background that's not what you'd think of a 'junior' to a famous football father: https://youtu.be/PBuP47oU-bo
Joey Porter Jr., Through the Lens of Our CB Scouting Algorithm:
Everything you want to know about Joey Porter Jr. is found in his Purdue 2022 matchup with the very good WR prospect, Charlie Jones.
Jones went for 12-153-1 in that game…which is seemingly bad/frightening for Porter, but watching that tape -- Porter gave Jones fits, only Jones did beat him to the inside with quick feet for some catches (the east-west issue) but couldn't really shake free deep (Porter's north-south talent) -- but Jones made most of his day when Porter wasn't covering him. The times Jones did make a catch on Porter, it was a great quick route and perfect timing throw from the QB…they needed meticulous events to get 'over' on Porter.
In that game, Porter had a career-high 8 tackles AND a stunning SIX passes defended. I don't think I've ever seen any defender with 6 PDs in one game, college or pro.
2023 Measurables Projection:
6'0"+/198
9.5"+ hands, 33" arms
40-time: 4.45+
Three-cone: 6.9+
. 
The Historical CB Prospects to Whom Joey Porter Jr. Most Compares Within Our System:
Porter as a next Jaycee Horn makes sense…a better Horn, perhaps. I like most of the comps here from our system analysis. 
| | | | | | | | | | | | |
| --- | --- | --- | --- | --- | --- | --- | --- | --- | --- | --- | --- |
| CB Grade | Last | First | Draft Yr | College | H | H | W | Cover Rating | Speed Metrics | Agility Metric | Tackle Metric |
| 8.751 | Porter | Joey | 2023 | Penn State | 6 | 2.0 | 198 | 9.29 | 9.13 | 8.09 | 7.85 |
| 8.535 | Horn | Jaycee | 2021 | So Carolina | 6 | 0.6 | 205 | 9.18 | 7.10 | 8.91 | 7.81 |
| 8.463 | Booth | Andrew | 2022 | Clemson | 6 | 0.2 | 194 | 8.97 | 10.69 | 7.49 | 7.24 |
| 7.286 | Okudah | Jeff | 2020 | Ohio St. | 6 | 1.1 | 205 | 8.32 | 3.21 | 8.80 | 6.16 |
| 6.691 | Witherspoon | Ahkello | 2017 | UConn | 6 | 2.6 | 198 | 7.61 | 3.25 | 6.82 | 4.79 |
*The ratings are based on a 1–10 rating scale, but a prospect can score over 10.0+ and less than 0.0
OVERALL RATING -- We merge the data from physical measurables, skill times/counts from the NFL Combine/Pro Days, with college performance data available on pass coverage/tackles, etc. and grade it compared to our database history of all college CBs, with a focus on which CBs went on to be good-great-elite in the NFL. We found characteristics/data points that the successful NFL CBs had in common in college, that most other CB prospects could not match/achieve.
Scoring with a rating over a 7.00+ in our system is where we start to take a CB prospect more seriously. Most of the future NFL successful college CBs scored 8.00+, and most of the NFL superior CBs pushed scores more in the 9.00+ levels...and future NFL busts will sneak in there from time to time. 10.00+ is where most of the elite NFL CBs tend to score in our system analysis.
COVERAGE -- A combination of on-field data/performance and physical profile data
SPEED -- Measurables from a perspective of straight-line speed, burst, etc.
AGILITY -- Measurables for lateral movements, quick cuts, body type, speed, etc. 
POWER -- A look at physical size, tackling productivity in college, other physical measurables. One of the side benefits/intentions here, is to see which CBs may be more of a model for a conversion to playing safety successfully in the NFL. Also denotes CBs who are more physical/will have higher tackle totals...over pure speed/coverage CBs.
2023 NFL Draft Outlook:
Porter is mostly projected to go in the top 15, with a lot of top 10 projections in there. He will go that high; he's not going to fall. He'll go right around #7-15.
If I were an NFL GM, and in the market for a top CB prospect…I have Porter on my short list of options, but definitely not ahead of Christian Gonzalez (who I studied/reported on deeper a few days prior).
NFL Outlook:  
Should be a Week 1/2023 rookie starter and be a long time, solid+ starter in the NFL for the next few years, at least.