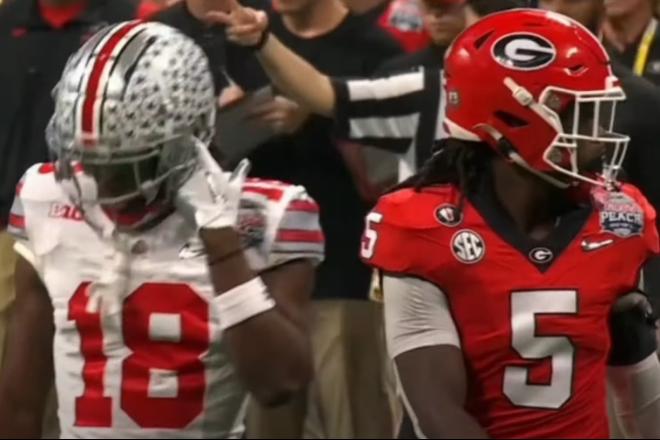 R.C. Fischer
Rookie Scouting Reports
24 February 2023
NFL Draft 2023 Scouting Report: CB Kelee Ringo, Georgia
*CB grades can and will change as more information comes in from Pro Day workouts, Wonderlic test results leaked, etc. We will update info as it becomes available. 
Key-Lee Ringo
Kelee Ringo
 is a 1st-round prospect for most every draft analyst, and some have him as their #1 CB, so I thought he'd be a contender for 'top CB in the 2023 draft class'.  But after previewing some of his work this past week… after digging in deeper, I see a problem -- he's definitely not the top CB prospect in this class.
Ringo is not terrible, he's just more 'Georgia hype' than elite NFL CB. Ringo has size and experience and good speed -- but he has Derek Stingley Jr. disease. 'Derek Stingley Jr. disease' is a cornerback who looks great traveling with a WR going deep…they love to lay back, backpedal off the snap, and sprint downfield with a WR…they're good at it, and it's their desire. But their problem is, they don't have great agility/cut-ability/reactions to real routes…so, when they try to man up on a #1 WR who likes to work sharp routes, guys like Stingley and Ringo can't keep up right away and their opposing WRs gets a step+ and gets open and makes plays crossing the field or cutting into a sideline timing route…these types of CBs are 'A/B' grade covering deep…and 'D' grade covering route runners. You can get away with it in college, especially against non-NFL WR talent -- but it won't be great at the next level.
There's a place in the world for Ringo's services…covering a deep ball/outside decoy WR like Courtland Sutton or Mike Williams or almost-always-going-deep D.K. Metcalf. But when I watched Ringo try to cover Jameson Williams in 2021 vs. Alabama or Marvin Harrison Jr. in 2022 vs. Ohio State -- he didn't stand a chance. Those types/style/talent of WR got open at-will short and medium and if they made slick moves (double moves, etc.) going deep, they could get by Ringo there as well. He couldn't hang…especially against Jameson.
Ringo CANNOT cover legit #1 WRs well…so he CANNOT be a 1st-round cornerback…but he will be. He went to Georgia, don't ya' know?
You know which top college WR prospect Ringo did have a better time with? TCU's Quentin Johnston…a tall, poor route running/better deep ball guy -- Ringo could handle that style WR better. And that is more bad news for Johnston, who will also be a 1st-round pick…which will be a mistake.
Ringo has a lot of top athletic attributes. He was a star sprinter in high school, in the state of Arizona. He has size. He has speed. He was a five-star, #1 CB in the nation coming out of high school -- all the hype will push him to the 1st-round, just like the COLLOSAL cornerback draft mistake of the decade…when Houston passed on Sauce Gardner to take Derek Stingley. The allure is always with the SEC guys with 'names' and hyped backgrounds.
Ringo is NFL-worthy, but he'll be a general disappointment (like Stingley) because of how highly he'll be drafted.
Kelee Ringo, Through the Lens of Our CB Scouting Algorithm:
 -- Jameson Williams in 2021 vs. Georgia, two games…
SEC title game: 7-184-2
CFB title game: 4-65-0 (tore his ACL and left game early)
 -- Marvin Harrison in 2022 vs. Georgia, CFB playoffs: 5-106-2
 -- Quentin Johnston in 2022 vs. Georgia, CFB title game: 1-3-0
2023 Measurables Projections:
6'2.5"/210
9.5" hands, 32" arms
40-time: 4.3+
Three-cone: 7.1-7.2+
The Historical CB Prospects to Whom Kelee Ringo Most Compares Within Our System:
I don't love any of these comps from the computer, but I get the Okudah correlation -- size, hype, big school, and not worth the big investment corners…not nothing, but not high 1st-round must-have guys.
Jamel Dean is a similar body but a better cover guy…Ringo's hope is he's the next Dean.
| | | | | | | | | | | | |
| --- | --- | --- | --- | --- | --- | --- | --- | --- | --- | --- | --- |
| CB Grade | Last | First | Draft Yr | College | H | H | W | Cover Rating | Speed Metrics | Agility Metric | Tackle Metric |
| 6.883 | Ringo | Kelee | 2023 | Georgia | 6 | 2.5 | 210 | 6.55 | 8.90 | 3.83 | 7.77 |
| 7.286 | Okudah | Jeff | 2020 | Ohio St. | 6 | 1.1 | 205 | 8.32 | 3.21 | 8.80 | 6.16 |
| 3.407 | Webb | Jeremy | 2022 | Kansas | 6 | 2.6 | 201 | 4.80 | 4.55 | 4.84 | 6.10 |
| 7.546 | Dean | Jamel | 2019 | Auburn | 6 | 1.0 | 206 | 7.90 | 11.56 | 4.76 | 6.87 |
| 8.005 | King | Kevin | 2017 | Washington | 6 | 3.0 | 200 | 8.85 | 6.92 | 11.70 | 6.67 |
| -1.356 | Webb | Mark | 2021 | Georgia | 6 | 1.4 | 207 | 0.71 | -4.19 | -5.12 | 6.04 |
*The ratings are based on a 1–10 rating scale, but a prospect can score over 10.0+ and less than 0.0
OVERALL RATING -- We merge the data from physical measurables, skill times/counts from the NFL Combine/Pro Days, with college performance data available on pass coverage/tackles, etc. and grade it compared to our database history of all college CBs, with a focus on which CBs went on to be good-great-elite in the NFL. We found characteristics/data points that the successful NFL CBs had in common in college, that most other CB prospects could not match/achieve.
Scoring with a rating over a 7.00+ in our system is where we start to take a CB prospect more seriously. Most of the future NFL successful college CBs scored 8.00+, and most of the NFL superior CBs pushed scores more in the 9.00+ levels...and future NFL busts will sneak in there from time to time. 10.00+ is where most of the elite NFL CBs tend to score in our system analysis.
COVERAGE -- A combination of on-field data/performance and physical profile data
SPEED -- Measurables from a perspective of straight-line speed, burst, etc.
AGILITY -- Measurables for lateral movements, quick cuts, body type, speed, etc. 
POWER -- A look at physical size, tackling productivity in college, other physical measurables. One of the side benefits/intentions here, is to see which CBs may be more of a model for a conversion to playing safety successfully in the NFL. Also denotes CBs who are more physical/will have higher tackle totals...over pure speed/coverage CBs.
2023 NFL Draft Outlook:
Ringo is bound for the 1st-round, most likely the 2nd-half of the 1st-round…but nothing would surprise me after I saw the Derek Stingley pick by Houston last season.
If I were an NFL GM, I have no interest in Ringo in the top 100. There are better CB prospects who will go 2nd-4th-round whose major crime is not going to a big-name SEC school.
NFL Outlook:
Will be drafted highly. Will be pushed into a starting role. Will likely struggle but not be totally terrible…but in a year, everyone who was cheerleading him will forget about him…a la Derek Stingley 2022 to 2023.