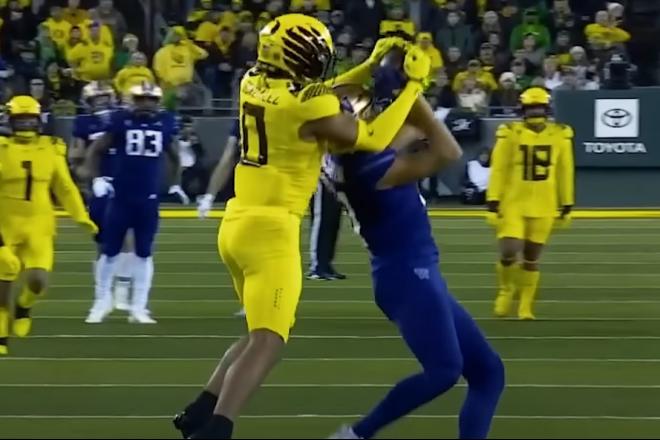 R.C. Fischer
Rookie Scouting Reports
23 February 2023
NFL Draft 2023 Scouting Report: CB Christian Gonzalez, Oregon
*CB grades can and will change as more information comes in from Pro Day workouts, Wonderlic test results leaked, etc. We will update info as it becomes available. 
This is a banner year for CB talent, and there are several contenders for 'top CB prospect in the 2023 NFL Draft class', but, though we're still in the early stages of scouting them all, I'll be shocked if anyone ends up being better than Christian Gonzalez.
I really don't need to go into great detail to make this case - Gonzalez is a near flawless CB prospect. You know what that means -- great feet/footwork, great mirroring ability, good+ size, clean background, etc.
But to try and give a fresh explanation, I'd offer this pitch based on what my eyes see…
Gonzalez is so good, and HE knows he's so good, that when I watch him play, I can see he is completely unafraid that any WR can get by him or beat him on a route. Usually CBs look aggressive or amped or frenetic or worried (they backpedal too far in fear of getting beat, then get beat short). Gonzalez doesn't exude any message with his body language except a quiet confident smoothness and effortlessness that he's gonna travel with/mirror any size or style WR and he knows they are not going to be able to put a move on him that he cannot react to…in fact, he's usually a step ahead of the WR in their routes because he can move so rapidly and accelerate so smoothly and can read the body/movements of the WR so well. He's a near perfect CB prospect.
My only criticism could be…he's not as great as Sauce Gardner, but since I thought Gardner was the best CB prospect that I'd ever seen…that's a pretty high bar. Gonzalez is in that rarefied air of future elites/best I've ever seen.
I watched Gonzalez against Georgia in the opening week of the 2022 season…and Georgia didn't try to throw the ball most of the game (in which Georgia crushed Oregon). They only threw his way twice (once for a lucky/great catch TD where CG was smothering the WR late in a blowout), but mostly the QB didn't even look at Gonzalez' side of the field. For about a series, Gonzalez switched from the QB's left to the QB's right. When he did that, Georgia stopped looking at/throwing to Gonzalez's new side and started looking at the side he had just switched from. The Georgia game told me a lot -- the Bulldogs didn't want to mess with him…they saw the same obvious things that I see. The theme ran through most of the season with Oregon's opponents. Only fools tried to take him on.
Gonzalez looks great on tape. His background check is clean from issues or any injury concerns. He has supposed great athleticism numbers coming at the Combine (we'll discuss that in a moment). To me, Gonzalez is in the debate for single best prospect of the 2023 draft class…but there's a lot of talent at the top to compete with -- which tells you the coming wave of talent at CB in this class…it's far superior to the WR class.
Christian Gonzalez, Through the Lens of Our CB Scouting Algorithm:
 -- Most teams just didn't throw his way, so…not much to glean from his basic output numbers. He did have 4 interceptions on the season.
 -- Five or more tackles in a game in 13 of his 30 game appearances in his career…that's pretty decent for a shutdown corner type. Gonzalez is not the greatest tackler I've seen at CB, but he is OK and is willing/not soft.
  -- Bruce Feldman's annual CFB 'Freaks' report from the summer of 2022 claims that he hit 23.3 mph on the satellite tracking (which is HIGH end) and that he puts up a 40"+ vertical and can lift 325+ pounds. All high-end stuff, if real.
2023 Measurables Projections:
6'2"/200…but may be 6'3"+
10" hands, 33" arms
40-time: 4.2-4.3s potentially
Three-cone: Might see a 6.6-6.7 range?
Vertical: 40"+
.
The Historical CB Prospects to Whom Christian Gonzalez Most Compares Within Our System:
Dominique Rodgers-Cromartie is a logical comp. Sauce and Ramsey were much more aggressive/in your face type corners. DRC was more silky smooth like Gonzalez, if memory serves.
| | | | | | | | | | | | |
| --- | --- | --- | --- | --- | --- | --- | --- | --- | --- | --- | --- |
| CB Grade | Last | First | Draft Yr | College | H | H | W | Cover Rating | Speed Metrics | Agility Metric | Tackle Metric |
| 9.903 | Gonzalez | Christian | 2023 | Oregon | 6 | 2.0 | 200 | 10.04 | 12.09 | 10.62 | 8.22 |
| 10.809 | Rodgers-Cromartie | Dominique | 2008 | Tenn State | 6 | 1.4 | 184 | 9.43 | 14.11 | 10.14 | 6.27 |
| 10.687 | Gardner | Sauce | 2022 | Cincinnati | 6 | 2.6 | 190 | 10.87 | 9.52 | 9.97 | 5.87 |
| 8.544 | Ramsey | Jalen | 2016 | Florida St | 6 | 1.2 | 209 | 9.80 | 8.94 | 7.91 | 9.24 |
| 9.301 | Henderson | C.J. | 2020 | Florida | 6 | 0.6 | 204 | 9.83 | 8.49 | 8.96 | 8.12 |
*The ratings are based on a 1–10 rating scale, but a prospect can score over 10.0+ and less than 0.0
OVERALL RATING -- We merge the data from physical measurables, skill times/counts from the NFL Combine/Pro Days, with college performance data available on pass coverage/tackles, etc. and grade it compared to our database history of all college CBs, with a focus on which CBs went on to be good-great-elite in the NFL. We found characteristics/data points that the successful NFL CBs had in common in college, that most other CB prospects could not match/achieve.
Scoring with a rating over a 7.00+ in our system is where we start to take a CB prospect more seriously. Most of the future NFL successful college CBs scored 8.00+, and most of the NFL superior CBs pushed scores more in the 9.00+ levels...and future NFL busts will sneak in there from time to time. 10.00+ is where most of the elite NFL CBs tend to score in our system analysis.
COVERAGE -- A combination of on-field data/performance and physical profile data
SPEED -- Measurables from a perspective of straight-line speed, burst, etc.
AGILITY -- Measurables for lateral movements, quick cuts, body type, speed, etc. 
POWER -- A look at physical size, tackling productivity in college, other physical measurables. One of the side benefits/intentions here, is to see which CBs may be more of a model for a conversion to playing safety successfully in the NFL. Also denotes CBs who are more physical/will have higher tackle totals...over pure speed/coverage CBs.
2023 NFL Draft Outlook:
Gonzalez is a 1st-round prospect for everyone in the rankings game. He's going to go 1st-round. His Combine numbers will dictate whether top 10 or top 20.
If I were an NFL GM, I would be taking Gonzalez seriously for the draft…but I'd also have to factor in that there are 2-3-4-5 or more really great CB prospects this year. Gonzalez could be at the top…or one of 2-3-4 elites by the time we get through the Combine.
NFL Outlook:  
Will be a day one starter in 2023, and a long time starter as long as he stays healthy. I'd be shocked if he busts/disappoints.