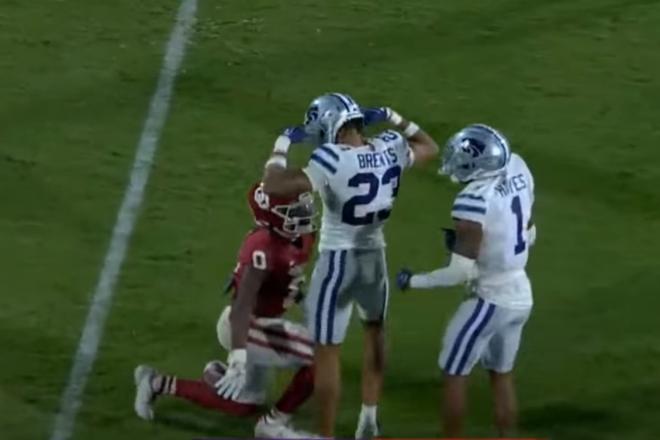 R.C. Fischer
Rookie Scouting Reports
13 February 2023
NFL Draft 2023 Scouting Report: CB Julius Brents, Kansas State
*CB grades can and will change as more information comes in from Pro Day workouts, Wonderlic test results leaked, etc. We will update info as it becomes available. 
When I first laid eyes on Julius Brents, in my brief Senior Bowl preview tape session…I was thinking this was potentially another legit big, wiry college CB who is part of the new breed for the NFL.
After I saw him working the 1-on-1 drills at the Senior Bowl, against the various WRs, there was no more 'potentially' about it -- he was legit. He has all the reach metrics you like -- 6'3" with 82.9" wingspan…and he probably runs in the 4.3s or 4.4s. He was one step ahead of most of the WRs at the Senior Bowl practices…just too good at movement/covering for all comers.
Our system's top comp for Brents ended up being 'Sauce Gardner', so 'off to the races' we go.
…but my deeper tape and data study hit a couple speed bumps in the 'Sauce' excitement, so there are some things to be discussed/debated before I/we go that far.
Brents began his career at Iowa, where he barely played his first two seasons. He then transferred to Kansas State and became a starter as a corner but could play some safety (he was a safety prospect coming out of high school). He went full throttle CB in 2022 and showed so well that he projected as a top 150 NFL Draft prospect as the season ended. And after his great showing at the Senior Bowl, he's moving up into the top 100 overall…and climbing.
Brents has just about everything you're looking for in a top corner for the NFL -- height, extreme reach, past experience as a safety, good+ speed and top agility/natural footwork to be a great mirroring coverage cornerback, potentially a lockdown corner in the NFL. He was a 2nd-team all-Academic in the Big 12 with no uncovered character issues -- so, he's good/clean on and off the field.
I watched him on tape against TCU (3x in two seasons), LSU, Alabama…and he was fine every time, with the occasional lost the ball/WR made the play moments. Much more good moments than any bad ones. He was not overwhelmed at all covering highly lauded TCU WR Quintin Johnston…just allowed QJ to push off on him as the ball was incoming to get a late separation to make a play a few times.
I saw two mild issues on the tape…
1) Not as physical a corner as you'd think…with some background at safety. He can learn to be more physical, but nitpicking Brents -- he sometimes relies all-in on his cover skills so he can get pushed off on (OPI's that never get called) and he doesn't tend to get as physical/up in WRs faces…because he doesn't have to in college.
2) He's usually step-for-step with his receiver deep but occasionally loses track of the ball/play/receiver and his receiver gets wide open/breaks away from him like it's a busted coverage…I saw this a few times in his matchups with TCU in 2022.
Neither of these issues are damning or constant, but it precludes him from being an 'it' cornerback prospect. There's a slight worry he can be too passive…and then that could get worse and become a real problem in the NFL. But tools-wise, there's almost no question. I don't think he's too afraid to get physical, and he can learn more about being a technical #1 corner at the next level instead of just an athletic one.
I had some similar fears with Tariq Woolen last year, looking at him on tape -- high-end athlete and size but played raw/made some mistakes, I worried he might be too raw to hit right away -- and he went into the NFL and dominated day one. Hopefully, it will be that way for Brents…he has the God-given gifts/ability to do just that.
Julius Brents, Through the Lens of Our CB Scouting Algorithm:
 -- 34 career games, just 10 credited PDs…that's unusually low for a corner who had two seasons (27g) of heavy play. But if they don't throw it at you…you can't come up with PDs either. He did have 4 picks in 2022…3rd-best in the Big-12. When he got thrown on, he was making some critical plays.
 -- 69 solo tackles/25 assisted tackles…that's a great solo tackle ratio for a thinner-framed CB. The tape I saw, he wasn't a great tackling force…although willing to get his nose in there -- but his solo tackle numbers signal that he'll be fine making tackles in the pros. And in the end, you won't be drafting him for his tackling ability.
2023 Measurables Projections:
6'3.0"/202 (Senior Bowl)
9.5" hands, 33.75" arms, 82.9" wingspan (Senior Bowl)
40-time projection: 4.35+
Three-cone projection: 6.8 +/-
The Historical CB Prospects to Whom Julius Brents Most Compares Within Our System:
It's a Sauce Gardner comp, which is enticing, but Gardner was the most obvious 'great' CB that I've ever scouted…Brents is not in Gardner's league, yet, and may never be.
Kevin King has reach and speed…and ended up a 'bust' of sorts in the NFL.
Somewhere between the two lies Brents, maybe? Hopefully closer to Gardner. 
| | | | | | | | | | | | |
| --- | --- | --- | --- | --- | --- | --- | --- | --- | --- | --- | --- |
| CB Grade | Last | First | Draft Yr | College | H | H | W | Cover Rating | Speed Metrics | Agility Metric | Tackle Metric |
| 8.539 | Brents | Julius | 2023 | Kansas St. | 6 | 3.0 | 202 | 8.19 | 10.09 | 9.67 | 6.42 |
| 10.687 | Gardner | Sauce | 2022 | Cincinnati | 6 | 2.6 | 190 | 10.87 | 9.52 | 9.97 | 5.87 |
| 8.049 | King | Kevin | 2017 | Washington | 6 | 3.0 | 200 | 9.34 | 6.92 | 11.70 | 6.67 |
| 7.956 | Surtain | Patrick | 2021 | Alabama | 6 | 2.0 | 208 | 8.85 | 3.93 | 7.60 | 7.87 |
| 9.936 | McCollum | Zyon | 2022 | Sam Houston St | 6 | 2.1 | 199 | 9.45 | 12.00 | 15.10 | 8.58 |
| 6.691 | Witherspoon | Ahkello | 2017 | UConn | 6 | 2.6 | 198 | 7.61 | 3.25 | 6.82 | 4.79 |
*The ratings are based on a 1–10 rating scale, but a prospect can score over 10.0+ and less than 0.0
OVERALL RATING -- We merge the data from physical measurables, skill times/counts from the NFL Combine/Pro Days, with college performance data available on pass coverage/tackles, etc. and grade it compared to our database history of all college CBs, with a focus on which CBs went on to be good-great-elite in the NFL. We found characteristics/data points that the successful NFL CBs had in common in college, that most other CB prospects could not match/achieve.
Scoring with a rating over a 7.00+ in our system is where we start to take a CB prospect more seriously. Most of the future NFL successful college CBs scored 8.00+, and most of the NFL superior CBs pushed scores more in the 9.00+ levels...and future NFL busts will sneak in there from time to time. 10.00+ is where most of the elite NFL CBs tend to score in our system analysis.
COVERAGE -- A combination of on-field data/performance and physical profile data
SPEED -- Measurables from a perspective of straight-line speed, burst, etc.
AGILITY -- Measurables for lateral movements, quick cuts, body type, speed, etc. 
POWER -- A look at physical size, tackling productivity in college, other physical measurables. One of the side benefits/intentions here, is to see which CBs may be more of a model for a conversion to playing safety successfully in the NFL. Also denotes CBs who are more physical/will have higher tackle totals...over pure speed/coverage CBs.
2023 NFL Draft Outlook:
Brents is on the move up the draft boards after his time in Mobile at the Senior Bowl. He's moving into the top 75-100. I would not be surprised to see him in the late 1st-round of mocks before or right after the NFL Combine. In the end, I think he'll go between #20-40.
If I were an NFL GM, I have to do even deeper work to confirm that Brents may be a top 10 overall prospect. With the way tall/reach/speed rookie CBs Sauce Gardner and Tariq Woolen took the league by storm -- Brents is in line to be 'like' them, and that means not as high in the draft as Sauce, but not-gonna-miss-out-on-the-next-Tariq sentiment to get him strongly into the 2nd-round worse case.
NFL Outlook:  
If he's like Gardner-Woolen, then he should have the chance to be a day one starter…he's built to cover in today's freewheeling passing game in the NFL. Brents is gonna be a #2 CB starter quickly, at a minimum…and a #1 shutdown corner in short order as a ceiling.