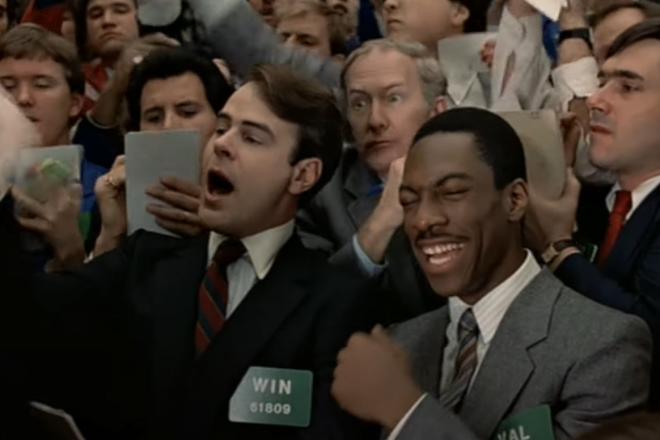 R.C. Fischer
Dynasty Rookie Draft
06 May 2023
A 12-part series, DRD mock drafting from each of the (typical) 12 draft spots to give an early idea the direction I'm heading early on in the post-NFL Draft process.  
Using the FantasyPros rookie draft tool, which isn't great but is useful for this exercise…and reflects a good amount of the mainstream thinking. We can argue their ADPs, etc., but they're close/within a margin of error on their top 30-40-50…close enough.
The rules are – I HAVE TO make the pick. In reality, I want to trade out of the first round except in places where I think I can safely get Anthony Richardson, if QB is a need/asset to take for my situation.  I only have two real 'missions' in this year's 'sad' DRD (not as juicy as last year's DRD) -- I want Anthony Richardson AND Dalton Kincaid. If I can't get them in the draft, I'll work on it this summer via trade…or in August preseason month hysteria, etc.
*Article picture is from the movie 'Trading Places' -- when the main characters had manipulated the orange juice futures market and were doing some old-school stock market selling shares in the pit...which is what I see in this year's DRD: SELL-SELL-SELL (the picks)!! Sell them to the frenetic lovers of 'picks'.
1.1 Bijan Robinson
1.2 Jaxon Smith-Njigba
1.3 Jordan Addison
1.4 C.J. Stroud
1.5 Jahmyr Gibbs
1.6 Quentin Johnston
1.7 Anthony Richardson
1.8 Zay Flowers
1.9 Bryce Young
1.10 Dalton Kincaid
1.11 Kendre Miller -- Well, the first back-half of the 1st-round where Richardson or Kincaid was not available. I reluctantly take Kendre Miller. I like him, don't get me wrong…but this is not an exciting use of my 1.11/1st-round pick.
In reality, I'd look to deal this pick if Richardson/Kincaid were suddenly or surprisingly both gone…when I expected/hoped at least one of them would be there. I'd try to fast trade my 1.11 + ____ minor prospect/player for _____ Rachaad, Pacheco…something to get out. Or my 1.11 + 2.11 for Rachaad, Pacheco type player. Maybe my 1.11 for someone else's 2024 #1…or just take Kendre and hope AK gets suspended.
1.12 Michael Mayer
---------------------------------------
2.1 Devon Achane
2.2 Jonathan Mingo
2.3 Zach Charbonnet
2.4 Marvin Mims
2.5 Josh Downs
2.6 Jalin Hyatt
2.7 Roschon Johnson
2.8 Jayden Reed
2.9 Sam LaPorta
2.10 Luke Musgrave
2.11 Chase Brown -- The RB remaining with talent PLUS in a situation where he can matter as the Samaje replacement but then is lurking in case the Bengals v. Mixon situation becomes contentious…as it has started to become.
I also would've considered LaPorta-Musgrave here if they didn't just go, if my TEs were weak and I didn't get Kincaid here.
2.12 Tyjae Spears
---------------------------------------
3.1 Nathaniel Dell
3.2 Will Levis
3.3 Tank Bigsby
3.4 Cedric Tillman
3.5 Israel Abanikanda
3.6 Rashee Rice
3.7 Zach Evans
3.8 Darnell Washington
3.9 Hendon Hooker
3.10 Michael Wilson
3.11 Luke Schoonmaker -- If you need some smart TE lottery tickets, you could use the DRD 2023 to try and get Kincaid, but if you miss (or even if you don't) you can take advantage of this great TE class and try to take LaPorta/Musgrave in the 2nd, and then Schoonmaker in the 3rd.
Schoonmaker's Combine and Pro Day is sailing somewhat under the radar.
3.12 Kayshon Boutte
---------------------------------------
4.1 Tyler Scott
4.2 Sean Tucker
4.3 Evan Hull
4.4 DeWayne McBride
4.5 Eric Gray
4.6 A.T. Perry
4.7 Kenny McIntosh
4.8 Tucker Kraft
4.9 Deuce Vaughn
4.10 Xavier Hutchinson
4.11 Charlie Jones -- I keep mentioning/thinking about how he might have fallen into a great spot…with Tyler Boyd possibly getting cut (if he doesn't take less money/restructure) and/or if the Tee Higgins contract extension gets ugly.
4.12 Will Mallory
---------------------------------------
5.1 C. Rodriguez
5.2 Puka Nacua
5.3 Parker Washington
5.4 Jake Haener
5.5 Mohamed Ibrahim
5.6 Brenton Strange
5.7 D. Thompson-Robinson
5.8 Dontayvion Wicks
5.9 Trey Palmer
5.10 Andrei Iosivas
5.11 Emanuel Wilson -- Sticking with taking off-the-grid guys in the 5th for this exercise. If this were a real DRD, and this was my current board -- I'd likely take Zack Kuntz as my gamble pick here. But, onto the radical prospect to highlight…
Wilson is the big Fort Valley State stud RB who was a UDFA signing by Denver. And think about that…Denver's #1 RB is Samaje Perine right now, if you assume Javonte will miss all preseason and likely into the regular season. You know who the next best RB on the Denver depth chart is? Tony Jones Jr.! I really think Wilson has a window of hope here…but I don't know if he can handle it/is ready, but I'd like to find out after scouting him in April (see full report on FFM).
5.12 Tre Tucker