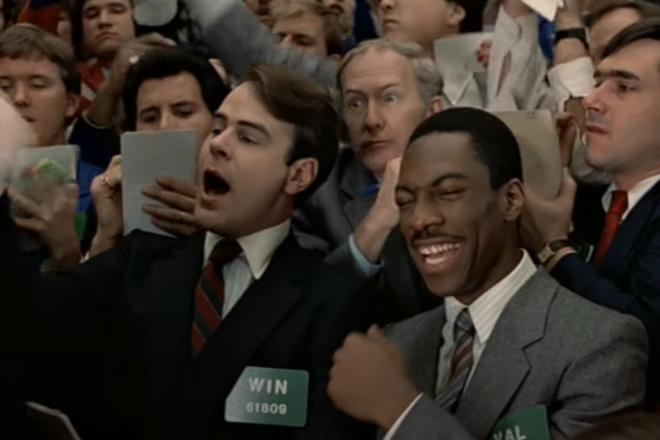 R.C. Fischer
Dynasty Rookie Draft
03 May 2023
A 12-part series, DRD mock drafting from each of the (typical) 12 draft spots to give an early idea the direction I'm heading early on in the post-NFL Draft process.  
Using the FantasyPros rookie draft tool, which isn't great but is useful for this exercise…and reflects a good amount of the mainstream thinking. We can argue their ADPs, etc., but they're close/within a margin of error on their top 30-40-50…close enough.
The rules are – I HAVE TO make the pick. In reality, I want to trade out of the first round except in places where I think I can safely get Anthony Richardson, if QB is a need/asset to take for my situation.  I only have two real 'missions' in this year's 'sad' DRD (not as juicy as last year's DRD) -- I want Anthony Richardson AND Dalton Kincaid. If I can't get them in the draft, I'll work on it this summer via trade…or in August preseason month hysteria, etc.
*Article picture is from the movie 'Trading Places' -- when the main characters had manipulated the orange juice futures market and were doing some old-school stock market selling shares in the pit...which is what I see in this year's DRD: SELL-SELL-SELL (the picks)!! Sell them to the frenetic lovers of 'picks'.
1.1 Bijan Robinson
1.2 Jaxon Smith-Njigba
1.3 Jahmyr Gibbs
1.4 Jordan Addison
1.5 Anthony Richardson -- No reason to get cute now that we're at 5. I wanted ARich and Kincaid, and no other player here is gonna create a real hot trade market…so, I got my guy…and might get for the next 7 installments too…or I'm gonna try.
1.6 Quentin Johnston
1.7 C.J. Stroud
1.8 Zay Flowers
1.9 Zach Charbonnet
1.10 Josh Downs
1.11 Tyjae Spears
1.12 Devon Achane
---------------------------------------
2.1 Bryce Young
2.2 Michael Mayer
2.3 Zach Evans
2.4 Kendre Miller
2.5 Dalton Kincaid -- I wanna say 'no way' Kincaid lasts this long in a DRD, but it's funny…people LOVE RBs, especially rookie RBs and they love Bryce Young…and they're convinced Mayer is actually better than Kincaid. So…maybe? I'll take it -- the perfect draft here with ARich and Kincaid.
2.6 Israel Abanikanda
2.7 Will Levis
2.8 Sam LaPorta
2.9 Jalin Hyatt
2.10 Sean Tucker
2.11 Tank Bigsby
2.12 Roschon Johnson
---------------------------------------
3.1 Marvin Mims
3.2 Kayshon Boutte
3.3 Cedric Tillman
3.4 Evan Hull
3.5 Chase Brown -- My usual #3, and I'm not deviating because there is nothing worth deviating for at this point.
3.6 Hendon Hooker
3.7 Darnell Washington
3.8 Jonathan Mingo
3.9 Rashee Rice
3.10 Jayden Reed
3.11 DeWayne McBride
---------------------------------------
3.12 Xavier Hutchinson
4.1 Luke Musgrave
4.2 C. Rodriguez
4.3 A.T. Perry
4.4 Keaton Mitchell
4.5 Michael Wilson -- My usual #4…just waiting for that Hopkins trade…
4.6 Deuce Vaughn
4.7 Tyler Scott
4.8 Eric Gray
4.9 Parker Washington
4.10 Trey Palmer
4.11 Clayton Tune
4.12 Nathaniel Dell
---------------------------------------
5.1 Puka Nacua
5.2 Mohamed Ibrahim
5.3 Rakim Jarrett
5.4 Xazavian Valladay
5.5 Charlie Jones -- Going to mix it up on my 5th-round takes the next few installments of this mock series. I highlight Charlie Jones here because Cincy took two WRs in this draft, while Tee Higgins is unhappy contractually AND Tyler Boyd could be cut and generate $9M in salary cap. I think Boyd needs to accept less money or he's out to give that money to Tee, and then a spot is open for a quasi-Cooper Kupp (or Kyle Phillips) type guy like Charlie Jones.
5.6 Kenny McIntosh
5.7 Zack Kuntz
5.8 Tucker Kraft
5.9 Andrei Iosivas
5.10 D. Thompson-Robinson
5.11 Dontayvion Wicks
5.12 Tanner McKee