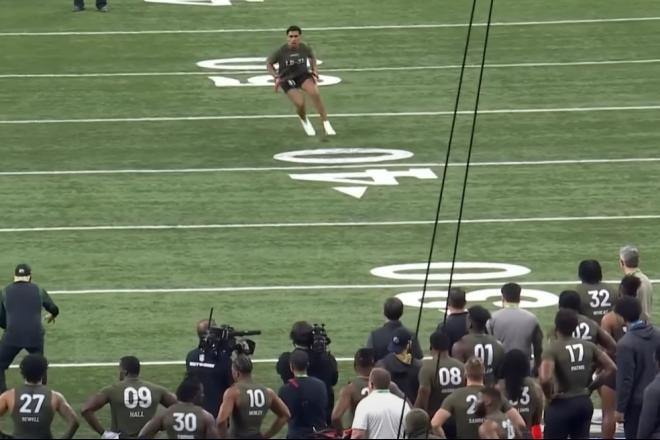 R.C. Fischer
Dynasty Rookie Draft
02 April 2023
Other Positions: QB | RB | WR | TE | IDP
Intro: This is part of my multi-report series on the process of putting together the candidates for the top 12/1st-round prospects for the 2023 Dynasty Rookie Draft (DRD), pre-NFL Draft. Obviously, where they ultimately land changes things -- but I want to show where I am at in the process with the intent on trying to determine/question 'just how valuable are these 1st-round DRD picks this year?' before the actual NFL Draft happens.
I go position-by-position, to talk about the group as a whole and identify the candidates worthy to be considered for the top 12, and why. Then I rank/mock draft MY top 12 candidates for 2023, as we know it now, and then rank them in a special mock draft with the 2022 rookies as we know those 2022 guys today/right now -- to try and compare 2022 with 2023.
And to be clear -- this is MY top 12…not caring much about what the hive mind consensus thinks. I'm evaluating how good these top 3-5-10-12 prospects are and whether to pursue them or get more 2nd-round picks to acquire them at a discount and trade our 1st-round picks for real/existing players, etc.
This is my my final top 12, the sixth part of this series.
In the seventh part of the series, I compare this year's top 12 with 2022's top 12 by merging the lists and ranking them together.
The IDPs…
Are there any IDPs to even think about as top 12 DRD prospects? I mean, in my mind, you have to be an unquestioned elite prospect to be considered that highly for a DRD top 12…and not only elite but at a high impact position/situation -- like a tackle-machine ILB, or possibly a tackle-machine safety (long shot), or a great stud pass rusher who is going to be classified as a 'DL' and not as an 'LB'…for those who play with DL-LB-DB destinations to fill.
This draft is LOADED with great CBs…but the kind that are mostly weak for FF because they make their living off PDs and have low tackle counts, and then if they are REALLY good no one is throwing their way and they don't even get PDs or tackle opps to even matter for IDP.
So…are there even any IDPs worth talking about?
At DL…
Jalen Carter…no. Never should've been rated so highly, and now with all the garbage off the field…no way.
Tyree Wilson…nothing special.
Nolan Smith is fast, but you have to actually tackle and sack people for IDP numbers…and he'll likely be an OLB anyway.
The two that make me pause and think are: Calijah Kancey as a 'next Aaron Donald' hope and my personal affinity for Myles Murphy as an elite EDGE rusher prospect. Kancey is so unique (in this class…and it's been a while for a 'next Donald' prospect to come around, that I want to at least consider him…but as a DT it's so tough to make IDP numbers.
I love Murphy, but I hate EDGE rushers in general…and don't feel the need to chase them early in IDP/FF unless they're freaks of nature and I'm not sure how freaky Murphy is.
So, Murphy out…but Kancey, I'm going to put 'in' just to see how I feel about his game-built-for-IDP as far as a possible top 12 DRD.
At LB…
Drew Sanders is NOT the next Luke Kuechly, as I was hoping he might be a chance at it (see my full scouting report).
Trenton Simpson is more OLB/SAF and not a tackle-machine.
Jack Campbell might be the top, true inside tackling guy linebacker but I'm not moved enough to put him on a possible top 12 DRD cut.
Will Anderson will very likely be classified as an OLB, and he's a tad overrated anyway...not on my list. 
No linebackers considered.
At DB…
All CBs are out for the reasons I already mentioned…there are some great CBs in this draft for the NFL, but not great for IDP purposes.
Any safeties special enough to consider? No. This is a weak safety class.
We have one IDP making the cut…and it's a stretch, Calijah Kancey. So, now we have 22 prospects 'on the list' for me to create the pre-NFL Draft top 12. Kancey joins…
QBs: Stroud-Levis-Richardson
TEs: Kincaid-Washington-Musgrave-Kuntz
WRs: Flowers-Hyatt-Mingo-Smith-Njigba and the following RBs…
Israel Abanikanda (late add, but losing faith the more I learn about that possible hoax Pro Day)
Bijan Robinson
Roschon Johnson
Chase Brown
Zach Charbonnet
Jahmyr Gibbs
Deneric Prince
Chris Rodriquez
Tyjae Spears
Sean Tucker
IDP: Kancey
The top 12 will be announced this week (4/3 week) and then we'll do a 2023 + 2022 rookies (as we know them now) mock as well.