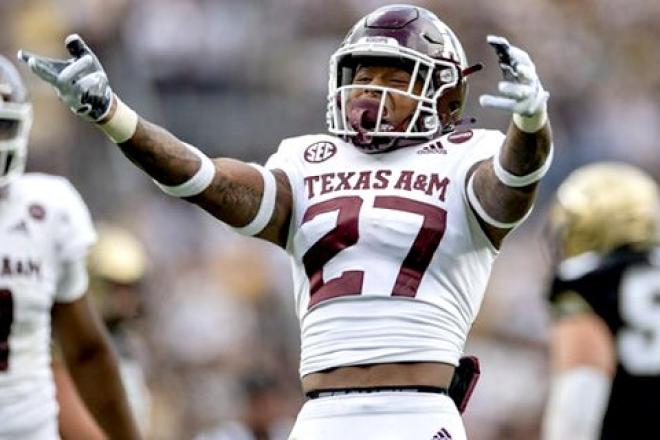 R.C. Fischer
Devy
30 July 2022
2022 Devy Preview Scouting Series (for 2023+): SAF Antonio Johnson, Texas A&M
*Devy (for 2023 prospects) Preview scouting = scouting 1-2+ key game tapes, looking at output trends/basic analytics, and some minor background research. Not a full blown, deep dive scouting report. We'll continue to scout these players ahead of the college all-star games, the Combine and post-Combine for a full reporting ahead of their NFL Draft.
I (RC) conducted my scouting as Ross Jacobs did his, we then exchanged our reports without knowing what the other was thinking/seeing. Then we briefly discussed our scouting of this player in an informal text chat (posted below the two scouting takes). *Please forgive typos on the chat transcript.
SAF Antonio Johnson, Texas A&M (Scouting Grade: D+) = by R.C. Fischer
6'2"/200, 2021: 79 tackles, 8.5 TFL, 1.0 sacks, 1 INT, 5 PD, 0 FF (12g), Projected: 4.5 40-time, 7.0+ 3-cone
A very generic, poor tackling college safety. All his highlight tape tackles are crap…him wrangling and hanging on still-moving ballcarriers to try and drag them to the ground. I hate safeties that are poor/soft chase and grab tacklers, not sound hitters.
He's OK in coverage. He has an NFL body but not a high level one, more fringe NFL one and a low importance spot on NFL rosters/budgets. I'd rather take a solid/mediocre big corner and make them into a safety ahead of what I see from Antonio Johnson, on my first go round.
COMP? = Tre'von Moehrig with half the cover skills.
-----------------------------------
S Antonio Johnson, Texas A&M (Scouting Preview Grade: B) -- Ross Jacobs
6'2"/200, 2021: 79 tackles, 8.5 tfl, 1 sack, 1 INT, 5 pd, 1 ff, Projected: 4.45 40-time, 6.9 3-cone
Well-proportioned safety with long arms and excellent movement skills. He's fast, fluid, and an excellent tackler. Plays a big nickel role covering the slot and is very difficult to get past on screen passes. Tackles like a linebacker while still playing the pass most downs. I'd like to see him get his hands on the ball a little more. Tends to be just a hair late at times but if he can improve his processing time, he could be a turnover machine. Looks really solid but could be a weapon on defense if he keeps improving. Possible 'A' next year.
NFL Comp? = Young Minkah Fitzpatrick?
RC: We see this one different
Ross: Apparently
RC: Did we watch the same player?
Ross: I'll give you that I thought he wasn't completely put together yet. It's mostly his movement skills I like. I thought he was the best athlete of the safeties we watched
RC: I remember this watch through/preview (did about 2 weeks ago). My memory watching his tape was...
RC: https://youtu.be/HZHwxIL9oYo
Ross: I didn't watch highlight tape so can't speak on that. The games I watched though he was doing a nice job
RC: I hate defenders who tackle high and just try to wrangle guys to the ground...and he was that to me. I think it's a flaw on a number of fronts...but it can be corrected/changed, etc.
Ross: Yeah, we had this same issue on Kyle Hamilton last year
Ross: I don't really care that much
RC: Is he ranked ahead of Battle?
Ross: He's the top ranked safety for most
RC: Wow
RC: But he has good size and can grow into the position...so, I'm not shutting the door -- just didn't like what I saw in the 1-2 games of preview I watched.
Ross: Putting on some muscle and getting stronger would really help him. But he can do that easily
RC: Yeah, there's hope here for improvement in 2022
RC: He may tackle like a puss because he's too thin-framed, but if he muscle masses up he may be more aggressive/confident.
Ross: He's a former high school receiver so that probably contributes to it
RC: Makes sense...he plays SAF like a WR, is a good description of what I saw
Ross: I can agree with that. Maybe that's what I like about him. He's a little different from a prototypical safety style but I think that has advantages too