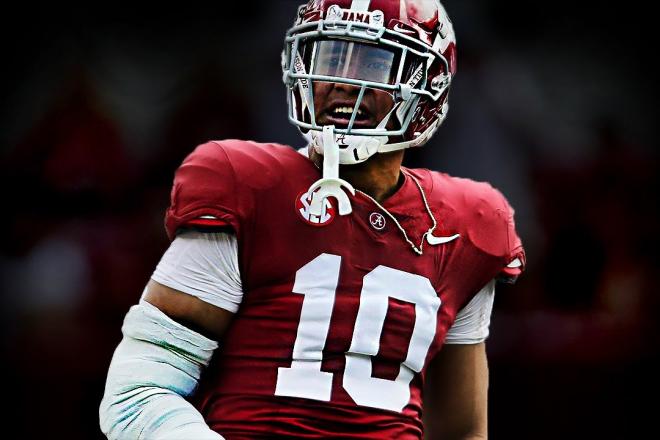 R.C. Fischer
Devy
16 July 2022
2022 Devy Preview Scouting Series (for 2023+): ILB Henry To'oto'o, Alabama
*Devy (for 2023 prospects) Preview scouting = scouting 1-2+ key game tapes, looking at output trends/basic analytics, and some minor background research. Not a full blown, deep dive scouting report. We'll continue to scout these players ahead of the college all-star games, the Combine and post-Combine for a full reporting ahead of their NFL Draft.
I (RC) conducted my scouting as Ross Jacobs did his, we then exchanged our reports without knowing what the other was thinking/seeing. Then we briefly discussed our scouting of this player in an informal text chat (posted below the two scouting takes). *Please forgive typos on the chat transcript.
ILB Henry To'oto'o, Alabama (Scouting Grade: D) = by R.C. Fischer
6'1"/225, 2021: 111 tackles, 7.5 TFLs, 4.0 sacks, 1 PDs, 0 FF (15 games). Projected: 4.6+ 40-time, 7.25+ 3-cone
I already don't like this prospect because I don't want to have to type "To'oto'o" in my future or remember how to spell it…or say it. Not sure that I'll have to worry much about it based on my preview. I watched some of his Tennessee and Alabama work…just not that impressed. Moves well. Tries hard, but never seems to be play making or disruptive…he's just shooting gaps and hoping he's right. Solid college LB, not exciting of a pro prospect…looks too small too. He might be more 6'0"/225.
COMP? = Akeem Gaither-Davis
-----------------------------
LB Henry To'oto'o, Alabama (Scouting Preview Grade: C-/D+) --Ross Jacobs
6'2"/225, 2021: 111 tackles, 7.5 TFL, 4 sacks, 0 INT, 1 pd, 0 FF (15g), Projected: 4.55 40-time, 7.1 3-cone
To'oto'o is ok, nothing special that I can see. He's fairly athletic, has good recognition and technique, fills his gaps, is a reliable tackler...he's fine.
What I don't see is anything amazing. He's not super-fast or quick at avoiding blockers, he's not that big (definitely an outside backer not inside in the NFL), he's physical but not a thumper. There's just nothing that sets him apart from any other average linebacker out there. When you take into consideration that he's protected by an all-star team around him it gets even sketchier.
I think To'oto'o can play in the NFL, probably have a long career as a role player/backup since he'll get so many more chances because "Alabama." I just don't think he's going to be a star or even an above average starter long term.
NFL Comp ? = Lesser Christian Kirksey
RC: I'm just gonna call him Toyota for saving my fingers and brain's sake.
Ross: I feel like there's a Henry Ford joke there somewhere...
RC: Toyota is maybe the worst player I've scouted off the Devy list so far. More than 75% of the way through.
RC: Henry Ford the Nazi?
RC: I mean, American icon of the car industry...?
Ross: I don't know that he's that bad but he's not great. Very generic. I didn't watch him at Tennessee but I suspect he's being protected at Alabama
RC: I hated Toyota's tape
Ross: He's more of a gang tackler than a solo disruption guy
RC: For sure...except he rarely gets to the action as it is.
Ross: Not great in coverage even though he's smaller. He just kind of drifts and goes to the ball but always a step late
RC: 'The Drifter'...by Toyota
Ross: Part of that might just be Anderson wrecking every other play by himself. I seriously enjoy watching Bama tape now just to see what Anderson is going to do next
RC: All Toyota does is drift around doing nothing but watching
Ross: Need for Some More Speed
RC: 'Slow and Futile', starring Henry Toyota and Vin Diesel
Ross: To'oto'o Drift
Ross: Guess the full title would be: Need for Speed: To'oto'o Drift
RC: I'm gonna yodel my way on to this being over...
‍