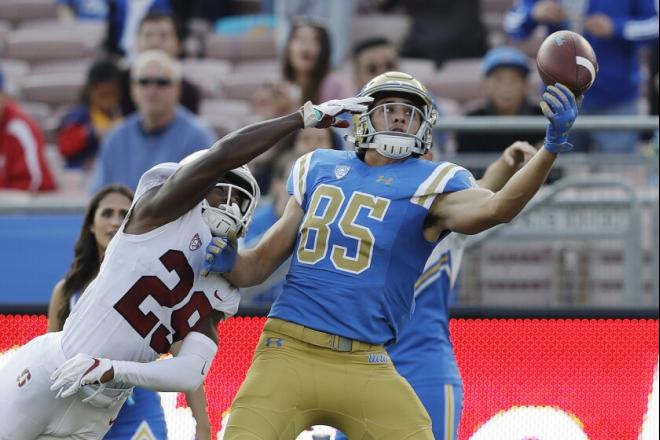 R.C. Fischer
Total Football Advisor
11 April 2022
NFL Draft 2022 Scouting Report: TE Greg Dulcich, UCLA
*Our TE grades can and will change as more information comes in from Pro Day workouts, leaked Wonderlic test results, etc. We will update ratings as new info becomes available.
**Our TE formulas had some slight changes in the offseason—an adjustment to better identify and value TE prospects that are smaller physically and are primed for the era ahead...the era of Jordan Reed and Delanie Walker-type TEs. Our historical grades will have changed some on various prospects as well, to show their grades by comparison. 
I walked into this scouting study with a 'meh' opinion on Greg Dulcich. He wasn't the worst TE prospect I'd seen; he wasn't the best…he looked like a middle of the pack guy at first preview. The Senior Bowl analysts went nuts for him, but I felt like they only 'subliminally' liked him because he looked like recent Super Bowl TE Tyler Higbee (tall, moved well, long hair). A 'looks like' bias, of sorts.
At the Senior Bowl, I shifted my thoughts a bit higher on Dulcich – from 'just another guy' to taking note that he at least stood out some among the Senior Bowl pack. He seemed to have more energy, make a few more plays…in an event that's tough for a tight end to stick out…Dulcich at least made me leave with a more positive vibe on him, less quick to dismiss.
When I saw his Combine workout, I was not ignited to like him more. He had a solid Combine, no red flag moments/measurements…but nothing amazing. Again, he was OK. However, I kept seeing him climb the TE prospect rankings and I didn't get it. A lot of 'me too movement' on people liking him without having a real reason…they were just reflecting the herd momentum on Dulcich because Senior Bowl analysts said some good things.
So, I went into this study more of a 'neutral' mindset on Dulcich…with maybe a twinge of 'negative'. However, I left with more positive vibes on Dulcich. He rated solidly in our computer scouting models, but also the tape grew on me. The more games I watched, the more I was noting good things but thinking (at first) they were just a blip – but then more and more it was positive items way outweighing the negatives.
I still don't think he's the greatest TE prospect, but he is good…maybe really good with some more work to his body in the NFL.
On my scouting notes there are a lot of 'good' notes on Dulcich…not a lot of 'great' or 'bad'…just a lot of proverbial 'boxes checked'.  
His best attribute is his subtle goodness, perhaps future very-goodness(?) in the passing game – he has very good hands with a big catch radius (80.75" wingspan). He's a reliable target. He consistently catches the passes he's supposed, but also hauls in/stabs/grabs errant throws with ease as well. Plus, he runs subtly solid routes. A master of the stop route…finding holes in coverage, launching off the snap, but then dead stopping like 5-yards into it and turning and presenting as an option to the QB. His timing on those plays were a staple at UCLA, but he also finds seams over the middle and beat coverage with some speed (he has good long speed for a TE) – and he can catch passes on the move or on a simple stop route, knowing the hit is coming from behind. Just a very solid passing game option, for sure.
Mix the 'good receiver' scouting with above-average athleticism (for a TE) and you have a decent TE weapon/prospect to work with…like, dare I say, Tyler Higbee. Dulcich is not a Darren Waller, Kyle Pitts, etc., but in 'his lane' he's OK, he's solid.
My only areas of concern are two-fold, but fixable…
1) He's got a bit of a thinner frame, but he could be transformed in a summer in the NFL. If he adds muscle and gets to 245-250 pounds and keeps his athleticism – you really got a prototypical sized, movement TE prospect.
2) His blocking is hit & miss. I see him engage some blocks well, and other times it's him trying to use his arms to push, weakly, on a defender. In the NFL, they're all coming for him…but I think he has the size improvement and the willingness/smarts to make himself a plausible blocker.
In the end, you got a solid TE prospect here…one with upside…not a future Hall-of-Famer upside, just good/respectable, solid career…and, perhaps, if he lands 'right' he could catch a Travis Kelce wave with some hot shot QB in the right offense.
You gotta love his off-field story, background check…
- a 3-star recruit, walk-on to UCLA…who earned his way to a scholarship.
- PAC-12 Honor Roll student
- Friendly, personable, well spoken…a good 'face' for interviews and representing an organization.
An NFL team is getting a really solid, slight upside NFL TE prospect here.
Greg Dulcich, Through the Lens of Our TE Scouting Algorithm:
 -- All PAC-12 tight end 2021
 -- 4.0 catches, 71.5 yards, 0.62 TDs per game his last 13 games…higher end TE performance numbers.
 -- Four 100+ yards in his career
 -- #1 in the PAC-12 in yards per catch 2020, #2 in 2021
2022 NFL Combine Measurables…
6'4"/242
9.8" hands, 33.4" arms
4.69 40-time, 2.67 20-yard, 1.62 10-yard
4.37 shuttle, 7.05 three-cone
16 bench reps, 34" vertical, 10'2" broad
The Historical TE Prospects to Whom Greg Dulcich Most Compares Within Our System:
I don't love any of these computer model comparisons. I get the Garrett Graham comp, but Dulcich seems like a taller, better version…and it's hard comparing TEs of the past to the current guys because the current guys are so much more involved in the passing game and so much better trained for the passing game for years and years. Garrett Graham was ahead of his time, in a sense back in the day…a quality receiver for a league that wanted big, bulky blockers, not primary pass catchers.
Tyler Higbee cannot be a true computer comp here because Higbee was coming off an ACL tear and didn't do any workouts to compare him to Dulcich, but they feel similar…but Higbee is a much bigger TE, early two inches taller and 7+ pounds thicker going in.
| | | | | | | | | | | | |
| --- | --- | --- | --- | --- | --- | --- | --- | --- | --- | --- | --- |
| TE Grade | TE-Reed | Last | First | Yr | College | H | H | W | Spd-Agil Metric | Strgth Blxing Metric | Hands Metric |
| 7.501 | 6.20 | Dulcich | Greg | 2022 | UCLA | 6 | 4.0 | 243 | 6.75 | 6.12 | 8.97 |
| 7.143 | 7.54 | Graham | Garrett | 2010 | Wisconsin | 6 | 3.1 | 243 | 5.18 | 5.54 | 9.43 |
| 4.589 | 3.67 | Ingram | Cornelius | 2009 | Florida | 6 | 3.7 | 245 | 5.44 | 5.88 | 7.38 |
| 4.398 | 5.73 | Gray | Noah | 2021 | Duke | 6 | 3.0 | 240 | 6.57 | 4.21 | 6.79 |
| 5.320 | 3.59 | Hill | Josh | 2013 | Idaho St | 6 | 5.0 | 246 | 5.17 | 5.20 | 6.75 |
| 5.994 | 7.65 | Sterling | Neal | 2015 | Monmouth | 6 | 3.3 | 238 | 4.50 | 3.31 | 7.80 |
*A score of 7.0+ is where we start to take a TE prospect more seriously. A score of 8.50+ is where we see a stronger correlation of TEs going on to become NFL good/great/elite. A score of 10.00+ is more rarefied air in our system and indicates a greater probability of becoming an elite NFL TE.
All of the TE ratings are based on a 0–10 scale, but a player can score negative, or above a 10.0 in certain instances.
**The 'TE-Reed' score is in honor of Jordan Reed's 2015 season…looking at TEs in a different manner—the smaller, speedy receiving threats.
"Speed-Agility Metric" = A combination of unique metrics surrounding speed, agility, physical size, mixed with some on-field performance metrics. High scorers here project to have a better YAC and show characteristics to be used as deep threats/create separation.
"Power-Strength Metric" = A combination of unique metrics surrounding physical size profiling, bench press strength, etc.  High scorers here project to be more physical, better blockers, and less injury-prone.
"Hands Metric" = A combination of unique metrics surrounding on-field performance in college, considering the strength of opponents played. Furthermore, this data considers some physical profiling for hand size, etc. High scorers here have a better track record of college statistical performance, and project the combination of data for receiving success at the next level.
2022 NFL Draft Outlook:
Dulcich has seemed to settle in as the Trey McBride consolation prize TE prospect, rarely/never #1 ranked among the TEs…but #2-4 behind McBride. I think Dulcich is likely going off as the 2nd TE off the board after McBride on day two of the draft…because Isaiah Likely's Pro Day was a disaster and Jeremy Ruckert is a sucker's bet/OSU TE hype, an old-school coaching love who will likely fall in the draft some. They should all be behind Jelani Woods, but that's another conversation.
If I were an NFL GM, and I was desperate for a TE in this draft…Dulcich is on my list. He doesn't make my heart leap with joy (that's Jelani), but I could deal with Dulcich as my TE pick if forced. I could make it work. In reality, I'd 'pass' on his draft price and take Woods ahead/instead…but, in lieu of Jelani Woods not available, for some reason Dulcich would be on my list of acceptable TE options from this draft.
NFL Outlook:   
If Dulcich lands in a good spot/with a good offense where there's a quick path to playing time…and he shores his body/frame up a little more for the higher level of play…Dulcich will probably be a respected, solidly producing NFL TE in 2-3 season, after a rookie season learning the ropes.
Perhaps, a Pro Bowl TE someday…but whether he is or isn't a Pro Bowl'er, he'll be considered a solid, respected hand.