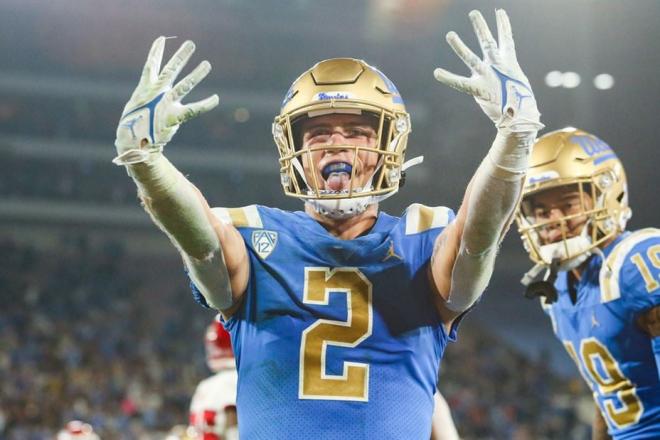 R.C. Fischer
Total Football Advisor
01 April 2022
NFL Draft 2022 Scouting Report: WR Kyle Philips, UCLA
*WR grades can and will change as more information comes in from Pro Day workouts, Wonderlic test results leaked, etc. We will update ratings as new info becomes available.
*WR-B stands for "Big-WR," a classification we use to separate the more physical, downfield/over-the-top, heavy-red-zone-threat-type WRs. Our WR-S/"Small-WRs" are profiled by our computer more as slot and/or possession-type WRs who are typically less physical and rely more on speed/agility to operate underneath the defense and/or use big speed to get open deep...they are not used as weapons in the red zone as much. 
This is not a complicated scouting report.
Many football people say Kyle Philips is like a lot of the infamous little slot/underneath assassin WRs we're all familiar with like Wes Welker, Julian Edelman, Braxton Berrios, Hunter Renfrow, etc. Well, guess what? Philips is just that…exactly like that.
I guess the first question then is – how good is he among 'those' types of guys? He's pretty good. His profile pushes him past most of the names that would come to your mind. Philips looks like and plays like the prototypical slot/underneath warrior, but he has some advantages over the typical profile for this style…
1) Philips rose to prominence in the modern passing era, so he's WELL schooled in the style. A four-star high school recruit…the first recruit Chip Kelly signed when he took over UCLA a few years ago. 
5+ years ago the underneath role was not as prominent or desired, didn't have a real place in the NFL beyond New England/with Brady. Now, that's changing at the high school and college, and NFL level.
2) Philips tested with a mediocre 40-time (4.58) but his 1.49 10-yard is one of the best ever recorded for his style/comp of WR.
3) Philips has that 'good' speed but 'great' agility ability…a 4.09 shuttle, and 6.75 three-cone at his Pro Day are high-end like many of his top predecessors.
Watching Philips on tape, he has all the classic Edelman-Renfrow signals/visuals. He's an assassin just running 2-3 yards, staring the DB in the face, then doing a double or triple shimmy and breaking left or right and breaking the ankles of most CBs trying to cover him…the shimmy springs him loose for a quick strike from his QB. Julian Edelman, Wes Welker, etc., rode that quick-get-off ability to Hall of Fame careers.
The key to this underneath slot style is having that skillset and pairing it with a HOF worthy QB. At UCLA, Philips worked with a runner-QB and his output suffered some because of it…although the output was still pretty nice (59-739-10 in 2021, in 11 games). As you would expect, the UCLA QB sought Philips in times of crisis…he was 'the guy' at 5'11"/181. Only the QB ran the ball about as many times as he completed passes.
No one is ever going to see Philips as a top WR name in this draft class, though he does get respect as a top 150 NFL Draft prospect for most rating services…but he's never in the debate as a 1st-rounder, etc. Philips is not a real franchise WR, per se, but in his 'style'…in that Welker/Edelman/Renfrow style – Kyle Philips is the best in this draft class, hands down. To most NFL teams this slot/underneath skill is useless because they don't use it in their offense well or at all, but for the ones who do – Philips is likely the best WR in the class in that niche. He's going to be a steal in this draft because he is 'best in class' at his thing.
Off the field, no issues. Clean character. Smart, affable young man. A New England Patriot through-and-through.
Kyle Philips, Through the Lens of Our WR Scouting Algorithm:
 -- Returned two punts for TDs in 26 career returns at UCLA.
 -- Led the PAC-12 in TD catches in 2021 (10).
 -- Four two TD games in his final 9 college games.
 -- Utah, Oregon, and USC were his toughest opponents the past three seasons, and he faced those teams 7 times in his career. His average output against them…
8.0 rec., 86.0 yards, 0.26 TDs per game
Never had a game with fewer than 6 catches or 63 yards in those 7 games.
Also ran the ball 3 times for 43 yards (14.3 ypc) in those games.
2022 NFL Combine/Pro Day Measurables:
5'11.2"/181
8.6" hands, 29.6" arms
4.48 40-time, 2.57 20-yard, 1.49 10-yard
33.5" vertical, 10'4" broad
4.09 shuttle, 6.75 three-cone (Pro Day)
The Historical WR Prospects to Whom Kyle Philips Most Compares Within Our System:
A list as you would expect.
I have not mentioned Cooper Kupp before, on purpose, because it's an interesting, but maybe flawed comp – I see Kupp-style in Philips' tape and they have very similar measurables, however Kupp is 2+ inches taller and 15 pounds bigger, so Philips is not likely to don the same role as Kupp in the NFL…but, who knows? Philips is more of a Hunter Renfrow and Julian Edelman mashup style but a much better athlete than Renfrow.  
| | | | | | | | | | | |
| --- | --- | --- | --- | --- | --- | --- | --- | --- | --- | --- |
| WR Score | Draft Yr | Last | First | College | H | H | W | Power Strngth Metric | Speed Agility Metric | Hands Metric |
| 8.003 | 2022 | Philips |  Kyle | UCLA | 5 | 11.2 | 189 | 5.89 | 8.44 | 9.13 |
| 5.313 | 2018 | Berrios | Braxton | Miami, Fla | 5 | 8.5 | 184 | 5.93 | 7.89 | 7.72 |
| 5.972 | 2017 | Switzer | Ryan | UNC | 5 | 8.4 | 181 | 4.44 | 8.00 | 7.82 |
| 3.159 | 2019 | Renfrow | Hunter | Clemson | 5 | 10.2 | 184 | 3.75 | 5.97 | 8.12 |
| 8.625 | 2017 | Kupp | Cooper | E. Washington | 6 | 1.5 | 204 | 7.08 | 5.19 | 11.03 |
| 8.345 | 2009 | Edelman | Julian | Kent State | 5 | 10.3 | 195 | 8.56 | 10.80 | 8.38 |
| 7.629 | 2020 | Hinton | Kendall | Wake Forest | 5 | 10.3 | 193 | 8.18 | 7.62 | 8.47 |
| 5.080 | 2016 | Erickson | Alex | Wisconsin | 5 | 11.9 | 195 | 7.45 | 4.88 | 7.49 |
*A score of 7.0+ is where we start to take a Small-WR prospect more seriously. A score of 8.50+ is where we see a stronger correlation of a Small-WR going on to become NFL good/great/elite. A score of 10.00+ is more rarefied air in our system and indicates a greater probability of becoming an elite NFL Small-WR.
All of the WR ratings are based on a 0–10 scale, but a player can score negative, or above a 10.0 in certain instances.
Overall WR score = A combination of several on-field performance measures, including refinement for strength of opponents faced. Mixed with all the physical measurement metrics, rated historically in our database.
"Power-Strength" = A combination of unique metrics surrounding physical-size profiling, bench press strength, etc.  High scorers here project to be more physical, better blockers, and less injury-prone.
"Speed-Agility" = A combination of unique metrics surrounding speed, agility, physical size, mixed with some on-field performance metrics. High scorers here project to have a better YAC and show characteristics to be used as deep threats/create separation.
"Hands" = A combination of unique metrics surrounding on-field performance in college, considering the strength of opponents played. Furthermore, this data considers some physical profiling for hand size, etc. High scorers here have a better track record of college statistical performance, and overall this projects the combination of performance and physical data for the next level.
2022 NFL Draft Outlook:
I would hope Philips makes it in the top 100/day two of the draft, but I would guess he might fall to the 4th-round/day three. He's right on the cusp.
If I were an NFL GM, and my offense featured this style of receiver in my offense and I had the QB for it…I'd think about Philips top 100 – he's the 'best in class' for this style in the draft, so if you want it, you gotta go get it.
NFL Outlook:   
If he lands with a QB like Aaron Rodgers or Justin Herbert or Josh Allen…he'll be an output star in short order. A BFF for his QB.
If he lands with Baltimore (Lamar) or with someone like Jameis Winston or Justin Fields or Malik Willis…he's in trouble of being lost/forgotten initially.