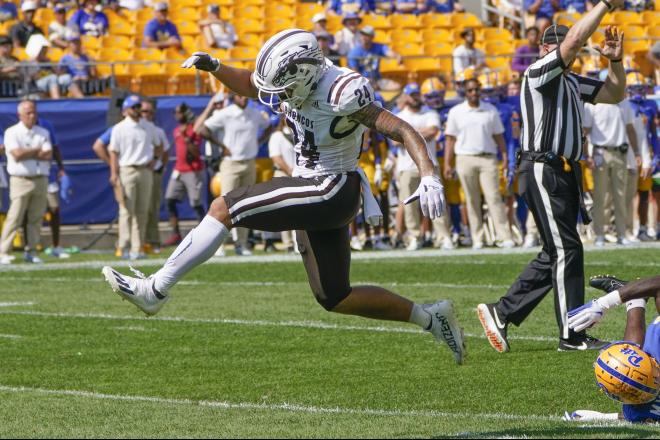 Ross Jacobs
Total Football Advisor
13 March 2022
2022 NFL Draft Scouting Report: Skyy Moore, W. Michigan
-- by Ross Jacobs 
Moore was mostly an afterthought among the top 2022 receivers until the combine where he ran a 4.41 and suddenly jumped into being a 2nd or 3rd round prospect for many people. He was highly productive at Western Michigan, a school that has sent Corey Davis and D'Wayne Eskridge to the league in recent years. Could Moore be the next small school star?
After studying him my first thought is...he's not bad. He can hang in the league I'm sure, but I think it's unlikely he turns into a star in the NFL. Let's walk through his positives and then I'll present my case against him.
Moore was a highly productive 3-year player at Western Michigan. He contributed right away as a true freshman in 2019 putting up a solid 51-802-3 line while Eskridge was banged up. In 2020 the team only played 6 games and Moore took a backseat while Eskridge was breaking out as a deep threat homerun hitter.
After Eskridge was drafted in 2021, Moore stepped up and became "the guy" for Western Michigan. The passing game ran through him and he contributed around 40% of all the receiving production for the team.
Moore clearly has NFL athleticism on tape. His straight line speed is good enough for a small guy, but I wouldn't call him a burner. He's not a deep threat guy, more of a short/mid pitch and catch option. He's tough over the middle and will snag passes with his huge hands (10.25" the largest at the combine despite standing only 5'10").
He has a clean release off the line, especially against press coverage. However, while his routes are OK, he could stand to be a little more crisp in his breaks. He also tends to coast a little bit instead of breaking sharply and accelerating to create separation. The biggest thing I notice on tape is that although he's obviously pretty fast, he doesn't use his speed the best and doesn't create as much space as you would expect.
That may sound a little negative but I just want to point out that he wasn't destroying his competition with raw athleticism which is the impression I got from the media hyping him up. I wouldn't call him a technician either, but he's more of a reliable underneath option than a downfield playmaker.
2022 NFL Combine Measurables:
5'10"/195, 10.25" hands, 31" arms
4.41 40-time, 4.32 shuttle, 7.15 three-cone
34.5" vertical, 10'5" broad jump
I've seen some analysts hyping him up as an Odell Beckham clone. Here are OBJ's measurables:
5'11"/198, 10" hands, 32.75" arms
4.43 40-time, 3.94 shuttle, 6.69 three-cone
38.5" vertical, 10'2" broad jump
OBJ is a lot more explosive in his lower body than Moore and much better at changing directions/cutting. Here's two better physical comps that provide more context, his college teammate Eskridge and my comp for him Sterling Shepard.
D'Wayne Eskridge:
5'9"/190, 9" hands, 30" arms
4.40 40-time, 4.27 shuttle, 6.95 three-cone
35" vertical, 10'4" broad jump
Sterling Shepard:
5'10"/194, 9.75" hands, 30.5" arms
4.48 40-time, 4.35 shuttle, 7.00 three-cone
41" vertical, 10'3" broad jump
Moore is much closer to these two guys, although he plays a different style from Eskridge and is much more closely aligned with Shepard. My point is that nobody considers either of those guys an athletic marvel. The comparisons to OBJ are way off base.
FFM Computer Comps:
| | | | | | | | | | | |
| --- | --- | --- | --- | --- | --- | --- | --- | --- | --- | --- |
| WR Score | Draft Yr | Last | First | College | H | H | W | Power Strength Metric | Speed Agility Metric | "Hands" Metric |
| 7.455 | 2022 | Moore | Skyy | W. Michigan | 5 | 9.5 | 195 | 8.19 | 8.11 | 8.79 |
| 6.452 | 2020 | Bowden | Lynn | Kentucky | 5 | 10.5 | 204 | 8.35 | 7.49 | 8.42 |
| 6.141 | 2014 | Wilson | Albert | Georgia St | 5 | 9.3 | 202 | 8.55 | 7.99 | 8.11 |
| 8.103 | 2012 | Ebert | Jeremy | Northwestern | 5 | 10.8 | 200 | 9.28 | 11.64 | 10.15 |
| 8.390 | 2018 | Kirk | Christian | Texas A&M | 5 | 10.3 | 201 | 11.49 | 5.92 | 9.40 |
| 8.619 | 2021 | Eskridge | D'Wayne | W. Michigan | 5 | 9.5 | 190 | 4.77 | 9.01 | 8.27 |
Skyy Moore Through the Lens of our Scouting Algorithm:
Broke out in 2021 with a 95-1292-10 stat line which was good for 43.5% of the team receiving yards and 41.4% of the TD's. Those are excellent percentages and exactly what you want to see from a small school prospect. Small school guys need to utterly dominate their team for touches and Moore did so.
However, there are some unfortunate trends to point out within that. Against better competition Moore was contained quite easily. Michigan held him to 2 catches for 22 yards and Nevada held him to 4 catches for 36 yards in their bowl game. Those were easily his two most difficult matchups all year.
In addition, he scored a whopping 8 of his 10 TD's against three teams: Buffalo, Kent St, and Northern Illinois. Those teams were the 93rd, 124th, and 115th ranked defenses in college football respectively.
Now I'm not saying he's a bust or anything. I think he can play in the NFL. But I think my comp of Sterling Shepard is instructive. Shepard has shown promise throughout his NFL career. He started off 2021 on a tear in fantasy and got everyone all excited only to fade away after a few games. But mostly he's been a disappointment in real life and fantasy.
It's not that he can't play. He's a solid pro but he's not a star and doesn't provide any real threat to defenses. He's a safe, underneath option a boring QB like Daniel Jones can hit for a couple first downs a game.
Moore plays that exact same style of game at almost the exact same measurables as Shepard. Don't get suckered into the hype that he's the next OBJ.
NFL Draft Outlook:
Moore has gone from barely in the top 150 prospects to now being considered in the 3rd round somewhere around the 75th overall pick. Some people are even hyping him to the 2nd round. He will fall somewhere in that range, probably around 60-65 (late second/early third) if I had to guess.
NFL Outlook:
I'm not overly excited about Moore. He's ok/solid in my book, a chain-mover. But is anyone trying to trade for Shepard? Would you spend a 2nd round pick on him in hindsight? I wouldn't have Moore on my board most likely. Maybe if he fell to the 4th or 5th round I'd take a look, but he'll never get close to going that late. With the right QB he could be a nice #2 or #3 option and put up some ok stats, but most likely he plays off and on his first year, doesn't do anything spectacular, and the fan base forgets about him after a year or two and moves onto the next hyped up rookie.