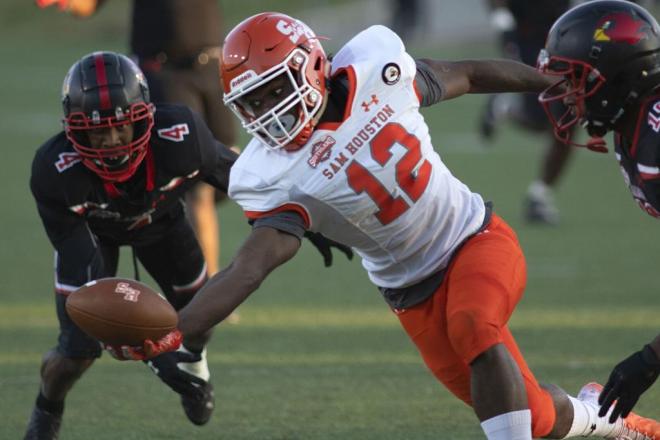 R.C. Fischer
Total Football Advisor
04 March 2022
NFL Draft 2022 Scouting Report: WR Jequez Ezzard, Sam Houston State
*WR grades can and will change as more information comes in from Pro Day workouts, Wonderlic test results leaked, etc. We will update ratings as new info becomes available.
*WR-B stands for "Big-WR," a classification we use to separate the more physical, downfield/over-the-top, heavy-red-zone-threat-type WRs. Our WR-S/"Small-WRs" are profiled by our computer more as slot and/or possession-type WRs who are typically less physical and rely more on speed/agility to operate underneath the defense and/or use big speed to get open deep...they are not used as weapons in the red zone as much. 
Ezzard is another guy (like Adam Anderson) who I wanted to scout and write up before the Combine drills started in earnest…because, like Adam Anderson, Ezzard didn't get a Combine invite either. With Anderson, the Combine snub was due to troubling legal issues. With Ezzard…I have no idea why he didn't get the call, besides a 'small school snub'. Ezzard was so good at the NFLPA week that he got a late invite to the Senior Bowl…and still no Combine invite.
When he came over to the Senior Bowl, I quickly did some preview work on Ezzard to get acquainted…and I was impressed. When the Combine snubbed him, I was very depressed. But hopefully I can help him get some more visibility here…he deserves it.
To set the tone, let me propose you watch this 3+ minute video highlight package and then we will lay out the story: https://youtu.be/FGf6YuLmcZc
Ezzard was not a highly recruited player…nor recruited at all, really. He wound up going to FCS Howard University and began his career as a punt returner as a freshman (2016) who started to break out as a WR in his sophomore season (2017) with 34 catches, 895 yards, and 6 TDs. He became an all-everything FCS player in 2018 with 40 catches for 1,062 yards and 12 TDs.
He was injured in 2019, and the Howard program went through some turmoil…so, Ezzard sat out his senior 2019 and then graduate transferred to FCS Sam Houston for 2020, where he caught 9 TD passes, rushed for a TD, and returned two punts for TDs…and was the dominant force leading Sam Houston State to their first ever FCS title (over South Dakota State).
He had a lesser 2021 bonus season (COVID) due to some nagging injuries but was still an all-American WR and return man.
Ezzard has drawn comparisons ranging from Antonio Brown to Steve Smith to his personal favorite player, Julian Edelman. Ezzard is fascinating to watch…he doesn't look like he's trying hard but moves so effortlessly that the next thing you know he has the ball and is running by 1-2-3-7-11 guys like it's Tecmo Bowl. He has terrific hands and is great at fighting for, and catching, contested passes…especially given his 5'9" height. He has sensational acceleration to run right through the middle of a converging group of tacklers and beat them to the spots and then leave them in the dust. He was a dominant WR for Howard…and then a dominant WR for Sam Houston State. He held his own in a flash at the Senior Bowl practice week, joining late/midweek due to other invitees sustaining injuries (or just leaving). I wish he could have had more time to compete against top D1 DBs.
Not getting a Combine invite means we'll not get numbers on him until his Pro Day. What we can see is his tape of being the most dangerous player on the field for two different schools in two different conferences. We also know a little bit about his personality – he's famous for helping clean/sweep the stands out at Howard after the games (he just played in). He graduated on time and used the graduate transfer to go to Sam Houston State. Listening to him in interviews, he comes off as a really humble, passionate about football kind of guy.
There is definitely something here for the next level, at minimum as a return man…but possibly as a starting WR as well.
Jequez Ezzard, Through the Lens of Our WR Scouting Algorithm:
 -- FCS title game v. South Dakota State: 10 catches, 108 yards, 2 TDs, and ran a punt back for a 69-yard TD but it got called back for a block in the back that had nothing to do with whether he was returning that for a score.
 -- 31 total TDs scored in his last 30 games/4 seasons.
 -- FCS All-American at both Howard and Sam Houston State.
2022 Senior Bowl Measurements:
5'9.3"/194, 9.25" hands, 30.4" arms
2022 Pro Day Estimates:
4.45-4.50 +/- 40-time
7.00 +/- three-cone, 35-37" vertical
The Historical WR Prospects to Whom Jequez Ezzard Most Compares Within Our System:
We might be low on Ezzzard's grade here but we're estimating (conservatively) his measurables and we're using his two different programs and good/bad erratic QB situations to calculate an overall performance/prospect/future grade – it's more guesswork than you'd like. I watch some of his plays and he looks SO good, but he is also easy to ignore for the NFL (small school, non-Combine invite).
DeAndre Carter was a boss in college, and he's had to scratch and claw and journeyman his way to emergency opportunities with NFL teams and plays well when he gets the shot but then gets re-benched. I fear Ezzard is going to be ignored for a while at the next level.
| | | | | | | | | | | |
| --- | --- | --- | --- | --- | --- | --- | --- | --- | --- | --- |
| WR Score | Draft Yr | Last | First | College | H | H | W | Power Strngth Metric | Speed Agility Metric | Hands Metric |
| 7.011 | 2022 | Ezzard | Jequez | Sam Houston | 5 | 9.3 | 194 | 7.46 | 7.34 | 8.36 |
| 8.112 | 2015 | Carter | DeAndre | Sacramento St | 5 | 8.4 | 185 | 7.76 | 8.40 | 8.46 |
| 8.234 | 2015 | Hardy | Justin | East Carolina | 5 | 10.2 | 192 | 7.03 | 7.76 | 9.85 |
| 7.993 | 2012 | Broyles | Ryan | Oklahoma | 5 | 10.2 | 190 | 8.83 | 7.29 | 7.35 |
| 4.192 | 2011 | Kerley | Jeremy | TCU | 5 | 9.5 | 189 | 7.80 | 6.60 | 7.38 |
| 10.424 | 2002 | Branch | Deion | Louisville | 5 | 9.0 | 191 | 5.57 | 10.44 | 9.15 |
*A score of 7.0+ is where we start to take a Small-WR prospect more seriously. A score of 8.50+ is where we see a stronger correlation of a Small-WR going on to become NFL good/great/elite. A score of 10.00+ is more rarefied air in our system and indicates a greater probability of becoming an elite NFL Small-WR.
All of the WR ratings are based on a 0–10 scale, but a player can score negative, or above a 10.0 in certain instances.
Overall WR score = A combination of several on-field performance measures, including refinement for strength of opponents faced. Mixed with all the physical measurement metrics, rated historically in our database.
"Power-Strength" = A combination of unique metrics surrounding physical-size profiling, bench press strength, etc.  High scorers here project to be more physical, better blockers, and less injury-prone.
"Speed-Agility" = A combination of unique metrics surrounding speed, agility, physical size, mixed with some on-field performance metrics. High scorers here project to have a better YAC and show characteristics to be used as deep threats/create separation.
"Hands" = A combination of unique metrics surrounding on-field performance in college, considering the strength of opponents played. Furthermore, this data considers some physical profiling for hand size, etc. High scorers here have a better track record of college statistical performance, and overall this projects the combination of performance and physical data for the next level.
2022 NFL Draft Outlook:
Because he got snubbed by the Combine, and because he's a small school guy…and because this draft has a ton of able bodied WRs, Ezzard is likely going undrafted. Best case scenario: 7th-round pick.
If I were an NFL GM, Ezzard is definitely on my call list for the UDFA grabs…and I'd give him a better than average UDFA signing bonus contract to do so.
NFL Outlook:   
He's going to have to grind his way to relevance in the NFL, but that's pretty normal for small school UDFAs. It's tough, but it is achievable. He will probably be a return man and 4th-5th WR at-best, just needing a break to get a chance on the big stage to see if those Antonio Brown type claims from college coaches are legit or not.
There's some real upside hope here.