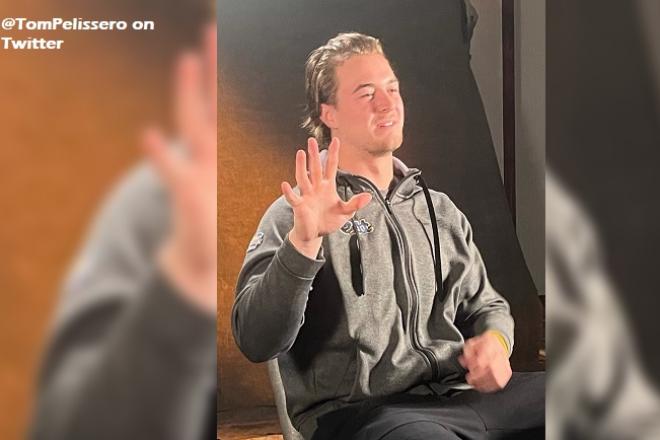 R.C. Fischer
Total Football Advisor
28 February 2022
2022 NFL Combine Scouting Grade Preview: Quarterbacks (QB)
Ahead of the Combine, we're doing a preview scouting of all the prospects we haven't previewed at the Senior Bowl or East-West Shrine. We'll grade the fresh Combine prospects and integrate them with our Senior Bowl and East-West prospects/grades into one 'big board', ranked with all the players invited to Indy for 2022.
After the Combine, we'll start doing the actual numeric grades and doing the deeper dive reports on the top prospects and prospects of interest from all levels).
QB Kenny Pickett, Pitt (Post-SB scouting grade: B/B+)
*Pre-Senior Bowl scouting grade: A-/B+
Estimate = 6'3"/220
SB Measurements: 6'3.2"/217, ?" hands, 30.6" arms
Post-SB Note: Didn't really hurt himself here, but more importantly (for his bank account) – he didn't help himself. He could've seized the #1 QB pick issue and made a case for him to be the #1 overall…but he somewhat mailed it in for the week and didn't show any moments of fire or gunslinger for people to get excited about. That doesn't mean he's not a really good QB, he is…just his perception took a hit this week, and the 'hand size' issue is going to haunt him…until we all get the measurement.
Still, he's the best QB prospect in the 2022 NFL Draft, and with the lack of obvious elite prospects in this draft…he still can go #1 overall.
-------------------
Pre-SB Note: Has the size, the arm, and good enough foot speed…he checks all the boxes of a starting NFL/franchise QB. Excellent senior season. We've thought for weeks that Pickett will leave the Senior Bowl as the clear top QB in the draft and the #1 overall pick to ____?
He will get Justin Herbert comps in Mobile, and he'll be 'lit' from there with the draft public.
NFL Comp? = Carson Palmer-Joe Burrow mix.
QB Bailey Zappe, W. Kentucky (Post-SB scouting grade: B/C)
*Pre-Senior Bowl scouting grade: B/C
Estimate = 6'0"/215
SB Measurements: 6'0.3"/213, 9.7" hands, 31.3" arms
Post-SB Note: Technically, I think Zappe is the best QB at quarterbacking of this group – but he has a less than optimal NFL body. However, he really 'won' the Senior Bowl week, to me, but no one noticed because they haven't been instructed by ESPN to care – Zappe was taking 2nd-team snaps over Sam Howell day's #2 and 3 of the practice week.
Zappe is one of the hidden gems of this draft for a team to take a chance on.  
-------------------
Pre-SB Note: Love, LOVE, LOVE this talent…a tremendous passer instinct with stunning accuracy. He won't be much to look at, and he'll be written off as 'too small' (while they love similar sized Willis) and dismissed as 'Air Raid', but there is so much more here. He's the 2nd-best QB in the draft that I can see so far.
NFL Comp? = Gardner Minshew, Drew Brees, smaller Joe Burrow
QB Malik Willis, Liberty (Post-SB scouting grade: C+)
*Pre-Senior Bowl scouting grade: D+
Estimate = 6'0.5"/220
SB Measurements: 6'0.3"/220, 9.5" hands, 31.7" arms
Post-SB Note 2.0: The more I'm watching Willis' tape, throughout the start of the scouting season, the more impressed I'm becoming…the less I'm 'bashing' him for his negatives. The negatives are real – he's not a ready-made pocket passer, and probably never will be. But the stuff he is comfortable with – he's good at. He's a very good escape artist, better and better than I thought at first…and that mobility helps open up his passing with less pressure from the defense (worried about him running). I have said he's a lesser or equal Tyler Huntley (and I like Huntley) but I will now say he's a better version of Tyler Huntley.
-----------------
Post-SB Note: He's a better runner/escape artist than I gave credit to initially, but he still has issues throwing from the NFL pocket…and it's a real risk for the team drafting him, but the shaky-passer QBs with good or great scramble/mobile ability can work enough outside the pocket to be decent. I still think he's not ready for being a franchise QB…he's a lesser or equal Tyler Huntley, but that works OK enough in a pinch for a stretch.
-------------------
Pre-SB Note: A very good runner at QB, but not a very good passer/pocket QB. He's very shaky in the pocket. He's a college spread gimmick QB wanting to make one predetermined read and then run if not clear and obvious. You can hang in the NFL with that skill set if you are a threat as a runner…and he mostly is. Not the greatest runner I've seen, but better than most.
Too shaky of a passer…and the Senior Bowl week is not built for the mobile QB. It forces them in the pocket and constantly throwing in drills. It's a bad setup for Willis, if he goes through with it (his agent should pull him from playing, but attend for the meetings, etc.). Willis could look bad all week, and then win the actual game MVP because THEN the running is key because of all the confusion with all-star teams thrown together in a few days…the QBs taking off and running is dangerous in this game, but not during the practice week.
NFL Comp? = Better Tyler Huntley
QB Sam Howell, UNC (Post-SB scouting grade: C+/C)
*Pre-Senior Bowl scouting grade: C+
Estimate = 6'0"/220
SB Measurements: 6'0.2"/221, 9.2" hands, 31.2" arms
Post-SB Note: Had a weak week of practices…fell behind Zappe in the rotation, but just as his prospect flame was about to go out…he had the best performance in the game itself and steadied himself among scouts.
I just don't see a legit, high-level NFL starter, face of the franchise here. He's good/decent. He can play in doses. Nice backup if you need it – a real nice backup, fearless and can hit the ground running – he just doesn't have that 'it factor' to be 'the guy' (for long).  
-------------------
Pre-SB Note: He is almost a spitting image of Baker Mayfield…a slightly more athletic one with maybe a tick less arm strength (but fine NFL arm strength). He's a spread option, RPO/quick decision, quick passing QB who can throw it deep if you let him. The more I watched of Howell, the more I appreciated how talented a vision and mind he has for the game. He's just a good player/QB mind – but not the ideal size, arm, athlete for the NFL so he'll be discounted somewhat.
When the Baker comparisons start…how is that helping him for draft stock, considering what people think of Baker today? It won't.
NFL Comp? = A similar, or slightly lesser Baker Mayfield. Ryan Fitzpatrick. 
QB Matt Corral, Mississippi (Pre-Combine scouting grade: C-/D+)
Measurable Estimate = 6'0"/205
Pre-Combine Notes = Corral is a good/solid QB…maybe more for CFB than the NFL, but he's OK. A very functional spread, quick passing QB. But outside of that he's a tiny, not too fast a foot QB prospect that is not going to make any NFL team think he's a franchise QB. To me, all these mainstream and any of our own expert's mocks with Corral in the 1st-round are fooling themselves. He'd be a neat XFL or USFL QB.
NFL Comp? = Nowhere near the footspeed Johnny Manziel running the short/spread game better than Manziel.
QB Desmond Ridder, Cincinnati (Post-SB scouting grade: D+)
*Pre-Senior Bowl scouting grade: C/D
SB Measurements: 6'3.0"/207, 10.0" hands, 32.8" arms
Post-SB Note: Looked very thin/skinny among the QBs here this week. Kinda blended quietly into the background of the practice week. He's a guy that's a good college QB, nice NFL backup or 3rd-string…but not a franchise guy. He's a short-passing version of Kellen Mond.
-------------------
Pre-SB Note: A talented college QB who will likely struggle transitioning to an NFL starter. Now, he can be an NFL fill-in or backup and hit the ground running OK…to be plausible, a game manager. But he's not a radical, high-end QB talent. He's a mediocre-armed or worse, non-reading-the-field-well QB who is very smart, very dedicated, and very accurate (on quick, predetermined throws).
He could grow to be a Taylor Heinicke type OK/forced to play and is mostly bad but has some moments where some throws landed. But is this a franchise QB? More 'no' than 'yes'. 
NFL Comp? = Kellen Mond.
QB Carson Strong, Nevada (Post-SB scouting grade: D+)
*Pre-Senior Bowl scouting grade: D+
Estimate = 6'3"/215
SB Measurements: 6'3.6"/226, 9.1" hands, 31.6" arms
Post-SB Note: Didn't do anything to get anyone excited here. He's an OK pocket passer. He moved around OK enough, but that knee issue really lingers over his prospects and he's just an OK passer. NFL-worthy but not franchise QB worthy. Will be a nice USFL QB for a stint.
-------------------
Pre-SB Note: Decent QB. Has size and an average arm. He's had serious knee issues which makes him slow as death moving around, which is an issue and limits his plant-and-throw in muddy pockets and is degenerative. He may look OK in the non-contact part of the Senior Bowl work, maybe even looking like a 1st-rounder…but when the contact begins, he'll start to wilt because he's an average/good QB mind with an average arm and little mobility to move around in the pocket or make off script throws.
If not for the knee…maybe he has a 'C' grade outlook.
NFL Comp? = Cody Kessler
QB Brock Purdy, Iowa St (Ross J. Post-East/West Shrine Bowl scouting grade: D+)
Estimate = 6'0"/210
This is my second time going over Purdy and I still like him. He's just a natural QB but doesn't possess the higher end tools to really make it in the NFL. The media will never give him the time of day, but I guarantee he's going to make a roster and stick around for some years as one of the better backups in the league. He could hang just fine in a few spot starts.
NFL Comp? = Weaker armed Gardner Minshew
QB Cole Kelley, Southeastern Louisiana (Pre-Combine scouting grade: D+)
Measurable Estimate = 6'7"/250
Pre-Combine Notes = Physically imposing…very tall, thick, and runs with the mindset of Josh Allen…with about half the speed but he can move…it's just long, galloping strides that look super slow/awkward at times. A former blue-chip recruit for Arkansas, he rehabbed his career in the FCS in 2021…44 TD passes in 13 games in 2021 with a 73.6% Comp. Pct. and 5,124 yards passing…with another 16 rushing TDs. He doesn't have high-end NFL arm skills but does have the raw clay of big measurables/size and some skills to take a look at developmentally.
They might try to make him a TE if he runs in the 4.8s.
NFL Comp? = Might be a bloated/thicker Brock Osweiler-type QB with less athleticism and less arm, but a smarter QB.
QB Skylar Thompson, Kansas State (Pre-Combine scouting grade: D+)
Measurable Estimate = 6'1.5"/220
Pre-Combine Notes = A decent QB…accurate, older (a 6th-year Senior). He's got 'NFL backup' possibilities. A competent QB with enough mobility to keep defenses honest. On the downside, besides age, softer arm (but accurate) and not a great size…you might as well take Cole Kelley, the better version of Thompson.
NFL Comp? = Trevor Siemian
QB D'Eriq King, Miami (Post-East/West Shrine Bowl scouting grade: D)
Estimate = 5'10"/195
6th year college QB. Transferred from Houston to Miami in 2020 where he had a nice year and garnered some Heisman attention. Lost his 2021 season after 3 games to a shoulder injury.
Very small but has some skills. Decent arm, doesn't put the ball in danger, can run an offense competently. Mobile enough to move around but isn't a run-first guy. Won't be a starter but I could see him developing into an ok backup. Would be a good fit behind Russell Wilson.
 NFL Comp? = Less athletic Tyrod Taylor
QB Jack Coan, Notre Dame (Post-East/West Shrine Bowl scouting grade: D)
Estimate = 6'2"/215
Played 3 seasons with Wisconsin but lost 2020 due to an injury and transferred to Notre Dame for his senior year.
Coan has some tools to work with. He's got adequate size and a pretty good, if not overpowering arm. He can run an offense well enough although Brian Kelly clearly wasn't allowing him much leeway to go through progressions. He typically decided where he was throwing the ball pre-snap and only rarely came off of that first read to a second.
He's your typical mildly talented backup QB that will hang around the league for years and likely go into coaching someday.
NFL Comp? = Cooper Rush
QB Dustin Crum, Kent St (Pre-East/West Shrine Bowl scouting grade: D)
Estimate = 6'2"/205
One-read QB that can hit an open man on slants and crosses and run well enough against small school defenders but doesn't have the tools necessary to compete at the next level. His arm isn't good as is but is probably held back by his awful mechanics and footwork.
Maybe he can stick as a practice squad player and eventually become a backup but has a lot of work to even reach that level.
NFL Comp? = Worse Taylor Heinicke
QB EJ Perry, Brown (Pre-East/West Shrine Bowl scouting grade: D)
Estimate = 6'1"/205
Former Boston College QB, transferred to Brown in 2019 where he set numerous Ivy League records.
Smaller frame but has an ok enough arm, good form, and a little bit of mobility. Very polished as a passer but his decision making and accuracy can be off at times. It's hard to tell exactly how good he is playing against Ivy League competition, but his TD/INT ratio of 45/27 over the last two years doesn't inspire confidence. I think he has the skills to possibly hold a clipboard someday.
NFL Comp? = Ian Book
QB Kaleb Eleby, Western Michigan (Pre-Combine scouting grade: F+)
Measurable Estimate = 6'0"/215
Pre-Combine Notes = A too short, too slow, too erratic QB with a little mobility and a decent arm. There's nothing here.
NFL Comp? = A guy not playing in the NFL, ever. Should have gone straight to XFL or the USFL.