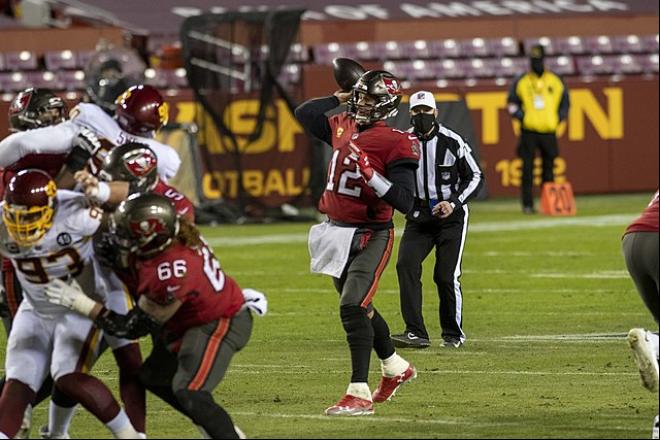 R.C. Fischer
Total Football Advisor
03 February 2022
Thing 1: New Coaching Hire's NFL/FF-Impact? What About the NFL/FF Impact to the Team Left Behind?
So far, as of this writing, the Giants have hired the Bills O-C and Asst GM for their open HC and GM jobs. The Bears hired the Colts D-C. The Raiders have hired the Patriots O-C and the Broncos have hired the Packers O-C.
Before we get to thoughts/studies on how these new coaches will impact their new teams for FF purposes…what about the impact felt by the teams they're leaving? I mean, if they're such great coaches…it will be a huge disruption to the team they're leaving, no?
Think of the chaos about to happen to the Buffalo Bills…a real test of how good Sean McDermott is. The Bills are losing their O-C and Asst GM as a pair heading to NYG – what if they were the backbone of how Buffalo ascended to being a top AFC team? Does this hurt Josh Allen's standing as 'the best QB in Fantasy'? And then what are all the WR/TE/RB impacts from any Josh Allen/Bills offensive dip?
Watch to see what happens to current Bills' QB coach Ken Dorsey. **As of going to post the Bills did hire Dorsey as O-C, but consider how big I thought that was when it was up in the air** If Sean McDermott is 'the heartbeat' of the Bills organization, then Dorsey will want to take over the Bills O-C job and everyone in Buffalo is happy. It's seamless and logical. However, Dorsey is wrestling back and forth with potentially following former Bills O-C Brian Daboll to New York to be his O-C. If that happens, if Dorsey snubs staying with McDermott and staying working with Josh Allen to follow Daboll to NYG to work with coach-killing Daniel Jones…then you know there's a minor Sean McDermott issue to be discussed in Buffalo – if everyone is willing to leave the Bills machine and follow Daboll. Losing Daboll and Dorsey will NOT be a good thing for Josh Allen 2022. It may not matter; Allen may be beyond the O-C -- but the loss of Daboll AND Dorsey at the same time may not be terrible but it is not likely going to be a good thing/upgrade right away for Allen and the offense. **Dorsey made the right call…be an O-C with Josh Allen, not Dan Dimes. The fact that it took a while to come together worries me about McDermott's allure within his staff. Just wondering not saying there is an issue.**
Matt Eberflus was the best coach the Colts had, the Indy D becoming one of the best/smartest in the league in 2021. You rip Eberflus away, and now he's taking some of his Colts' assistant's away – the Colts DST is going to be in flux and changing scheme and personnel to fit 'the new guy' coming in. A big year of transition is coming for the Colts D, a loss of all their momentum they built under Eberflus.
Nathaniel Hackett may be the biggest bomb detonated to a new head coach's previous team. Hackett from GB to Denver puts more pressure on a move of Aaron Rodgers going to Denver…which then means Davante Adams will want to head that way as well. The Packers could be forced into a 5–10-year collapse because of Hackett to Denver signaling the end of the Rodgers/Adams era…even if that downfall will begin in 2023, with one more year of Rodgers/Adams in GB.
As far as Josh McDaniels goes…? Does anyone think the Pats offense suffers with the change? Has the Pats offense (or defense) ever suffered when their O-C or D-C has been poached? The only thing that suffers is the team that hired these ex-Pat guys as head coaches.
Daboll, Eberflus, and Hackett's biggest Fantasy Football impacts as new hire head coaches could be/will be undermining their old team's players/outputs more than turning around their new ones.
Thing 2: The New Coaching Hires, so far…
I will be studying each new hire coach individually and reporting out after the Super Bowl and into March. It takes time to study them, watch a lot of tape of them talking/bearing their souls and ideas, reviewing their careers for 'was it them (their talents) or the situation they stumbled into/road the coattails of (like all the ex-Patriots) that made them attractive coaching candidates'?
But just looking at the first four hired, it looks like there is a move towards (younger)middle aged, not too young, not too old, coaches who connect with players like reasonable humans, not caricatures of NFL coaches. The taskmaster, old school (real or just their mindset) coaches are dying off…the, pardon my French, the a-hole coaches are done in the NFL (for the most part). Urban Meyer…fired. Mike Zimmer…fired. Brian Flores…fired. Joe Judge…fired. Vic Fangio…fired. And it's possible Tom Brady just fired Bruce Arians, in a way, by walking away from his nonsense. The old guard is dying. The new breed is rising.
Why?
My often speculated, but now cemented-in-2021 theory on why is…the NFL is not about coaching, it's about your quarterback. We all know this, but then the NFL rarely puts it into practice. Having an a-hole defensive-minded coach who treats the offense with disdain…or having an NFL head coach who is just an a-hole, period, is not making Aaron Rodgers, Tom Brady, Deshaun Watson, etc., wanna stay or run to your organization.  
I am deadly serious when I say – I don't give a $#!% about any of these coaching rumors or hires really, because in the end…this is about who your QB is. Zac Taylor had no business being an NFL coach a few years ago, but Cincy couldn't attract anyone reasonable to go work there (with that ownership, city, organization)…but then Cincy failed their way into Joe Burrow and now Taylor will be hoisting a Lombardi trophy in a few weeks, potentially.
I do not care about your team's new coach…or existing coach. I only care about their QB…that let's me know how well the coach will do. I do care if I think your coach destroys QB upside, like Mike Tomlin, Urban Meyer, or an Anthony Lynn would, etc.
The coaches hired so far and their QBs…
Daboll = Dan Jones?
Eberflus = Fields
Hackett = Lock for 2022, before Rodgers 2023?
McDaniel = Carr?
Yeah, pardon me if I'm not as enthusiastic about these guys as the media is. The media loves soap opera activity at QB and head coach, so this is their time to shine with nonsense rumor articles and then cheerleading puff pieces on how great the new hire is after they get chosen. I love the drama nature of things too, but I would not get excited about ANY of these guys for NFL purposes…just assume they'll all fail, and make them prove it to you otherwise.
For the true Fantasy impact – we'll see after the dust settles on their staff (especially O-C) and their history of play calling/'system' they tend to want to run.
If the NFL is shifting to (what it should) having reasonable human being head coaches in order to attract/keep the real prize, the higher profile QBs – then I'm going to explode with maniacal laughter when an NFL team hires Jim Harbaugh.
Thing 3: Man, looking at the free agent RBs for 2022…it's crazy.
Melvin Gordon, Leonard Fournette, Cordarrelle Patterson, Rashaad Penny, D'Onta Foreman, Sony Michel, Marlon Mack, Ronald Jones, James Conner, J.D. McKissic, Darrel Williams, Chase Edmonds, Phillip Lindsay, Raheem Mostert, James White, Jeff Wilson, Gio Bernard, Tevin Coleman, Justin Jackson, Jerick McKinnon…not to mention D'Ernest Johnson and Boston Scott are restricted free agents (which means there will be no radical market for them).
All those capable RBs…some specialists, some lead RBs…so many flavors available…them PLUS the incoming rookie class. The RB market is WAYYY oversupplied for 2022.
Four thoughts on this free agent supply chain logjam (due to oversupply)…
1) Finding a TRUE #1 RB on an NFL team with no threat to their touches around them is going to be more and more difficult because a lot of these capable guys will wind up as bargain/cheap backups in good places because they have nowhere else to go and it's a great value by the buying team.
2) If you can't get find/one of those obvious #1 RB workhorses (Henry, Taylor, etc.)…then there will be a million RBs to maneuver with/consider situations on before the season, and then once the season gets rolling and RBs start dropping like flies…as they do…more opportunity presents.
Interpreting the RBs situations post-free agency and post-Draft is going to be paramount.
3) One name I didn't mention above, on purpose – David Johnson. He's also a free agent. He had such a disaster season with the awful Texans that he's about fallen off the FF-grid completely. I mention his name here because he still looked like he was in excellent shape in 2021 and still has something for the NFL in 2022, especially in the passing game (Houston/Cully was too stupid to even really explore it hard) -- and you can get him for next to nothing or off waivers to sit and hold and see.
What if he replaces Jerick McKinnon/Darrel Williams' role in KC? What if all the departing Tampa Bay RBs leads to an Arians-DJ reunion in 2022?
Just thinking out loud.
And what if DJ is the Deebo in reverse just waiting for some team to figure it out? DJ could take 10-15 carries but also be a legit NFL WR at the same time.
4) Don't pay a lot for your perceived 'my RBs are killing me' mindset because you could buy into ____ stud, or so you think…but then out of the blue some cheap free agent talent lands behind them to take on a specialist role or just adds pressure to the situation/gives the coaches an option to not overwork the previously known as 'workhorse' back.
Everybody's RBs are killing them.
The running back market may about to go off the rails…unlike any RB marketplace we're used to in Fantasy – with them still being chased by your RB-worshiping league mates like always, but with total situational chaos hitting all offseason and regular season long to throw a wrench into most backfields…from what you THINK they are today.
Thing 4: Did you know Tom Brady was good?
A two-fer 4th-thing…
1) OK, something that aggravated me all weekend…and maybe I'm just a jerk…but…
I think we all agree that Tom Brady is the greatest QB in NFL history? Had the greatest career, etc.? I mean, does anyone really want to dispute that?
If that's the case, why was ESPN bringing on a non-stop trail of analysts and players and ex-players all weekend to try and confirm that Brady is the greatest? I mean, we get it. What is the 17th different ex-Patriots player going to add that the first 16 didn't confirm/say? Brady is the greatest…got it.
Maybe I'm just not nostalgic/maybe I'm just cold blooded, but when it became clear that Brady was done/retiring, I was like…OK, how does this affect the Bucs remaining players for FF purposes? I wonder who the favorite in the NFC South is for 2022? Is the NFC South suddenly the absolute worst division in football…in like the past 5-10 years? Should we be selling or holding Mike Evans for FF 2022? I didn't want to waste time talking about or listening to hours on how great Brady was. Nor did the football people I was around. We know he was the greatest. Now, let's move on to things that matter in my FF-life.
But the NFL media LOVES QB tabloid stuff, feel-good stuff…anything QB…trade rumors, NFL Draft rankings among QBs, off-field issues, etc. So, this Brady thing was right up ESPN's alley…empty calorie talk all weekend.
2) Last week's #4 thing…that audiobook I was listening to…
The Book is 'Chaos' by Tom O'Neill. The full subtitle of the book = Chaos: Charles Manson, the CIA, and the Secret History of the Sixties.
Well, I just finished it as of the day of this writing. So good. So wonderfully laid out to walk a mile in the writer/researcher's shoes over decades. It didn't end as I expected, but I think it ended the way it had to/needed to. I cannot recommend this book enough. I'm buying it as a gift for my pops…as payback for when he pushed so many true crime books on me in my youth.
Now, I gotta find a follow up book to read/listen to now…it's not going to be easy.
I'm either going 'Better to be Feared' (about the New England Patriots)
Or
A companion book recommended if I liked 'Chaos'…then you might like 'The Inheritance: Poisoned Fruit of JFK's Assassination' by Christopher Fulton. It looks like another harrowing/arduous journey of a writer trying to research the coverups of crime where the government may/was involved. I like books where I can connect with the author's journey of researching/uncovering truth/chasing down leads (even if false)…because it reminds me of the detective work of scouting football, and fighting through the accepted mainstream narrative on players that so often I find to be 'not true'…if you just dig and push a little/a lot.